Issue #17 – December 6, 2012 – www.desktop-documentaries.com
Announcements
2012-2013 Holiday Gift Guide for Documentary Filmmakers -- It's here! Announcing our brand new gift guide for filmmakers. This is a great starter list if you're shopping for yourself or for a friend.


Best Documentary Tips 2012
As we close out 2012 and head into a new year, I thought this might be a good time to recap some of my best documentary tips and most popular articles on Desktop Documentaries to help you in your filmmaking journey.


Step-By-Step: How To Make A Documentary - There are few things in life more challenging (or worthwhile) than making a documentary. Here is a simple step-by-step process to get your film made.

Directing the Documentary – Do you know the ONE thing a good director needs to make a film? See if you've got what it takes to direct a documentary.

Videography Tips – If you're new to shooting documentaries, make sure to avoid the most common amateur mistakes. Follow these simple tips to keep you on track.

Editing the Documentary – This is where is all comes together. Learn some simple "tricks of the trade" to help you weave together a winning story.

Audio Basics for Filmmaking – Some say that audio is even more important than the visuals in a film. What do you think?

How To Write A Documentary Script – A script is the framework of your film. A script is not necessarily just narration or voice, it is a description of what will be heard AND seen on the screen.

Fundraising for a Documentary – Raising money for a documentary can be one of the most unexpected (and challenging) aspects of making a film. You might be surprised by some of the simple ways to raise money the fastest.

Selling Your Documentary – A common mistake by first-time filmmakers is to think of distribution AFTER their film is completed. Can you guess why you should think about distribution first?

Documentary Digital Video Essentials – Start with knowing your digital video essentials and check out a great starter list for documentary filmmaking gear.

Free Film Clips – If you're looking for archival or free footage, check out these great resources.
---
Much Much More!
There are hundreds more pages of documentary tips on my site.

Looking for something specific? Do a quick search!


I hope the above filmmaking resources are helpful to you.

Wishing you and your loved ones a wonderful holiday season and happy new year!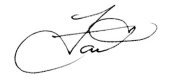 ---
Special Holiday Offer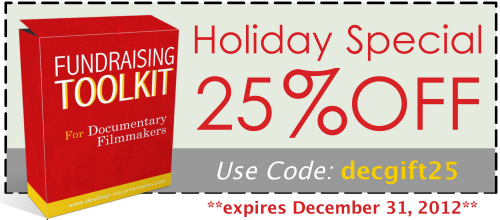 Use coupon code decgift25 for 25% off the
Documentary Fundraising Tool Kit



---
Stay Up To Date:
Catch the latest documentary news on our Desktop Documentaries Facebook Page. Make sure to stop by and "Like" us and while you're there, tell us what you think about the new look of our site!


What do you think of Desktop Documentaries?
Read what others have to say and leave your own comments/feedback.


---