Daniel Raim, Film Instructor for Desktop Documentaries, Directs TCM Documentary Focusing On America's Pioneer Cinematographers




(World Premiere: Nov 6, 2019)
Publish Date: October 2019

This month, Los Angeles-based documentary writer/director, and Desktop Documentaries film instructor, Daniel Raim is finalizing production on his latest documentary project: "Image Makers: The Adventures of America's Pioneer Cinematographers".
The documentary is premiering on Turner Classic Movies (TCM) on Nov. 6 as part of the network's month-long celebration of the 100th anniversary of the American Society of Cinematographers.

World Premiere: November 6, 2019 on TCM



From the TCM Press Release:
Image Makers tells the story of the earliest cinematographers. With no roadmap, no rules, and no machinery, they pioneered an artform one image at a time.
Produced and directed by Oscar-nominated filmmaker Daniel Raim, written by movie critic and author Michael Sragow and narrated by acclaimed actor Michael McKean, the film documents some of the most pivotal personalities in filmmaking, including:
Trailblazing cameraman Billy Blitzer


Baseball player-turned-cameraman Rollie Totheroh and silent star Charlie Chaplin


The first female mogul Mary Pickford and her favorite cinematographer Charles Rosher


Greta Garbo and her personal lensman William Daniels


Karl Struss and James Wong Howe in the advent of sound technology


Oscar®-winning cinematographer Gregg Toland, who filmed the groundbreaking Citizen Kane


"The first cinematographers helped invent filmmaking as we now know it today, yet their stories are mostly unknown. Image Makers shows us how they overcame many obstacles to create the technology and techniques we now take for granted, while it entertains us with the personal adventures of these distinctive characters," said Charles Tabesh, senior vice president of programming for TCM. 
"We're proud to be working with Daniel Raim again, one of the best at making films about the art of cinema-this is the perfect way to celebrate the 100th anniversary of the American Society of Cinematographers," says Tabesh.

"When the America Society of Cinematographers provided me with access to never-before-heard interviews with pioneer cameramen, I knew that with archival materials and original artwork, I could make viewers feel as if they're right behind the camera with these extraordinary artists and craftsmen," said producer, director and editor Daniel Raim. 
"What I didn't know was how moving it would be to get into the mind of trailblazers from Billy Bitzer to James Wong Howe and to recreate how they discovered new ways of looking at the world," says Raim. "I am honored to partner with TCM and I am thrilled to present this jaw-dropping story to TCM audiences."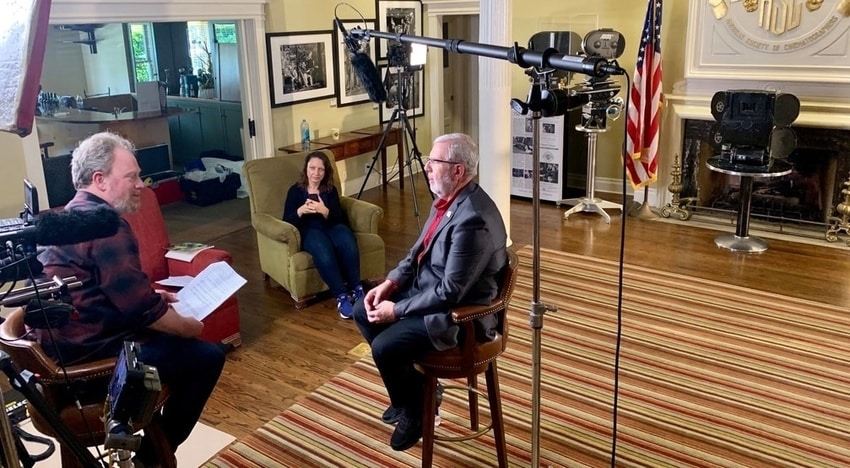 Daniel Raim interviewing Leonard Maltin (April 2019) for Turner Classic Movies documentary "Image Makers: The Adventures of America's Pioneer Cinematographers"

Documentary Storytelling & Scriptwriting Class - Now Open (October 2019)
Daniel Raim is the instructor for the popular Documentary Storytelling & Scriptwriting class on Desktop Documentaries.
The course just reopened to new students this month and Daniel is available inside the course for questions via Office Hours.
Learn more about the Documentary Storytelling & Scriptwriting Class and how you can enroll here.
---
About Daniel Raim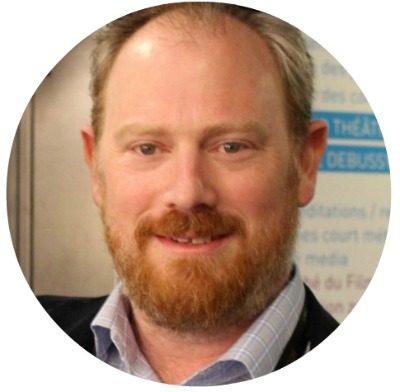 Academy Award®-Nominated Writer-Director Daniel Raim attended the American Film Institute in Los Angeles, where he studied under one of Alfred Hitchcock's most esteemed collaborators, Production Designer Robert F. Boyle.
Daniel has created a trilogy of critically acclaimed documentaries about unsung heroes of Hollywood's Golden Age, including, THE MAN ON LINCOLN'S NOSE (2000, Oscar®-Nominated); SOMETHING'S GONNA LIVE (2010, Los Angeles Times Critics' Pick) and HAROLD AND LILLIAN: A HOLLYWOOD LOVE STORY (2015, Official Selection Cannes Film Festival + Turner Classic Movies TCM + Netflix 2018 release).
Daniel is currently (2019) creating a series of documentary films for The Criterion Collection and FilmStruck in addition to directing the upcoming feature documentary IMAGE MAKERS: THE ADVENTURES OF AMERICA'S PIONEER CINEMATOGRAPHERS for Turner Classic Movies (TCM) releasing Nov 6, 2019. 
Raim is the instructor for the Documentary Storytelling & Scriptwriting Class.
---