Documentary Fundraising: Confessions of a Professional Documentary Filmmaker 

---
Guest Post By: Sally Kaplan - Documentary Producer, Backcountry Pictures
January 8, 2015
Backcountry Pictures shooting PBS documentary "California Forever" on location in Big Basin Redwoods State Park, California.
(Photo by Joeann Edmonds-Mathew)
---
Raising funds is often the most challenging aspect of documentary-making.
As a member of a seasoned film producing "duo" with numerous programs under our belt, I am here to tell you that fundraising does not get any easier.
That's the bad news.
Here's the good news: You get better at it!
In sharing our story, I thought you might discover some tips.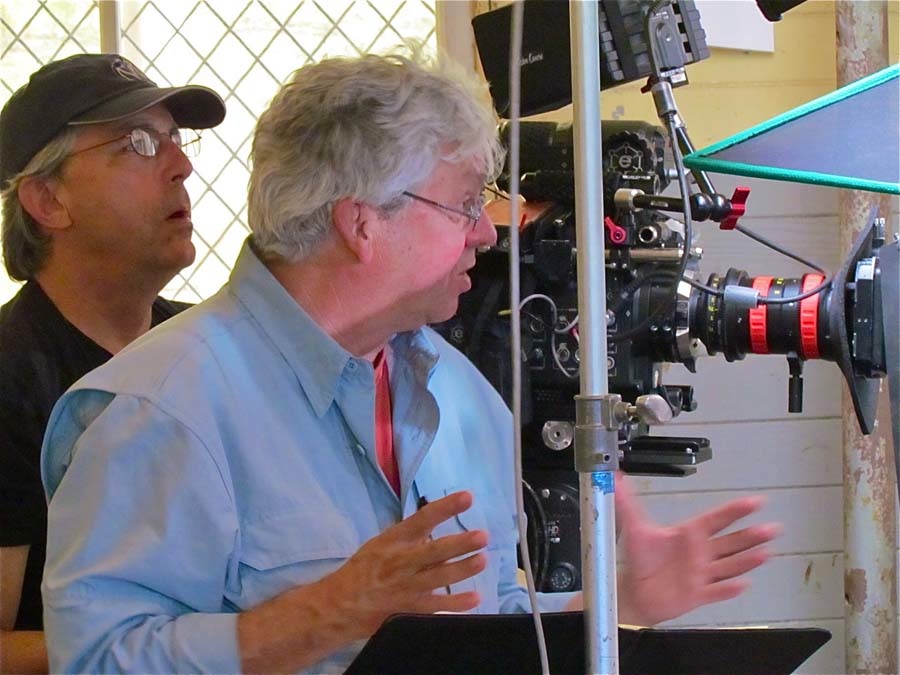 Backcountry Pictures Director, David Vassar (foreground) with Director of Photography, Christopher Tufty on the set of "California Forever" PBS documentary.
---
David Vassar (above), my husband and producing partner, was just shy of 28 years old when he was nominated for an Academy award for a documentary he created about wind power. This was years ago.
Following the Oscar nomination, he expected the phone would ring, inviting him to direct new works. It didn't happen. So he drove a taxi to make ends meet.
In his cab one day, he picked a guy up at LAX to drop him off for a meeting at some movie studio, sensed the guy was important, asked him about his project (a feature film starring then unknown George Clooney) and offered to be his private "driver" should he need to return to LA for more meetings. The guy said yes. David shared with him his work in the industry, the guy hired David as a 2nd AD on the feature, the first AD quit, David was moved up to first, he got his DGA card, and when he made it back to LA started getting DGA directing gigs for what at the time was not yet known as "reality" TV.

So what does this story have to do about fundraising for documentary films? It is all about: PASSION, SELLING YOURSELF AND YOUR WARES, PERSISTENCE, KNOWING YOUR ALLIES, and a dash of luck, or timing or whatever else you want to call it.
Cut to: Years later, after a long career of David directing everything from Unsolved Mysteries to History Channel shows, and my long career of producing and writing for programs that aired on the Food Network, Lifetime for Women, HDTV, Veria, etc., we teamed up to create Backcountry Pictures to focus on programs that celebrate nature and environmental themes.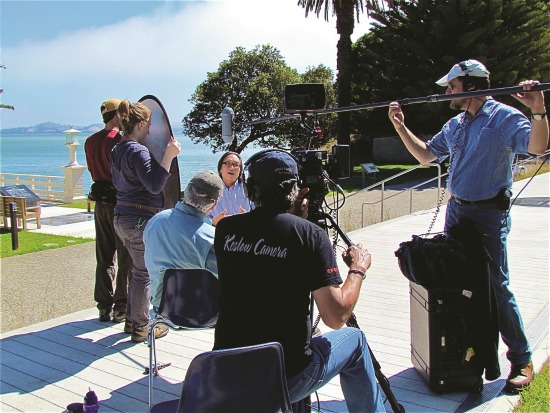 Backcountry Pictures records interview for "California Forever" documentary at Angel Island State Park.
(Photo by Joeann Edmonds-Mathew)
---
PASSION, PERSISTENCE, KNOWING OUR ALLIES and LUCK were the main ingredients for a long while. We were incredibly good at coming up with subject matter that had indelible meaning to us (PASSION), locating the individual or organization that wanted to see that subject matter featured as badly as we did, (ALLIES) and tremendous luck in landing one individual or organization willing to foot the bill for the entirety of the production.
Finishing funds were often needed once the show was "in the can". For example, after completing production and post for CALIFORNIA FOREVER a two-part PBS show, we needed additional funds to promote the project. (If no one sees it, why make it, right?) But only then were we required to roll up our sleeves and start a crowd-funding campaign, write letters and proposals and even apply for a loan to pull together the final dollars necessary to complete the job.
What did I learn? Finishing funds are often easier to come by then starter funds. Many are wary of being the first to throw in a donation, but everyone wants to fund a sure thing.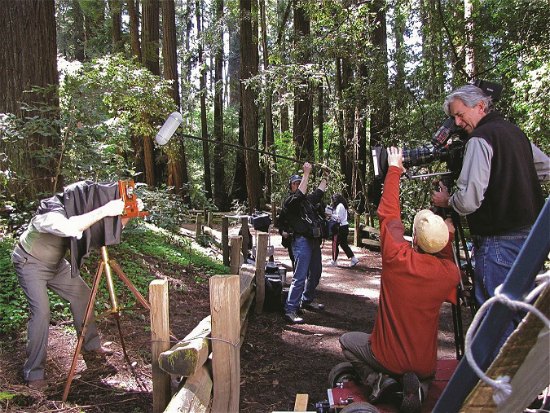 Backcountry Pictures shooting "California Forever" PBS documentary in Henry Cowell Redwoods State Park with actor Robert Koroluck.
---
Fundraising For Our Next Documentary
Producers David Vassar and Sally Kaplan following screening of "California Forever" documentary at California Academy of Science in San Francisco.
The current project we are developing is a feature-length documentary on the California and Southwest desert and the challenges this rarified, delicate landscape must face as industrial scale renewable energy development is taking desert lands under siege.

This, like most of our programs is not cheap. And our reputation proceeds us.
We are known for our ability to create highly-produced images that move audiences to steward at-risk landscapes, and with desert in particular, aerials (the most expensive to produce) and or drones may be the only way to capture the grandeur and beauty of the vast desert landscape in a two-dimensional format. I now find myself facing the need to raise the funds necessary to produce the project, with no interested individual standing in the wings, promising to step up with all of the money. I am starting from scratch. Just like every other documentary maker out there!
But with my age-old tools of PASSION, PERSISTENCE, and KNOWING MY ALLIES, I have succeeded in less than a year in securing development funds for the project which gives me hope, as well as pause in that it represents only a fraction of what we need.


Sally Kaplan with husband and crew on set for "Video Rivers"  - a film for the visitor center in Grand Teton National Park. (Photo by John Reed 2007)
---
Documentary Fundraising: Survival Tactics
Here is the breakdown of how it has worked so far: Both David and I are tirelessly PASSIONATE about this landscape that most perceive of as a wasteland. Get us in a room and you will be convinced of its value too. Any one and every one I speak to about the project becomes a POTENTIAL ALLY who may not be in a position themselves to help fund the film, but who may know of someone who knows someone who knows someone who is.
The PERSISTENT side of me knows I must use every fundraising tool out there, from writing letters to like-minded desert lovers with deep pockets, to applying to every foundation in the book that funds environmentally themed projects, to using social media and crowd-funding, to holding house parties, to posting frequently on Facebook to build buzz as well as audience, etc.
I have a long learning arc ahead of me to reach my goal but I am relying on the success I have already had in fundraising to date as a green light to continue.
My survival tactics include breaking down fundraising needs into doable goal posts, i.e. one amount of funds to conduct research, write treatment, create a trailer, then another amount of funds to begin production, another to complete production, and the rest for post etc.
I promise myself I will never being shy to ask for funds. I will continue to find ways to remain passionate about our subject matter. I will be persistent in finding a way to get "in the room" with people who have expressed interest in possibly funding the program, versus relying on others to do it for us.
I will happily share my growing knowledge and success with others and remain open to other ideas and feedback any one out there willing to share might have for us.
All this and a little bit of luck and good timing and we should be on our way. Use some of these tools and you may be well on your way as well!

---
About David Vassar and Sally Kaplan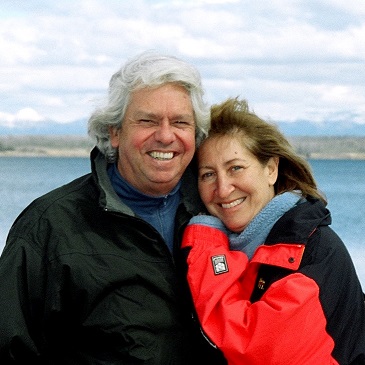 David Vassar and Sally Kaplan of Backcountry Pictures have established a solid repertoire of films that inspire stewardship of the natural environment in its many forms. Often ahead of the curve, Backcountry Pictures has been 'green' when it was just another color. Currently, David Vassar and Sally Kaplan are developing a documentary on the California and Southwest deserts; their delicate ecosystems; their false perception as a 'wasteland' rather than an iconic landscape worth preserving; and the mounting challenges deserts face.
For more information, visit: backcountrypictures.com and cal4ever.com
Donations to the project are always welcome! Any amount helps. Checks can be written to IDA, (in the subject line write Desert Documentary) and sent directly to: Fiscal Sponsor Program Officer, 3470 Wilshire Blvd. Suite 980, Los Angeles CA 90010.
---
Let Sally know your thoughts on her article below.
Learn more about Documentary Fundraising.
Join in and write your own filmmaking story!  It's easy to do.  How?  
Simply click here to return to Write An Article.
---
Documentary Fundraising Tools & Courses
---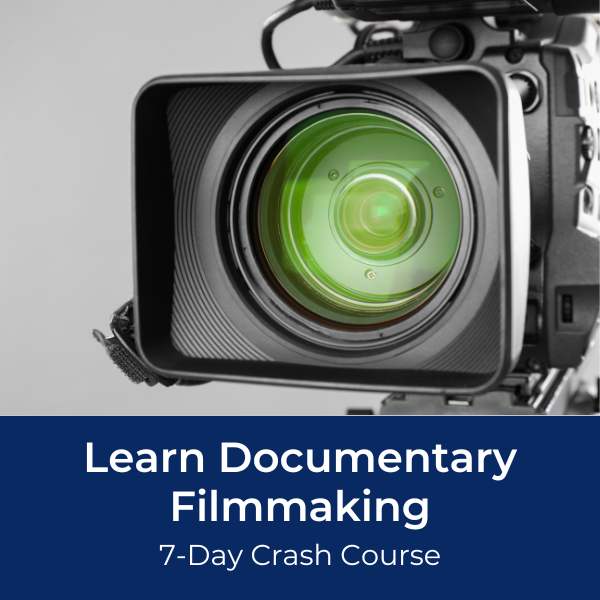 Ready To Make Your Dream Documentary?
Sign up for our exclusive 7-day crash course and learn step-by-step how to make a documentary from idea to completed movie!