Formatting My Video Material For iMovie
by John Ortega
(Phoenix AZ USA)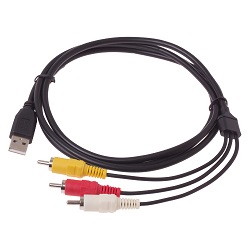 USB male A to 3 plug RCA A/V TV adapter cord
Hello, years ago I interviewed my late mother on what life was like in our home town of Phoenix AZ during WW II. She also discussed my dad and her brothers who all served in the conflict. I have pictures and documents that could be inserted into the interview. So I decided to make a more polished version of this interview for my family.


I tried importing the video recorded on a JVC Digital Cyber Cam, which uses mini digital video cassettes, to a
MacBook Pro
.
The connection on the Mac end is a USB male A and on the camera end, 3 plug RCA A/V TV adapter cord. I get an "unreadable file 41" flag. Tried getting suggestions from the Mac forum, they have been very helpful with other inquiries, but no luck for this one.
I transferred the video tape to a DVD and have gotten suggestions for various apps to rip the DVD to a format that iMovie will accept. If I could get some suggestions from this forum on effective apps that would be great, the more knowledge the better.
Thanks for any help!
John