"Gang War In The Ghetto" Documentary
by Carl Hill
(upper marlboro)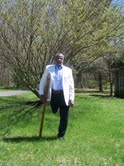 Carl Hill
As a product of gun violence, for years the words why, how, and what were always at war in my head. Then, a while after I start studying my estimation of over fifty years of gang violence, the first time for nearly 40 years the gang leader that conspired to shoot me, ran into me in a restaurant in Brooklyn, New York, I came up with the idea to produce a documentary, 'Gang War in the Ghetto".


The documentary depicts the true picture that bears testament and illustrates that over fifty years of gang violence, was, and is, a cancerous ghetto mentality, violation of the poor by the poor which is a force that destroy families, communities, and robs the nation of its youngest and sometimes its brightest minds. This documentary will transmit a message to young people, enabling them to realize there is something worthwhile in them other than gang violence.
I need the public support, please link to indiegogo.com and make your pledge which starts at $1 dollar.
Donate at this link:
www.indiegogo.com/projects/documentary-gang-war-in-the-ghetto
You can also view my website @ www.thestagesoflife.com and select some great rewards.
Please forward this. If you are a church member, forward it to your church members, your friends, local and International mailing list. Thanks in advance, the world's youths need this first hand educational information.
Email me @: kenboot21@hotmail.com I can be reached @ 202-704-5289