GoPro Review | Mini Video Cameras
by Scott Umstattd
(Georgia, USA)
My GoPro Review:

Shooting video on the go can be challenging. I recently spent a few months on a cross-country bicycle tour with the Fuller Center for Housing (a great organization btw www.fullercenter.org). Every night we were in a different city - lots of packing and repacking of clothes and equipment. I carried a digital SLR, a Kodak Zi8 and the GoPro HD Hero
.

The GoPro was the hero of this trip!

It's tiny size allowed me to carry it very easily in my pocket ensuring that I had a video and a photo camera with me at all times. The GoPro HD Hero shoots HD video and brings in quality still photos too.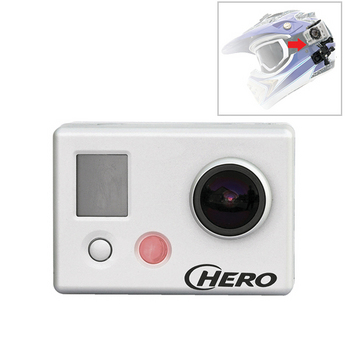 The GoPro HD Hero utilizes a fisheye lens that proved invaluable recording bikers as we drove next to them in our support van. The wide angle of the fisheye lens allowed me to be just a few feet away from the riders and still have the entire bike, rider and plenty of sky in the background. It allowed me to capture an entire room's worth of activity too.

The Fuller Center is a home building non-profit and being able to show all four walls while the cyclists were building or repairing homes meant that I could show a more detailed and outlined vision of the work that was being done.

Here's a walk-through I did with the GoPro during one of the construction days.


The GoPro's small size not only allowed me to carry it in my pocket, it also served as a great conversation piece giving those within the lens something to smile about as I approached them. I have done a lot of video and photo work for Habitat for Humanity and The Fuller Center. Often, volunteers or homeowners are off-put when I point a large camera at them. The GoPro doesn't intimidate those that are not normally use to being on camera.
As I've already mentioned, the image output of the GoPro is great. Sure, there are cameras with better resolution and overall control that can bring in a better image. But you are going to pay for that in more than one way.
The GoPro is a point and shoot camera. Its settings are automatic and the camera does a fine job of adjusting to most lighting situations. Plus, the fact that I can quickly change from video to photo with a couple a button presses allowed me to be prepared for whatever I needed to shoot to cover the amazing story of
The Fuller Center Bike Adventure
.
GoPro Review
Another aspect of the GoPro, one of its main selling points, is that it can be clamped or attached to almost anything - like a biker's helmet. It is also waterproof when put inside of its waterproof casing. I didn't have many chances to go under water with the camera, so I can't make any real comment to the camera's abilities under water. But knowing that it could be attached to a bike on a rainy day gave me additional footage and security.
All in all, I can't say enough good things about this camera. You can get one fully loaded with all kinds of extra gadgets for under $500.
There is one drawback however. The audio, which captures low sounds well, has a tinny sound to it. It is not the best camera to use when doing interviews or for situations where capturing audio is a priority. Like I said, it holds its own with audio but it did leave me wishing that the sound was better. But that is a small complaint.
For its size, multi-purpose use and overall awesomeness, the GoPro HD Hero is a camera that every photographer should have in their arsenal-especially if you are on the go and have little room for gear. Even those with the big gun cameras will find having the GoPro around to be very handy.
That's my GoPro review.
GoPro Review
GoPro HD HERO Kit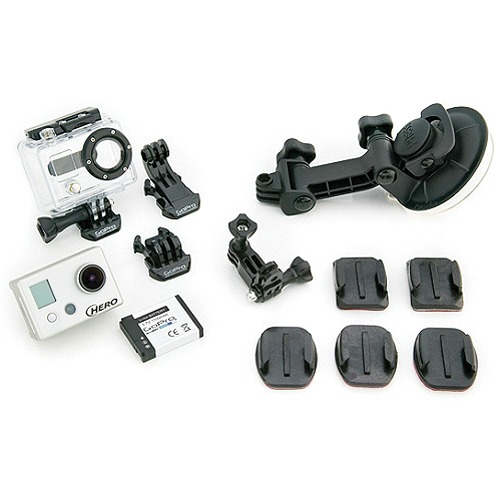 Write Your Own Review!
Do you have your own GoPro Review you'd like to share? Have experience other mini video camcorders? Click the link below for Camcorder Reviews. Or comment on this review just below.