How do I put together a full time documentary video crew?
by Carlos Albuquerque
(Connecticut)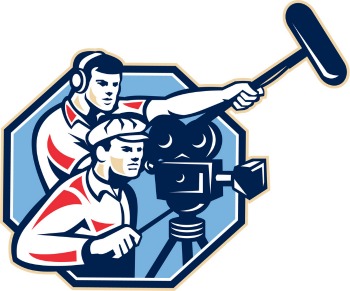 I am the co-founder of a start up nonprofit. At this point I am in charge of some important parts of the business plan, and one of the plan subjects I am responsible for is to put together a documentary crew.

I own a small video studio but besides some help from my wife and sometimes my kids (to hold second cameras, lights and help with some chroma key shoots), I always worked alone. I need to be as accurate as possible with the strategic plan so we do not over staff or under staff this video team.

So, my question is: how many team members and what titles do we need to hire in order to have a successful work flow. This team is based on the following job details:

- These are full time positions (all year).
- Some videos will include animation (hiring animator vs outsource to animation studios).
- First set is 12 videos with a duration of 30 to 40 minutes each (some are animation).
- The creation of new videos is constant (our programs uses mainly videos as a delivery path).
- I believe we will need intensive media release forms.
- Video and sound capture, editing, animation, our video streaming system, internet presence.

I am assuming team members need to be flexible at multiple jobs, for example, the crew that does footage capture work on field will be able to do editing if necessary, field sound tech will be able to do sound editing and take care of music and copyright licensing, if hiring an animator he/she can do some graphics and graphic motion and some video editing if needed. I don't know if this is the right approach but these are full time positions and this will be a funded non profit project and I am sure will not be able to carry team members that are not really necessary and not reasonably productive.

The work as I imagine at this point will include on the field 2 or 3 cameras (sometimes an extra spread out set of GoPro's), one sound tech with pole and/or interview capture with lavaliers, in studio some green screen capture, video editing (with one or two workstations, including photography), sound editing and animation with some graphics creation and graphics motion.

My question and the help I am asking for is not about equipment, is about the video crew. I have never worked with a crew like this and I would really appreciate some help understanding the process of putting this team together.

Thank you very much.

---
Desktop Documentaries | Answer
First of all WOW. Sounds like you have some serious production plans. The ideal crew is often people who are already working together. Have you considered approaching a local video production company to help you? Another idea is to hire a producer/director and it's their job to hire their "team", people they trust and have worked with in the past. If YOU are the director, then I would start by looking for your first "most important" hire such as a camera person. Work with that person to find other needed crew based on who they recommend.
Depending on your budget, the job you are describing could be handled by one person or many.
In theory, you could find a "one-(wo)man-band" who produces/shoots/writes/edits the videos. This is not ideal as this dilutes production values. But it's definitely possible.
In an ideal world where budget is not an issue, here is a typical production crew:
Producer/Director
– This person is in charge of coordinating the shoots, managing the budget, hiring freelancers, conducting the interviews and seeing the production through from concept to completion.
Lead Camera
– This is your primary cinematographer who is in charge of shooting the footage and making sure all the audio/visuals are captured in a professional manner. This person oversees video, lighting and sound which he/she can do alone or can hire a crew including a specialized lighting person and sound recordist. Depending on the size of the production/budget, there can be additional positions added for lighting, camera and sound assistants.
Scriptwriter
- The scriptwriter is in charge of crafting the story on paper (prior to editing) either by writing narration or piecing together bits of interviews that tell the desired story. The script is then handed off to the video editor. Depending on the type of productions you're making, you may or may not need a full time scriptwriter. Sometimes this job can be handled by the producer or another staff member or hired out to a freelancer as needed.
Video Editor
- The editor is responsible for digitizing the footage and crafting the footage into the final product. This person may or may not have animation skills which may need to be hired out to a freelancer. Or if there's enough animation work, you could bring on an animator full time (this job can easily be handled remotely).
Production Assistant/Intern
- Depending on the work load, your producer/director may want to hire a production assistant to help with things like music rights, talent/location releases, logging tapes, holding boom poles, social media, answering phones, etc.
So those are a few of the standard production crew positions needed to make a documentary. Does that help?
One additional idea for inspiration is to browse documentary websites and look at their crew pages.
Please post additional questions, comments or feedback below: