How Losing My Stomach (literally) Made Me Hungry For Life | Documentary Idea
by Amy Oestreicher
(Westport CT USA)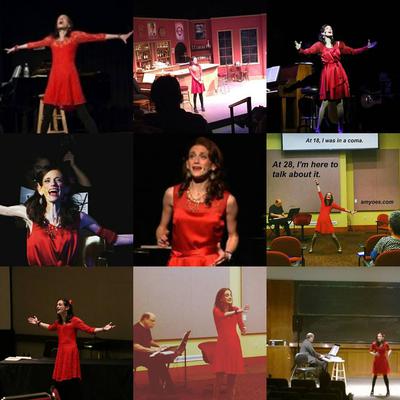 Gutless and Grateful show
How Losing My Stomach (literally) Made Me Hungry For Life: A Story of Survival | Documentary Idea.

At 17, I was sexually abused.
At 18, my stomach exploded - it literally burst to the ceiling of the operating room.
I couldn't eat or drink anything for six years.
I promise, ten years later, it's been a "beautiful detour!"
(With many challenges ahead...)

This is a story of detours and continually transforming adversity into creative growth.

I've been looking for someone who might be interested in making a documentary about my own journey. It's a pretty "unique" story - so there's a short documentary here:
https://www.amyoes.com/2015/08/09/how-losing-my-stomach-made-me-hungry-for-life/ and you can hear it in my own words in my TEDx Talk:


At 18, my stomach literally exploded due to an unforeseen blood clot, I was in a coma for months, and almost died. I've been through my own ordeal of sexual abuse, 27 surgeries, organ failure, six years unable to eat or drink and, of course, the PTSD that comes from ten years of trauma. I've also learned how to turn this detour into the richest time of my life, through my art, theatre, writings and everyday celebration of ordinary miracles.
Here's another news documentary on my story:
And how I turned my exploding stomach into a musical:
I survived by just creating hope - taking it day by day, starting a chocolate business, starring in shows, discovering painting, teaching nursery school, learning karate, getting my yoga certification, writing a musical comedy about my life, having a sense of humor, and just hoping that every day might get better.
After 27 surgeries I was miraculously reconstructed with the intestines that I had left. But, for six out of the past ten years, I was not able to eat or drink a drop - not even suck on an ice cube. It's been a long road, but I wrote a one-woman musical about it which I'm now touring the country with as a mental health advocacy/sexual assault prevention program combined with Broadway Theatre.
Because of what I've been through, my life feels like it has greater meaning and purpose and I can still pursue my passion for the arts, but with a bigger purpose - to hopefully inspire others which a message of strength, hope, resilience, and humor .
My life isn't perfect, but for the first time my LIFE feels bigger than my medical circumstance - and I want to show people that even though life may not always work out, you can MAKE things happen for a reason and there's always a way to find happiness wherever you are. So I may not be able to change my medical situation or crazy anatomy, but I do have the power to empower others and to thrive myself.
Here are two of my big challenges ahead:
An open wound: https://amyoes.com/2016/07/15/wound-never-heals/
A divorce after less than a year: http://www.sammichespsychmeds.com/divorce-is-a-detour/
And the big bright open future...