Documentary Filmmaking Questionaire (2016):
Survey Results
Hi Filmmaker!
If you're reading this page, then you participated in our special Desktop Documentaries filmmaking survey sent out on November 29th. Thank you!
These results are for your eyes only, not the general public, so please kindly keep this page private.
You were asked this question:
"What areas of the filmmaking process are you struggling with right now and where would you love to get some help (in the next 3-6 months)?"

---
Results
More than 1400+ votes so far (from 500+ respondents) on the "top 3 issues" summed up in the graph below. 


Survey Results So Far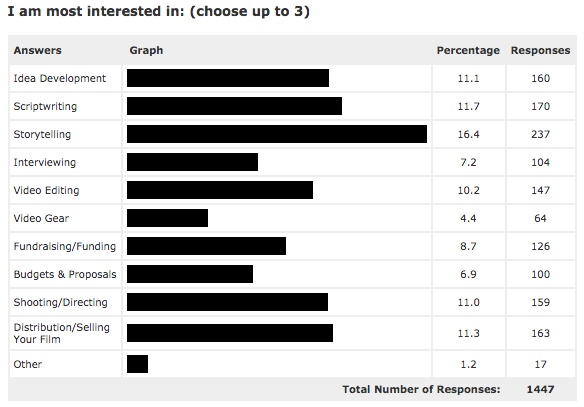 ---
Survey Feedback
Below is a (very small) sampling of feedback received as part of the survey, answering the question:
What are your biggest struggles with documentary filmmaking.
"I find it hard to transform my ideas into a strong story." ~I
"How to write/revise scripts, get ideas on storytelling, and more tips on video editing to shorten time spent editing."

[Funding] Do not have a clue on who or where to propose my ideas to! ~R

"Editing has been my biggest challenge. I am a one man band as I work as a remote area nurse in outback Australia with nobody to recruit when recording my documentaries."

If I had to single out one or two, funding rates as an obstacle the size of Mount Everest and learning solid idea development and storytelling would be really fun and is essential. ~C

"I have heard that the sound texture is as important as every other aspect but don't know anything about sound."

"My main concern is how to obtain necessary permits for filming and interviewing, and also how to get important information from subjects (even if they risk to go to prison for that)?" [Interviewing]

"Distribution. Making films is one thing, selling them is another. Need more info as present and new distribution mediums evolve. Designing a Marketing Campaign."

"I have really good ideas, but I struggle with using the camera for creative shots and recording good sound for documentary filmmaking when working solo." ~S
"I'm not sure where to find funding for my film. I don't know how to prepare a budget or write a proposal. As a first time documentary filmmaker, I don't know where to start with distribution." ~E

"1. Technique 2.Don't know how to budget 3.Don't know how to distribute. Networks want exclusive rights."

Could you elaborate on VOD platforms and the role an aggregators has for getting your project to sell it to Netflix, iTunes and other VOD platforms. ~H
"How to pitch the documentary and calculate expenses. How to write a proposal."

The story is the heart of the film, and I want to improve my approach and techniques. I am starting a film festival and need help with that. So I'd like to see tips from other festival leaders.

Hi, My job is TV cameraman and Video Editor for TV News, and i am interested in venturing into the Documentary World, but i don't really know how to come about this as it is a broad topic..

I would like to learn how to fine-tune my film proposal format skills. I would like to know what to have complete and in place before I think about distribution or selling my film project. ~E
"How does one script a documentary that you have no idea where it could possibly lead?" ~L

"Main thing is just finding the time to do it. Also the overwhelming task of learning everything from scratch and getting anything accomplished. You're website is very helpful, it's just hard to find the time and confidence to get it going. thank you."

"Thanks for this opportunity, firstly scripting has been so challenging I also find it hard to carry an idea through, my story telling too is not always on point it takes me so mush time to come up with the right questioner for interviews. Pls help"

[Scriptwriting/Storytelling] Coming up with an effective, compelling approach. Avoiding the trap of the obvious solution. ~M
---
Conclusions & Next Steps
The Desktop Documentaries audience has a clear desire for stronger storytelling skills.
All of the information gathered will be carefully reviewed for consideration of how to best support YOU the documentary filmmaker in the coming months and into 2017.

Currently I'm in process of sorting through all your questions and comments that have come in so far. Some fascinating insights. Thank you! 
I can't promise that every single question can be addressed, but I'm already working with several award winning filmmakers to develop resources on some of the most common and popular requests. In FACT, I've already sent your comments and requests to an Oscar-nominated filmmaker (he was fascinated by your insights and questions) who is already putting together some amazing scriptwriting/storytelling resources for you. 
Stay tuned!
If you'd like to share additional thoughts and feedback about your struggles in the making of your documentary, please do so in the comments below.


Sincerely,
Faith Fuller/Publisher


---