The Odd World of
Documentary Filmmaking
The Story Behind JONNY
---
By Guest Author: Massimo Salvato
I did not really decide to make a documentary, or at least not in the conventional way of writing a proposal and presenting it to potential funders. My passion and commitment for the film unfolded and grew once I began the process of filming.
Since I had completed my short (fictional) film MUSE in 2011, my mind went through a long period of stagnation. I had a lot of ideas but not the confidence to push those ideas towards realisation. At the same time I had to be inspiring on a daily basis, as I am a teacher in two colleges, and I had to recover from a relationship breakup.
I was at the peak of this situation when I was wandering around the town centre of Newport, South Wales, UK, the city where I have been living and working since 2002. There I literally bumped into Jonny Sherwood, a local artist, life drawing teacher and ex-colleague of mine. He told me about what was going on in his life; that 20 artists, because of urban planning, would soon be evicted from the empty shop they were using as a community art studio and at the same time Jon was being evicted from his house; that he suffers from bi-polar disorder and keeps himself alive through the creation of his art and through heavy medication. I decided right then and there I wanted to make a documentary.
I started filming, without a clear objective, in a pure observational way.
In the beginning, my camera was invading a space which was occupied by artists and disadvantaged people, and I was automatically trying not to be intrusive, for what this could mean when you enter a place with a camera?
I started with pointing the camera at Jonny as he was painting and just observe the surrounding with my eyes. I had to persevere in order to gain everyone's trust in the first few months; people were coming in and out of this art studio/community/squat space and were asking questions about who I was and why I was there with the camera. In the worst cases they shouted at me.
Fortunately I always had Jon there to support me. I remember going back home and feeling depressed about invading people's space and needing to explain all the time. But the rushes that I was watching on a daily basis and the feel that this was the last chance to record something unique gave me the energy to continue to ring Jonny and pop there again, and again and again.
I was aware, as a film lecturer, that especially in documentary filmmaking it is important to gain the trust from the subjects being filmed, and trust was the key for getting Jon's surrounding people and artists on board in the film.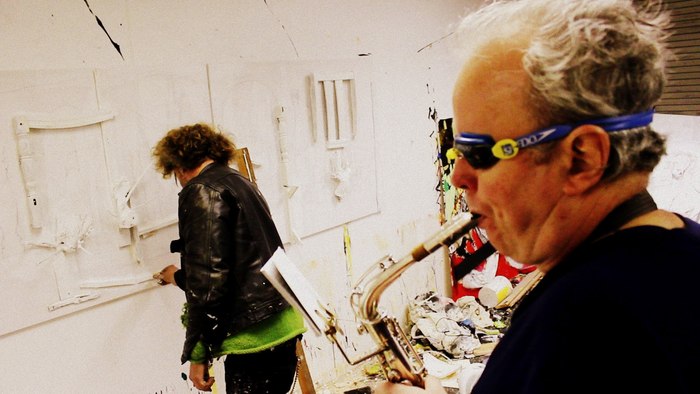 The turning point was again an improvised event.
One day, at the studio, there was a teenage girl who was just hanging around there, like many other people used to do. I asked her who she was and she said she was a singer. I thought she could sing as Jonny was painting, and that I would film that. She did sing, a cappella. We did three takes and this attracted a few people from the studio who gathered around the camera and seemed to have fun.
I thought that maybe introducing staged elements would increase people's trust, so I planned more of this. I staged scenes using artists from the studio with poetry skills, a sax player, an audio-visual artist, a traditional Lithuanian instrument player, a punk band… I think it was this fun element that helped me to gain trust from the artists involved.
Another element that definitely helped me in pushing forward this project is the fact that I have always been interested in artists and the persevering of artists in reaching their goals and in trying to fulfil their passion despite financial obstacles.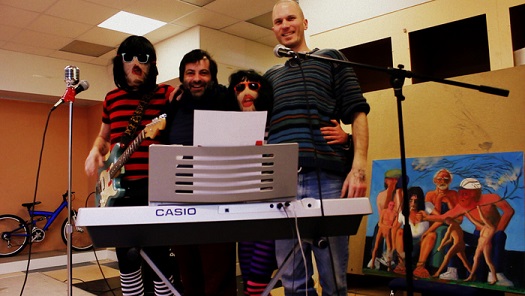 Massimo with The Shelley Duvalls and audio-visual artist Peter Farago
---
Why Kickstarter
My choice of setting up a Kickstarter campaign has to do with the fact that my project JONNY is a dynamic social enterprise which will benefit the people and charities involved; it is a charity project and a campaign documentary. The artists involved in the film have donated artwork in order to raise completion funding for the film.
That is why I thought that Kickstarter was the right platform for such a project.
The characteristic of crowdfunding is that is the community, us, to decide what project to support and how much to fund.
JONNY is a charity film that hopefully will help a group of local artists, some of them suffering with mental health, evicted twice from their studio spaces, to finally find a permanent home. I believe that this project will strike a chord with people. I funded all the shooting myself, but to complete the film, additional funding is needed for post-production.
---
Equipment List For JONNY
---
About The Author
Massimo Salvato is an Italian writer, producer, director and lecturer in Film based in Wales. He is the Director of MUSE, screened at Berlin International Directors Lounge and Sofia International Film Festival. His work as a community filmmaker led him to his current project JONNY, a feature length documentary. He has two children.


---
Join in and write your own page!  It's easy to do.  How?  
Simply click here to return to Write An Article.
---
Filmmaking Quick Links
---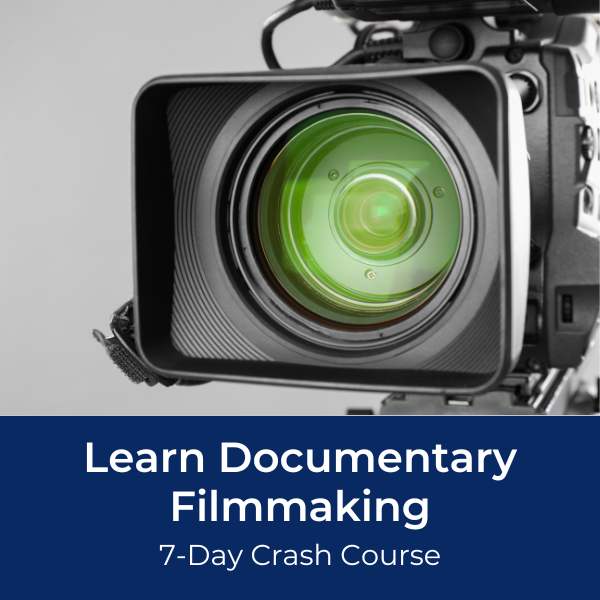 Ready To Make Your Dream Documentary?
Sign up for our exclusive 7-day crash course and learn step-by-step how to make a documentary from idea to completed movie!