The Youngest Son Of A Millionaire | Documentary Idea
by Paul Ventura
(Wakefield, Ma USA)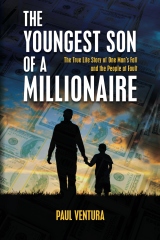 This documentary idea is based on my true life story and my book: The Youngest Son of a Millionaire
.

This is an emotionally charged memoir that recounts with devastating honesty the unraveling of a lifetime of labor and the heartless denial of any remedy by the authorities charged with protecting the public.

Following my father's tragic passing at the age of fifty, I came face-to-face with blatant deceit and calculated manipulation as a well-planned estate was plundered by family members, their dubious paramours, and predatory lawyers.

With the revelation that lawyers were clouding my father's expressed instructions for the estate, my story takes even more confounding turns as I seek out justice and potential restitution from oversight boards, regulatory bodies, and law enforcement.

The Youngest Son of a Millionaire
is a dramatic tale of unimaginable heartbreak and search for redemption in the aftermath of brutal and callous betrayals.

In spite of these troubling events, however, this story resonates as a testament to the values and morals that my father exhibited in his life and indelibly instilled in me, marking a true legacy passed on to future generations as a timeless bequest that can never be stolen or revoked.

I grew up with seven siblings in the suburbs north of Boston. I have two adult children, Nicole and Paul Joseph, and a seven-year-old son, Mateo. I live in the family house my father built in Wakefield, Massachusetts, where I am raising Mateo.

A documentary would give the people of Massachusetts the opportunity to see the injustices that were done to the Ventura family after my fathers death.

The worst of all when after my mother died and we had a case against my mother's new husband and three days before the trial the case was dismissed saying we did not have enough evidence. In fact we had so much evidence the defense team of the case knew they would most likely lose they came up with a scam to dismiss the case. I believe this case was bought with the Ventura families' money. How ironic this is that our own money shut this case down.

Please feel free to get in touch with me if you have an interest in this story.