What Camera Should I Buy:
Comments
---
In response to our article, What Camera Should I Buy, these are some of the responses we received:
---
"My Nikon Surprised Me"

By: Marvin Matias
"I am an undergraduate student of Digital Filmmaking and is definitely independent filmmaker. I only got a basic DSLR. I got a Nikon D3100 with just a kit lens. It's really not enough to film your subject. But when I brought my shots into Adobe Premiere and tried color grading, I was surprised by the results. It was a lot cinematic than that of the raw footage. Generally, with all its flatness on the production, it becomes cinematic on the post production. I would still recommend this camera for low- to no-budget filmmakers."


---
"The Sony Fs7"

By Brendan P. (Australia)
I don't own an FS7 but have used them with my canon EF lenses.
Super 35 sensor, lightweight, NDs, 4k, s log flatness, up to 240 fps. Very nice.
The motorised ENG style para-focal 28-135mm zoom lens they've developed in parallel is very nice from what I hear.
It's a c300 beater IMHO.
Then there's the extra 2+ stops you get from an A7s DSLR but thats a different story.


---
"My Choice: Sony PXW FS7"

by: Tamba Jean-Matthew (Africa)
Thanks for these tips on cameras!
Going through them, I realize my choice is the Sony PXW FS7 mainly for its general purpose character.
My documentary ideas seem like a film to me...telling reality and bizarre stories of witch doctors hunting down witches and wizards in the village located in the boosom of tropical jungle forests of West Africa and witch mask dancers I have never seen their likes among the thousands of documentaries produced on this topic.
What am doing presently is just recalling those wierd stories and writing them down while praying that the day should be soon when i can afford the gears and money needed to organise the shooting of these dream documentaries including cannibalism and the horrors of war during the 12 years of the twin fratricidal wars in Liberia and Sierra Leone that I was opportuned to cover as a journalist at some point as a victim at another and as a soldier at another point.


---
"Camera for photos"

By: Nicole Harris (USA)
Its not exactly a recent purchase, but the Christmas before last, my parents got me the Nikon Coolpix L820, I haven't tried using it for a documentary yet... But its still an incredible camera. It has a mode where it'll only take a picture is everyone has a smile on their faces, as well a mode specifically designed for taking pics of pets. Not to mention the fact, that it takes amazing video! I actually took with me to Disney World last time my family went! You can find the pics here: Disney 2014.


---
"Doesn't Take Much"

by James Williams (Alaska, USA)
First of all, many people are not able to afford much of the equipment and video cameras available on the market, like me for example.  Second, most people are actually and blissfully unaware that their smart phones have video cameras that actually film in high resolution. My smart phone, although old and outmoded now, actually shoots and films in much higher resolution than my canon gl2 camcorder, and the quality of video footage by my smart phone is amazing.  Although I am restricted to how much footage I can actually film and capture because videos eat vast amounts of memory. 
When filming, I just place my smart phone on a solid surface for steadying and I ALWAYS turn my phone sideways, so that filming can be done landscape instead of portrait mode. The only downside is the audio, but that is easily corrected by taking a separate audio recorder.  I have a "Zoom H4N" and a Zoom H2 digital recorder and it is fitted with my homemade wind sock to reduce wind noises. The digital recorder allows me to capture high quality, high definition stereo audio for my film productions.  The external digital recorder also allows me to connect external microphones that I can either put on a boom-pole, or mic stands, or, I can also use lavalier mics if I am conducting interviews.  I own several different microphones to choose from including XLR, Standard 1/4 plug types and at least 2 lav mic's to fill my recording needs. For wide stereo recordings I have used 2 XLR microphones mounted on boom tripods and spread apart as far as they can reach. This disables the onboard mic's but allows for more dynamic and colorful audio recordings.  
The digital audio recorder is a great way to supplement and augment video footage filmed with the smart phones that are readily available these days.  I know. I took my smart phone out and did some video shoots at "Potter Marsh" in Anchorage. The tiny condenser mic is so sensitive that the audio was all but useless. So, the next day I took my Zoom H4N to the same location and captured about an hour of audio recordings.  I took the recording and dubbed it in after I deleted the original and very noisy soundtrack from the video footage that I had filmed.  The results are amazing and you would never know that the audio and the video were filmed on separate days.  I was able to mount my H4N on a mic boom and lowered it from the boardwalk foot path and close to some running water of the marsh stream and captured some very good audio of the many babbling streams that flows into and feeds the marshlands.
For interviews, some sort of a noise maker such as a "Clapper" or a loud banging noise can be made when video footage commences and the digital recorder starts to record. This loud noise can be used to sync the digital recording with the video footage during post production.  I have a clapper that was used several times when I was capturing interviews when I was still employed at The Alaska Native Heritage Center and I had used my digital recorder for capturing separate audio.  I chose to use my digital recorder in addition to the separate external mic's that were attached to the camcorder.  The audio was so much clearer and provided excellent interview recordings that were later sync'd and added to the video footage.  Although the interviews were never used, the footage is still very high quality and the audio excellent because of the separate audio recordings that was captured at the same time as filming.
Use of the video camcorder, my smart phone video record mode and my digital audio recorder was and is, a valuable learning tool and I make good use of what I learned at The Heritage Center.
Your website remains truly, one of the best resources I've found for my video filmmaking adventures, thank you.
---
YOUR Thoughts & Feedback:
Add YOUR comments below or send them to us using the Contact Us form. 
Go back to What Camera Should I Buy?


---
Documentary Cameras: What's Your Choice?

---
---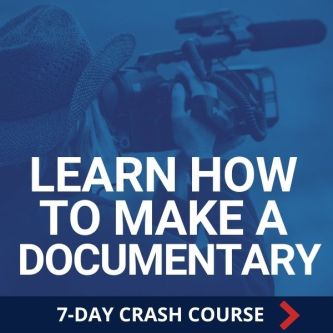 Ready To Make Your Dream Documentary?
Sign up for our exclusive 7-day crash course and learn step-by-step how to make a documentary from idea to completed movie!