Wildlife Warning? The Story Behind The Los Angeles Earthquake Farm | Documentary Proposal
by PC Jones
(SWFL)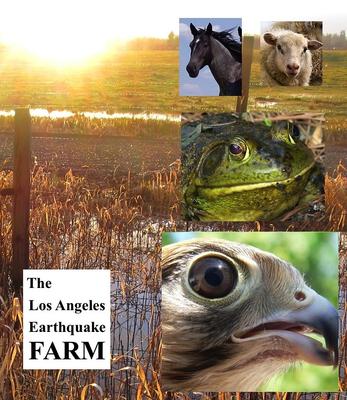 Documentary synopsis: "Wildlife Warning? Nature Leaving Los Angeles and the story behind The Los Angeles Earthquake Farm."


Scientists and geologists have been saying for years that the 'Big One' may hit California at any time. And that the San Andreas Fault could cause a break in the earth at any moment causing one of the largest earthquakes ever recorded… perhaps even sending California into the ocean. In fact, thousands of small earthquakes are currently hitting Los Angeles daily, continually. For years the SoCal masses have ignored the warnings but when will it be too late? And seeing that a ticking time bomb is about to go off while millions still peacefully recline in lawn chairs by the pool is there anything that we can do to intervene…, to help…, to change…, to prepare… for this eventual disaster?
Well, one man thinks that animals and nature and the frequent pattern of animals acting erratically before an earthquake may be able to help…hopefully...before it's too late.
"Wildlife Warning? Nature Leaving Los Angeles and the story behind The Los Angeles Earthquake Farm" is a new documentary telling the story behind the creation of a Southern California farm which monitors animals for erratic behavior- behavior which may indicate, according to many scientists, an impending, major earthquake. Citing many claims of animals' unusual behavior preceding catastrophes including the 1975 Haicheng, China's example as possible proof for wildlife desertion or 'wildlife warning' researcher/ farmer Red Grant goes about the developing, funding, building and establishing of a farm that all too many may criticize BUT that all too many may be thankful for, if and when, it becomes successful in forecasting an earthquake.
Watch one man with one strong conviction and many beloved animals take part in this renegade experiment which may, if proven accurate, warn millions of Angelinos of the highly anticipated 'Big One' or other upcoming disaster.
*Tentative Outline:
PART ONE:
The Vision
Roadtrip
Finding a Farm
Look Who's New!
Science and More Science
PART TWO:
Embracing The Community
Linking With Expertise
Mass Media and a Few Famous Friends
The Opposition
WAITING GAME
A Wing and A Prayer
This is Only a Test
PART THREE
If I Were You (Get The Heck Out Of Here)
Is This California?
Animal Whispering, Animal Shouting
The Biggest One
Sacrifice
A New View/ Conclusion