Working Class | Documentary Idea
by Carl Meachin
(Ferryhill County Durham UK)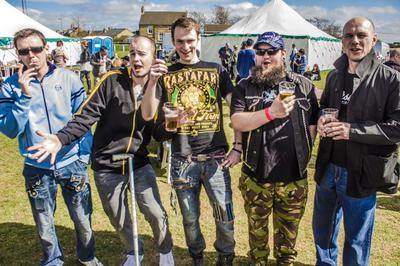 Us four with the festivals host
Hi my names Carl, im in a band called working class, we have been wanting to do a documentary on what we do as theres so much going on in the band, us traveling and doing festivals, and in our lives, we think it would be good to see.


Im the lead in the band and write the majority of the songs. I was in a car crash a few years ago and have metal work in my pelvis and leg. Before the crash i was always out working, and active and I'm trying to get as active as i can and deal with the fact it will always be a problem. Im trying to do physio and get fit whilst trying to get the band going and struggling to make money.....but have a smile on my face still.
Our drummer (Maka) is a typical makam.. he's been through a lot, his dad died in prison, his sister was murdered and his mums kicked him out when he was 16, has also an evil ex who's kept him from seeing his son, he's sorted it through court, i think it would be good to see the relationship him and his son grow again.
Our guitarist (cookie, or kooks...we make up different names all the time for him) is extremely clever, he works in a pharmacy, he can fly a plane, he's the best guitarist ive played with and yet he hangs around with us.
Our bassist is a punk-looking fat lad who's a bit weird, we all just take the mick out of him really, me and maka always do. The thing that would be really good to document is that even though all this stuff has gone on, and all four of us are so different in character and get on each others nerves a bit, we love what were doing and we wouldn't have it any other way.
When we're driving to gigs, finding gigs, being on stage, with the people when were off stage in the crowd. When were pranking each other and and doing little gigs in the middle of nowhere, we love it!
Even once a week we go to a pub which is closed and sit and jam, its really chilled. We're getting known and everywhere we go young and old love what we do.
It's a brand new genre really, funky/rock/rap fusion id be happy to send you some tracks to listen to.
http://www.facebook.com/workingclassuk
There are pics, videos, and reviews of us posted on there pleas have a look. Thanks for reading i hope to hear from you soon.
Many Thanks,
Carl Meachin | Working Class