Briars in the Cotton Patch Documentary
by Faith Fuller
(USA)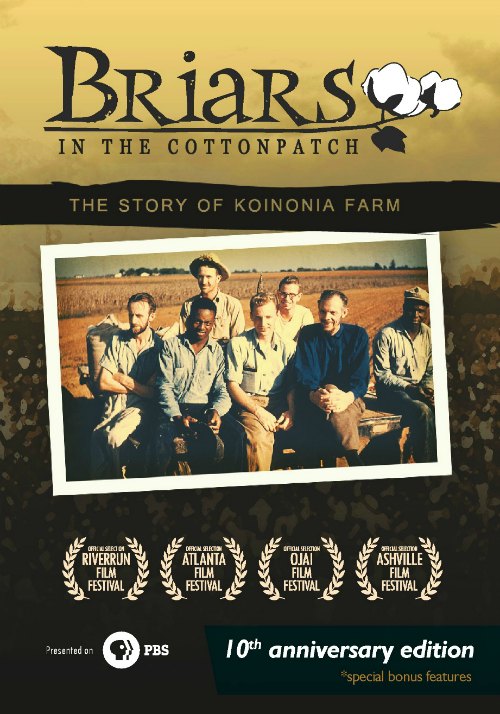 Briars in the Cotton Patch: The Story of Koinonia Farm explores the unknown story of Koinonia Farm, which may have been the most daring social experiment in the southern United States during the last century.

Started in 1942, blacks and whites lived together on the Georgia farm, broke bread at the same table and got paid the same wages. The community became the target of white anger – with bombs, boycotts and shootings.

Narrated by former Atlanta Mayor and UN Ambassador Andrew Young, this one-hour PBS television documentary examines the remarkable personalities and events of Koinonia Farm. Although not widely known, its significance and impact stretches around the world because it is the seed from which Habitat for Humanity International grew.

"Briars in the Cotton Patch" (Opening Sequence)

Briars in the Cotton Patch
aired on PBS stations nationwide from 2005 - 2010. It won a regional EMMY for best script and was nominated for a regional EMMY for best music score. It is also the recipient of the prestigious CINE award.
The 10th Anniversary Edition was released in 2013 with several brand new bonus features.
Director/Executive Producer: Faith Fuller
Producers: Michael Booth, Jim Rothschild, Florin Miron
Scriptwriter: Michael Booth and Faith Fuller
Music Composition: Curtis Bryant
Narrator/Host: Andrew Young
Official Website:
www.briarsdocumentary.com
Purchase DVD on Amazon:
Briars in the Cotton Patch 10th Anniversary Edition
Watch FREE Streaming on Redeem TV:
Watch Briars in the Cotton Patch on Redeem TV