Coaches' Wives Documentary
by Jonathan Moore
(Los Angeles, CA)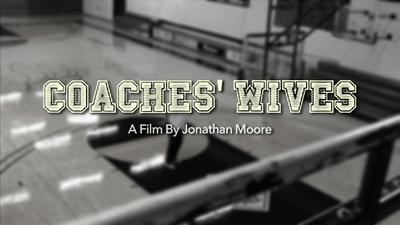 "Coaches' Wives" is a feature documentary film birthed by the fact that I am the lifelong son of a coach and a coach's wife. My father was a high school and small college football and basketball coach for nearly 30 years. He also coached tennis, golf and cross country at various times in his career.

Once I had grown into an adult, I was able to look back over the years and see how many sacrifices my mother had made in order to let my father devote so much of his time and energy to his profession and the young men and women on his teams. It's not always easy for a woman to be a coach's wife. The husband/father/coach is often not home and she is usually responsible for keeping up the household and running the family.

So my wife and I decided to make a feature documentary film about these amazing, strong and fantastic women. Over a couple of years, we traveled around the country and spent time with several coaches' wives and interviewed them. We have coaches' wives at all levels of different sports in the film and we found that most of them have the same issues and problems, no matter what level their husband is at.

We shot on the Panasonic HVX 200
with one additional "beauty" sequence shot on one of the Canon DSLRs. We are currently in post-production and expect to have a final cut very soon. Our online trailer has been a huge hit, with more than 50,000 plays. We also have a sizable social media audience.

Problems: money is/was always a problem. Without a real, workable budget, we had to shoot as we could afford it. Also, our production team was a 2-man crew, including the director. We truly did do a lot with a little. It was difficult to get a lot of "day in the life of" material since we would usually only spend a day or so with the subjects. However, we believe that with good editing and utilization of quality B-roll and stills photos, we still have something special here.

This is not exactly the film we set out to make, but that's okay. People really seem to like the trailer and are looking forward to it. So are we!


Watch The Trailer! Coaches' Wives
Like us on Facebook:
facebook.com/CoachesWivesDoc
Follow us on Twitter:
@CoachesWivesDoc