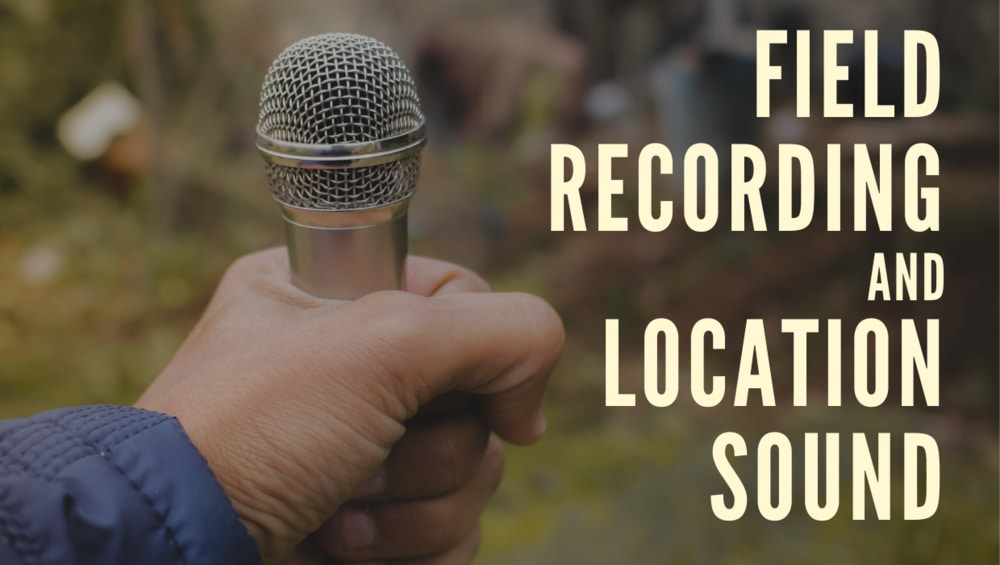 Documentary Audio Field Recording and Location Sound
Helen's Audio Gear Kit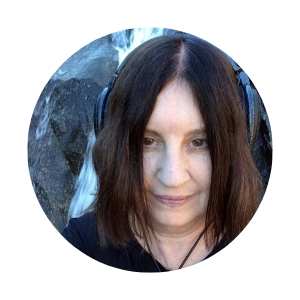 Guest Author: Helen Hall - Documentary Filmmaker (USA)
Published: March 2020
While planning a recent trip to Colorado to scout locations for an upcoming film shoot, I decided to bring sound recording gear along to experiment with recording sound for each location. 

My intent was to listen closely to each environment and make recordings – as a way to document and remember them sonically like photographs, and to build a library of location sound for the film.
With a modest budget for an independent film, I searched for affordable gear that is also light and easy to travel with – everything fit into a backpack.
My film project is "Pictures of Infinity", a feature documentary about Nikola Tesla's discovery that the Earth produces an unlimited reservoir of natural electricity, and the system he invented to harness it, based on an entirely new understanding of physics.
It was the unique atmospheric conditions and purity of the environment that originally drew Tesla to Colorado Springs, and he made his most groundbreaking discoveries during the year that he spent there.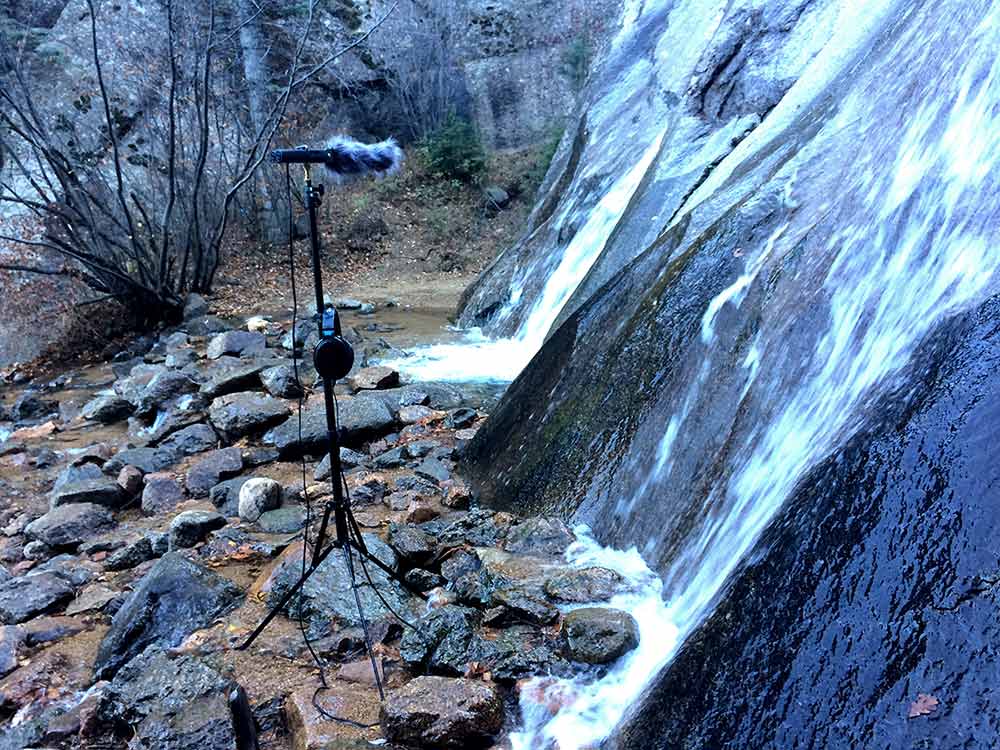 Zoom H5 sound recorder with SSH Shotgun microphone mounted on a Manfrotto tripod. Headphones are Sennheiser HD 600. Location: Helen Hunt Falls, Colorado Springs

MixPre-3 XLR Audio Recorder with two contact microphones.
Location: Helen Hunt Falls, Colorado Springs
In the film, we are reproducing Nikola Tesla's experiments in dramatic scenes, based on his written accounts.
Tesla created a circuit between the Earth and ionosphere with his experiments to harness natural electricity, and I imagined recording location sound from both the perspective of the ground and of the air, and later combining both signals in the final mix to form a circuit.
I brought two recorders with me: one with high sensitivity that I placed on the ground with two contact microphones, and the other mounted onto a tripod, with a shotgun mic to capture sounds in the air.
Tesla also noted in his journal that the purity and dryness of the atmosphere might be responsible for the way sounds can he heard clearly from great distances.
The dramatic scenes in the film are evoking this time period, and so it was critical to find environments that were isolated from the sounds of traffic, planes and people that travelled far through the air and might interfere with the recording.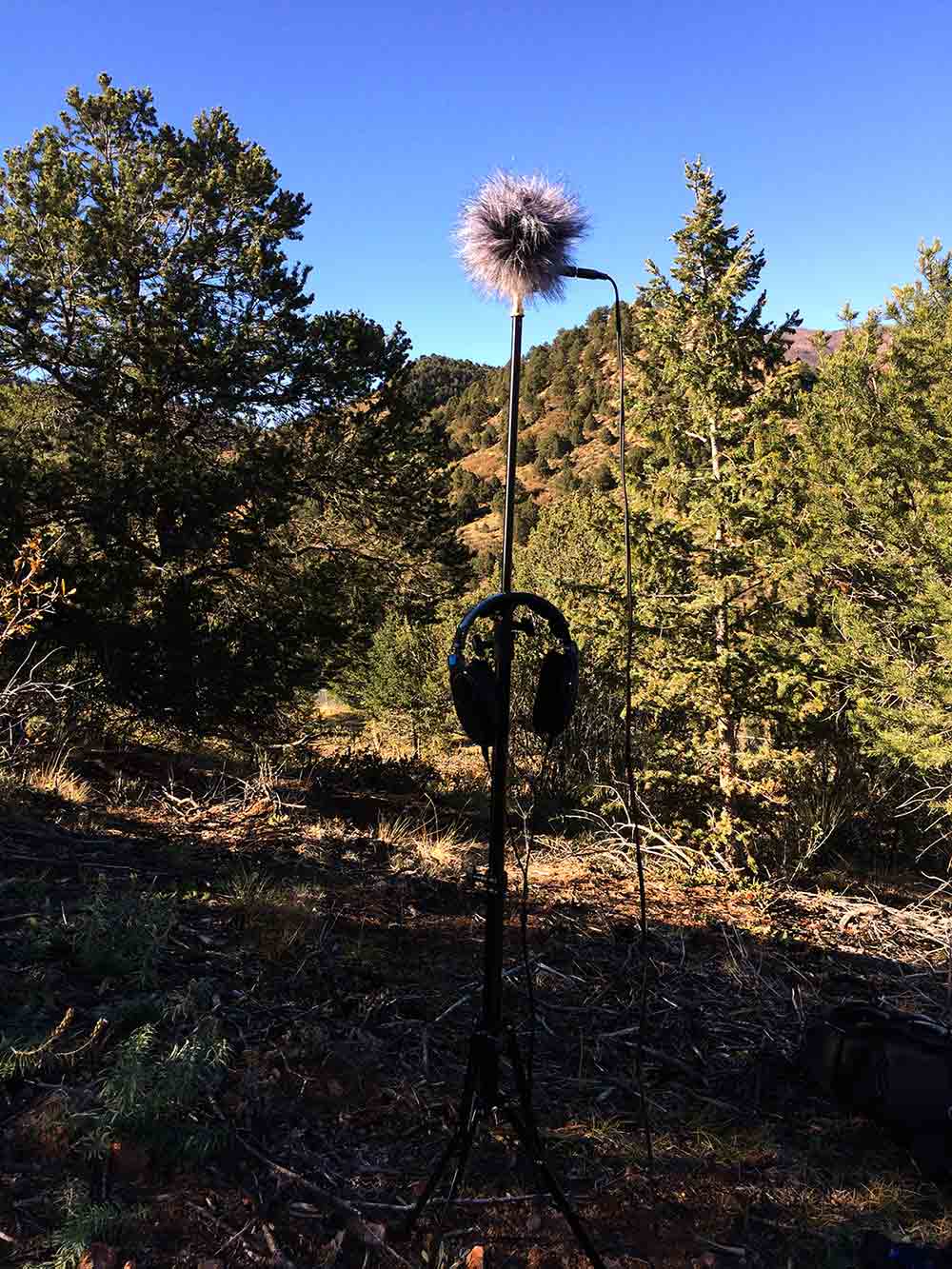 Zoom H5 sound recorder with SSH Shotgun microphone mounted on a Manfrotto tripod. Headphones are Sennheiser HD 600. Location: Ute Pass Trail, Manitou Springs, Colorado

Some of the locations I explored didn't have the right visual qualities for the film – a large, empty field for example, was missing a view of the front range of the southern rockies that marked the original location of Tesla's lab in Colorado Springs, but it was far enough away from city traffic and flight paths for planes that the location sound turned out to have exactly the qualities that are needed for the film.
As a composer, I think of every sound in the film as part of the music – I make no distinction between music and sound, or between sound design and composing. Researching and recording unique sound environments in Colorado has prepared me for our upcoming film shoot.
It will save valuable time for the sound recordist, and has given me rich sound materials that will become an essential part of the music for Pictures of Infinity.
---
About The Author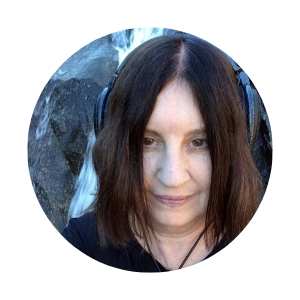 Helen Hall is a filmmaker and composer. Her previous documentary, "Powerlines", about the mystery of electromagnetic fields, began as a musical score based on the sound waves of artificial electromagnetic radiation.

---
Popular Microphones for Documentary Filmmaking
---
Filmmaking Quick Links
---
To share your own filmmaking gear or
see other filmmaker's gear lists, click here.
---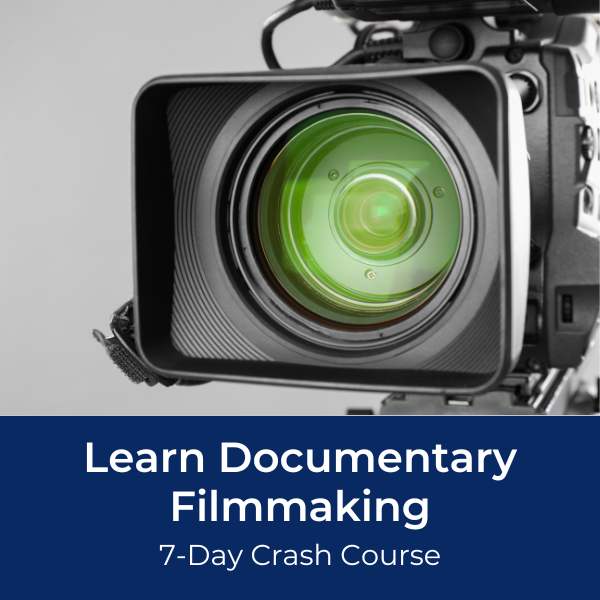 Ready To Make Your Dream Documentary?
Sign up for our exclusive 7-day crash course and learn step-by-step how to make a documentary from idea to completed movie!