DSLR Audio | MixPre-D Review
---
In response to this article DSLR Audio: Rigging Up A DSLR To Capture Pro Audio, freelance video producer and sound mixer Larry Vaughn noticed that one of his favorite pieces of gear was not mentioned.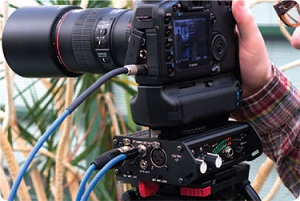 Photo Courtesy B&H Photo
"No mention of the Sound Devices MixPre-D. Film quality mixer with several outputs. One 2 channel direct to camera. One 2 channel to separate recorder. Two to XLR inputs. Phantom mic power. M/S and stereo options. Best preamps."
We asked Larry if he would be willing to elaborate on his experience with DSLR Audio and the MixPre-D. Below is his response. Thanks Larry!
---
DSLR Audio | MixPre-D Review

By Larry Vaughn, Video Producer/Sound Mixer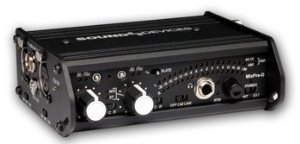 The Sound Devices MixPre-D is a professional 2 channel mixer.
It has a mic level output that can be used to plug into the minijack microphone input on DSLR cameras.
There are two XLR inputs on the mixer, and two outputs. There is also a tape output and a usb connection.
For example, I use my Tascam DR100 Mark II with this mixer and one of my EOS T3i cameras. I connect the Tascam XLR inputs at line level (there is a switch for selecting line level) to the XLR outputs on the mixer.
I can rely on the very high quality mic preamps in the mixer, which are better than the mic preamps in the Tascam. So I can use sensitive phantom powered condenser mics, or even non-powered mics like the Electro-Voice RE50, which are classic hand held interview mics with several layers of built in wind protection. Because the electronics in the MixPre-D are so good I don't worry about getting hiss that you can hear during the quiet times.

Then, with the Tascam connected, I can also directly connect a cable from the mini-xlr mic level output on the mixpre-d and connect the other end into the mic jack on the camera.

This way even if there is a problem with the recorder, or it is turned off, I still get audio into the camera. The trick here is to just set the audio level one click to the right of the lowest setting. Then adjust the volume with the mixpre-d volume controls.
By doing so most of the audio amplification is being done by the mixer and not by the inexpensive camera audio circuitry.
Then later I can use plural eyes to synch up the audio.
There is a 1/4-20 screw thread on the MixPre-D, and they sell an adapter that allows the mixer to be attached to the bottom of the camera. I don't think it's worth the nearly $100 they want for it however, being so simple someone handy should be able to make one or just not connect it to the camera.
Because the MixPre-D has a usb connection, I can also use my computer with it, and record the audio with any audio program that works on the computer.
It's expensive but I find that most good things are and the results are worth the money.
---
Two Mixers Better Than One?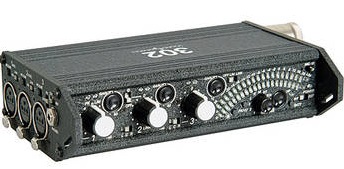 I have a Sound Devices 302 mixer, which is a 3 channel mixer. Recently I bought the MixPre-D. They can be connected to have a 5 channel mixer, and both have the capability of 2 more channels using the return jack.
I like having two mixers, because of weight, I can use one or both of them. Recently the company came out with a 6 channel mixer with built in individual channel recording. It's expensive at $4600 but many pros are selling their older gear and buying that. So there are lots of good deals on ebay for the less expensive mixers. I bought both of mine from ebay. I usually judge the quality by the condition of the paint, more chips in the paint means more use. I don't buy those. I try to talk to the seller and see what he used it for and how long. Sometimes they use stock photos and I try to get some photos of the actual device, or move along.
I passed on one guy who was selling used 302 mixers that had been used on "The Greatest Catch". Hmm, salt water and rocking boats in the sea. No thanks.
In the case of the MixPre-D I recently bought, it had a stock photo but the product has not been on the market for very long, about a year, and when it arrived it looked new.
---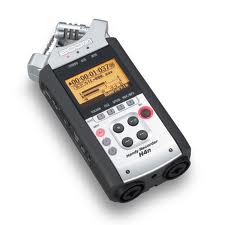 A Word About The Zoom H4n
The Zoom H4n ranks in the low end of all the handheld recorders tested.
This article is rather technical, but since so many people use the H4N, probably because at the time there was nothing else available, they should know what they are dealing with.
http://www.martin-doppelbauer.de/audio/fieldrecorder/part2/index.html
http://www.avisoft.com/recordertests.htm
---
About The Author | Larry Vaughn
Larry Vaughn
I am a freelance video producer and sound mixer who works in the central and north Florida area. I've worked in TV news as a shooter/editor, 10 years of photojournalism work with various Florida newspapers, 6 years of theatrical photography, worked with some online groups doing one man band field production/interviews/cameraman/sound/lighting/editor and computer tech. I can be contacted at gatorfilms(at)gmail.com. I don't make money from any endorsements and usually buy my gear used on Ebay or some other discounted source.
---
 Return to DSLR Audio: Rigging Up A DSLR To Capture Pro Audio
---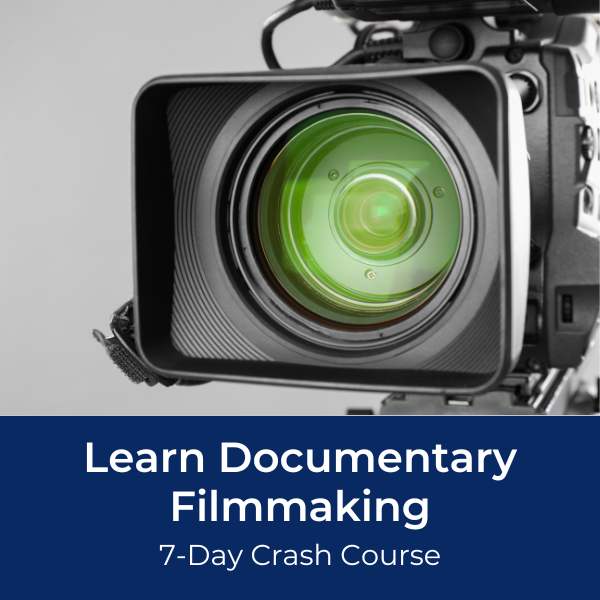 Ready To Make Your Dream Documentary?
Sign up for our exclusive 7-day crash course and learn step-by-step how to make a documentary from idea to completed movie!