Video & Film Production Insurance

Should you buy insurance for your documentary?
Video & Film Production Insurance
When shooting began on my first independent documentary, film production insurance wasn't even on my radar.  Frankly, there was no money.  I couldn't even pay my crew!  Plus, I assumed it would cost hundreds or thousands of dollars.  
Turns out production insurance isn't necessarily expensive and it could really save your butt. And depending where you live, you may even be required by law to have insurance covering any freelancers or workers you hire.
Here are the main types of video & film production insurance to consider:


---
Video & Film Production Insurance Options
General Liability – The reason you need insurance is to cover you for unexpected trouble and mishaps. What if a child trips over your audio cable and breaks their wrist? Or one of your video lights falls and burns a hole in a $5,000 couch? If a claim is filed against you for damages, the law will hold you responsible. General liability insurance basically covers the "general public", not your cast and crew, for bodily injury or property damage resulting from your filming activities. You'll need workers compensation insurance to cover your crew. 
Workers Compensation Insurance – If you hire freelancers or have employees as part of your production company, local law in your area may require you to have workers comp to cover medical costs, rehabilitation and/or lost wages to anyone who gets hurt while working for you. It also covers death benefits for their dependents if they are killed in work-related accidents, including terrorist attacks. For filmmakers in the United States, see the NFIB's State by State Comparison of Worker's Compensation Laws.

Video Gear/Equipment – What if you're filming on a boat in the middle of the Caribbean and your $10,000 video camera falls into the water?  Insurance will cover that kind of loss (as long as you told the insurer in advance you would be working out of the country and on/near water). Make sure you itemize each piece of equipment for the insurer that you want covered, including your own personal equipment and rental gear. Sometimes, for just a few dollars a month, you can add on a "rider" or "floater" to your existing homeowners policy to cover extra items such as video equipment/computers.

Video Tape/Footage - This covers direct physical loss, damage, or destruction of your video footage up to the amount of the insured production costs. Say for example you have a house fire and all your computers, hard drives and footage are destroyed. This kind of insurance would cover that type of scenario. Can we all say the words: "Back-Up"!
Errors and Omissions (E&O) – Usually E&O insurance is purchased at the end of production once you know where/how your film will be showcased (although some broadcasters require it before you start shooting). E&O insurance protects against lawsuits for such things as contract disputes, copyright infringement, mistakes in music clearance, defamation, slander, invasion of privacy, plagiarism, using someone's image without permission, etc. For my documentary Briars in the Cotton Patch, the E&O insurance was thankfully covered by the broadcaster (PBS). Otherwise, according to an interview on Doc Roundup with Debra Kozee, president and founder of C&S International Insurance Brokers, the cost of E&O insurance can run anywhere from $2,000 for "festival coverage" up to $3,500 depending where the film is showcased, the controversial nature of the film and how high profile it is.


*Tip! Make sure to read your video/film production insurance policy carefully for any exclusions that may be listed.
---
Short-Term vs Long-Term Insurance
There are all kinds of insurance packages that can be customized for your particular situation including long-term and short term insurance, so only buy what you need.
For example, you can buy long-term insurance for your production company or just buy insurance for a particular film project or even one shoot. And if you have time, it's a good idea to get several insurance "bids" to compare costs and benefits of each policy.  
An insurance broker may be able to get you a better deal by comparing offers vs an agent who only represents one company.
---
How Much Does It Cost?
Of course, this answer depends on your particular situation.  For example, how much gear do you need insured?  How many employees/freelancers?  For how long do you need coverage?  Are you traveling out of country to a dangerous region?
To give you some ballbark figures, here's some information provided by Fractured Atlas:
| | | |
| --- | --- | --- |
| | "Policies for film projects with budgets under $100,000 have been about $425 for liability coverage alone. Equipment coverage starts at $500. Negative/video loss coverage is typically $800-900. Errors and omissions coverage is usually between $2,500 and $2,800 for productions with budgets under $250,000. Workers' comp varies based on the number of employees and size of payroll, but small outfits can usually be insured for as little as $400." | |
---
Where To Get Video & Film Production Insurance?
One idea is to contact your hometown insurance agent who handles your home and car insurance. Explain the details of your shoot or film project and ask for a quote. 
Another option is to work through an organization that deals specifically with filmmakers. One example is Fractured Atlas, a non-profit organization based in New York dedicated to helping artists with a variety of issues including insurance. 
To get insurance, you may be asked to fill out a "Filming Risk Assessment Form" based on your production schedule. So if you're considering insurance, go ahead and make a list of all the equipment/items you'd like covered, marking down the serial number, date of purchase and how much you paid for each item.
---
Additional Resources for Video & Film Production Insurance:
www.filmemporium.com
www.productioninsurance.com
www.filmins.com

---
---
Documentary Resources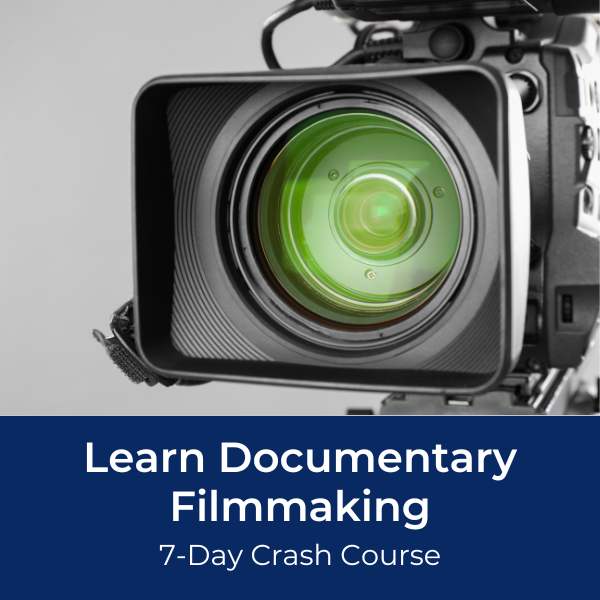 Ready To Make Your Dream Documentary?
Sign up for our exclusive 7-day crash course and learn step-by-step how to make a documentary from idea to completed movie!