Filmmaking Amateur | Cables Are Evil (Day One)
by Scott U
(Georgia, USA)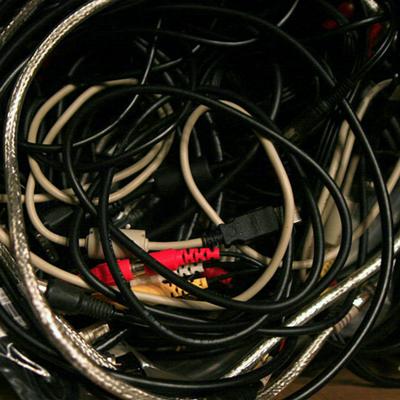 Cables are Evil
It's not like I'm a total filmmaking amateur, but today I am starting to document my journey into the world of documentary film making. A good place to start is answering the question, what is a documentary? I have no idea. Should it be 45 minutes long? Does it need to have a narrator? Is a documentary supposed to highlight unanswered questions for the ages? Is a 5 minute video about what my cat does in a day a documentary? Again, I don't know. You can see, this is going to be a long journey for me if I can't even define the very nature of what I want to do. But enough of the questions that have no answer or have multiple answers. Before I can make a video of my cat, I'm going to need a camera and something to edit the video with.

Today, I set forth to determine if I could use footage shot from my wife's Panasonic DVX 100A (made circa 2005) on my Windows 7 Dell laptop (made circa 2010). The first challenge and the reason I mention the dates is that the Panasonic DVX 100A uses MiniDV tapes. Tapes! Why couldn't this thing just have a USB connector so it could plug right into my PC? Well, it does have DV cable outputs, but those are for Firewire cables. My PC does not have Firewire input. And so my day began. How would I transfer footage shot from this ancient tape rolling camera to my PC so I can edit the best cat documentary ever made.

I went to one of our local computer stores this morning to see if the research I did last night was on track. From what I gathered yesterday, I learned that any cable that went from Firewire to USB 2.0 would be a joke. Even if you could get the video to transfer, as I was told by several YouTube videos and a handful of media review sites, expect poor performance. My local computer geek guy told me as much. There's a reason why these cables don't have the same connectors (other than the conspiracy to make me buy more cables, cameras and computers). Firewire mixed with USB creates a bastard cable child. (If you know different, please let me know!)

That was my morning and afternoon. Searching for stupid cables to connect a camera to a computer. I went through every drawer and box that had cables but nothing worked. The camera was not going to talk to my computer. My cat documentary would be put on hold until I figured out how to transfer footage. All I want to do is write, shoot and edit. But that's not happening. For now.

Video production seems sexy but in the end, you have to be two-thirds cable geek and about one-third sexy creative guy. If your cables don't jive, your creativity can't drive. So, for now, my creativity is in the garage as I give in to the Cable Gods.

I hate cables.