Filmmaking Amateur | Entering The World Of Video Graphics
by Scott
(Georgia, USA)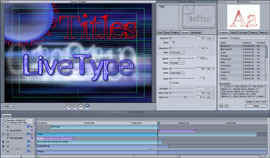 Apple's LiveType
Lately, I 've been editing a lot. I edit in iMovie and find, as a beginner, it has plenty of what is needed to produce compelling stories. But after almost a year of use, iMovie is beginning to show it's limitations.

The graphics get the job done and for a while I could get away with a lot of the same music and graphics being repeated as my customer's videos are not likely to compete with one another. But for me personally, I want to produce with a quality graphics program that allows for more style.

Until it begins to show its limitations, I will be using Live Type which is another Mac feebie that came with my iMac. LiveType is essentially my first go-round with graphics. And I've got some learning to do. LiveType is pretty easy to understand but I have not yet come to understand it's full potential.

I'm always looking for the most cost effective way to create videos. I actually started looking for some graphics programs before I realized that Live Type movies can be imported into iMovie. I did not know that I could do that before. Now I do. So, that just saved me some time and some money.

There's a lot of great free or rather cheap video graphics out there. I wonder sometimes if simply buying graphics may be an easier way to create graphics. While I'm interested in how to make graphics and would like to have complete control over the final effects, it may be much easier just to either pay someone through eLance or from stock footage companies. Learning graphics means more time sitting at the computer.

Ultimately, I am not interested in sitting in front of the computer. I want to be out with my camera. So, paying for video graphics when I need them may save me time and energy. And there is value in that.


Join in and write your own page! It's easy to do. How? Simply click here to return to Filmmaking Amateur Confessions Blog.
Ready To Make Your Dream Documentary?
Sign up for our exclusive 7-day crash course and learn step-by-step how to make a documentary from idea to completed movie!