Flash Memory Camcorders vs
Hard Drive Camcorders

What's The Difference?
---
---
Are flash memory camcorders better than hard drive camcorders?  Well, that depends on what you want out of your camcorder.
Flash camcorders come in High Definition (HD) models as do hard drive camcorders. 
Flash camcorders compress their video whereas hard drive camcorders do not, so hard drives preserve a higher quality video. However, what I've read in reviews, you'd hardly be able to tell the difference in quality between the two.
Hard drives have moving parts, which make them more likely to break if the camera is dropped or treated roughly.
Flash memory camcorders, on the other hand, are one solid unit with no moving parts, which makes them more rugged and shock-resistant than hard drives.
Hard drives also won't work above a certain altitude, usually around 10,000 feet above sea level. So this is a major consideration if you plan to go hiking or mountain climbing with the camera.
The primary advantage of the hard drive is that it can hold more footage. However, once the hard drive fills up, that's it. Unless you can download the footage off your camera onto a computer or external hard drive, you're out of luck. However, with a flash memory card, you can swap out the card with another empty card and keep shooting. The problem is that flash cards can be pricey.  
See the latest prices for SDHC Flash Memory Cards on Amazon.com.
---
Importance of Quality Lenses
When comparing hard drives and flash memory, there are other considerations.  Lenses play a big part in capturing quality video footage. A flash camcorder with a good lens will probably look better than a hard drive model with a poor lens.


TIP! When buying a high definition camcorder, make sure to check what kind of recording format it uses and make sure it's compatible with your computer video editing software.
For example, camcorders with hard drives and flash drives use a format called AVCHD, which is not compatible with HDV editing software, a tape-based format. So, if you have edited in the past using mini-dv tapes and you are looking to purchase a hard drive camcorder, be aware that your video editing software may no longer be compatible.
---
Best Flash Camcorders
Panasonic X900MK
Panasonic X900MK 3MOS 3D Full HD SD Camcorder with 32GB Internal Memory
Canon VIXIA HF S20
Canon VIXIA HF S20 Full HD Camcorder w/32GB Flash Memory & Pro Manual Control
Samsung SMX-C20
Samsung SMX-C20 Ultra Compact "Touch of Color" Camcorder with 10x Optical Zoom


---
Best Hard Drive Camcorders
Sony DCR-SR300
Sony DCR-SR300 6.1MP 40GB Hard Disk Drive Camcorder with 10x Optical Zoom
Sony HDRXR260V
Sony HDRXR260V High Definition Handycam 8.9 MP Camcorder with 30x Optical/55x Extended Zoom and 160 GB Hard Disk Memory (2012 Model)
Panasonic SDR-H200
Panasonic SDR-H200 30GB 3CCD Hard Disk Drive/SD Palmcorder with 10x Optical Image Stabilized Zoom


---
Summary | Flash Memory vs Hard Drive
Hard drives provide higher quality and more recording space for less cost that flash drives. However, hard drives are more prone to getting damaged and are useless at high altitudes.
Was this article helpful?  Or want to add your own comments?  Please share below in the Comments Section.  Thanks!
---
Related Articles
---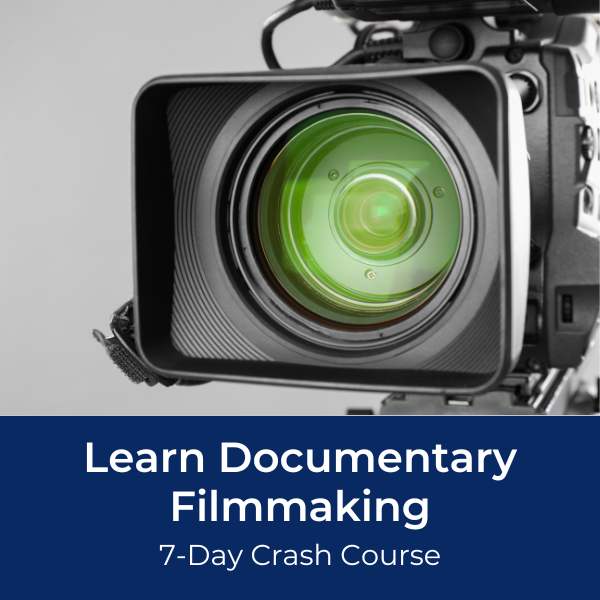 Ready To Make Your Dream Documentary?
Sign up for our exclusive 7-day crash course and learn step-by-step how to make a documentary from idea to completed movie!