This Page Is Now Archived
(It may contain out of date information)

Types of Camcorders
for Documentary Filmmaking

Which one is right for you?
---
Posted: February 2010
When choosing a camcorder, there are several types of camcorders to choose from. Each video format has its advantages and disadvantages.
The best decision is based on how much recording time you need and how much you want to spend.
Although Standard Definition has been the norm, High Definition camcorders are quickly becoming the new standard.
So if you're buying new, might as well "future proof" your footage and buy HD!
---
Different Types of Camcorders:
Mini-DV Camcorders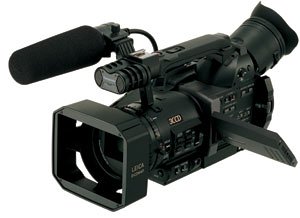 This is a very popular format with documentary filmmakers. However, you should know that tapes are quickly becoming replaced by hard drives. Depending on your setting (standard play or long play), these tapes can give you 60-90 minutes of recording time.
Tapes are relatively inexpensive and easy to find ($3/each). Digital video tapes capture footage with little to no compression, so the video quality is excellent.
Tapes are great for archiving and storage as a back-up in case your computer or hard drive crashes. The downside is that when digitizing tapes into your computer for editing, capturing the footage takes place in real time (an hour of footage takes an hour to import into your computer), whereas when recording to a hard drive, the footage is already in a digital format ready to be edited immediately. Mini-DV camcorder example: Panasonic Pro AG-DVX100BP(S) 3-CCD MiniDV  
---
DVD Camcorders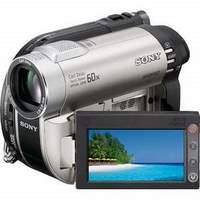 I wouldn't recommend this format for documentary filmmaking.
Although it's super convenient (just pop the dvd out of your camera and into your dvd player at home for instant viewing) and relatively inexpensive, the footage is highly compressed and so the quality of the footage is not great. Although this is a fine choice for easy home movie making, this is NOT ideal if you want professional footage. 
---
Hard Disk Drive (HDD) Camcorders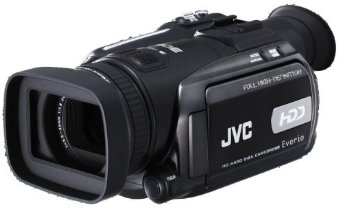 This is the newest type of camcorder.
This is also where the jargon gets confusing.. HDD (Hard Disc Drive) is not the same as HD (High Definition). You can have HDD cameras that are not HD.
Confused yet? (HDD camcorders are available in both Standard Definition and High Definition.)
The hard drive is built into the camera just like your computer. Hard drive camcorders save money because they eliminate the need to buy tapes or dvd's. You just keep re-using the hard drive, just like you do with your digital photo camera.
The exact amount of footage the hard drive holds depends on the quality of footage and how many GB are available (for standard definition footage, 13GB can usually hold up to about an hour of footage. For the highest quality DVCPRO HD footage on Pro cameras, 13 GB will only hold about 13 minutes of footage).
The disadvantage of a hard drive is that once you fill up your drive with footage and if you don't have access to a computer or other storage device to download the footage, you're out of luck and have no choice other than to stop shooting. Also, because a hard drive is made up of moving parts, there is perhaps a higher risk of damage from shaking and bumps. Hard drives can crash and many believe it's a risky proposition to rely on them with important footage. If you tend to be rough with your equipment, this may not be the best choice for you. 
---
Flash Memory Camcorders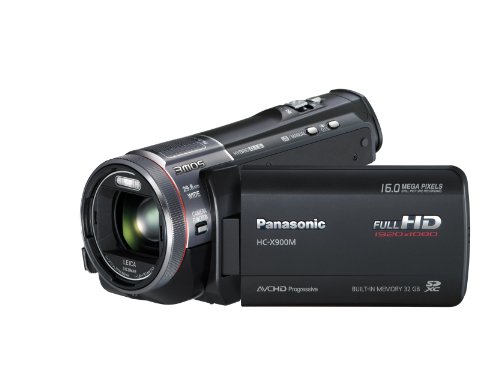 These types of camcorders store footage on flash memory drives. They tend to be smaller cameras.
The two most popular formats of flash drives: Memory Stick (Sony products only) and SD/SDHC (used by most other manufacturers).
The major advantage is that flash drives don't have moving parts like a hard drive, so they are less susceptible to damage. However, flash memory is more expensive than hard drive memory -- about twice as much per gigabyte. So with a hard drive, you get more space for less money, HOWEVER, it's not as stable. Also, hard drives tend to capture higher quality footage than flash, but the gap is closing.
Click here to read more about Hard Drive vs. Flash
---
Combo Models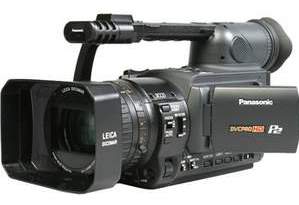 Here you have the best of both worlds!
Some of the newer types of camcorders not only have a removable flash drive, but also a built in hard drive. This gives you the flexibility that if your internal drive fills up before you can export your video files to a computer, you can insert a removable memory card for extra flexibility. Other models have combo disc drives and tape recording such as the Panasonic AG-HVX200, a new favorite among documentary filmmakers.


---
Filmmaking Quick Links
---
Related Articles
---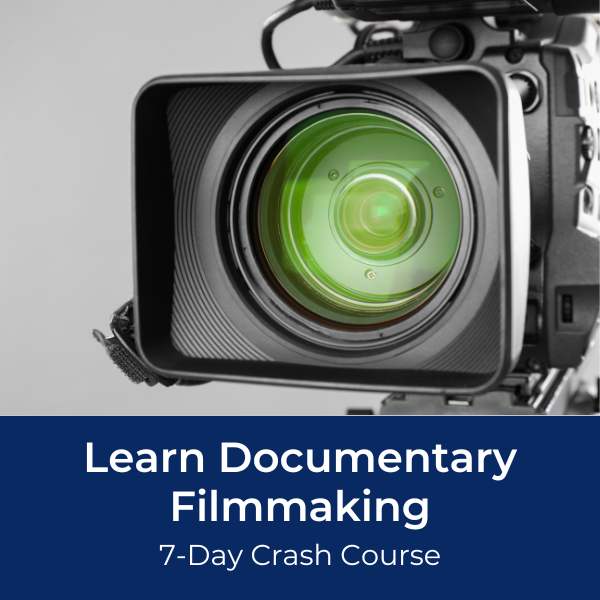 Ready To Make Your Dream Documentary?
Sign up for our exclusive 7-day crash course and learn step-by-step how to make a documentary from idea to completed movie!