The Madonna Murti Documentary
by Oyetayo Raymond Ojoade
(Trinidad)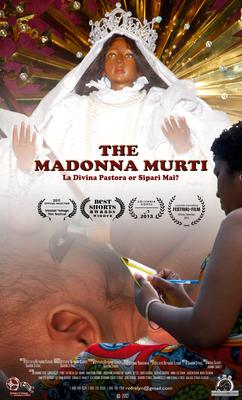 Documentary Synopsis: Where else in the world is black beautiful, baffling and brings together East and West? In South Trinidad at the Siparia Roman Catholic Church in that "city of sand", a black female statue venerated by Catholics as the Virgin Mary and worshipped by Hindus as a black Hindu Goddess does just that! To Catholics who follow her in street processions, the statue is known as "La Divina Pastora", the Divine Shepherdess - to Hindus who charawe her by touching her arms and feet, she is hailed as 'Sipari Mai', (Mother of Siparia) "Siparee Ke Mai" or 'Mother Kali'. As such, she remains the only symbiosis of Catholicism and Hinduism in the Western hemisphere.

Mystery shrouds her origin and about her, legends and myths abound.

Though barely three feet tall when fully clothed, this statue draws pilgrims from every creed and race and the social, cultural and religious rites which accompany her devotions continue to intrigue the world. Well known to pilgrims and devotees who profess her numerous miracles of healings and answered prayers, she is particularly revered by barren women to whom she has given the gift of children and in turn, she receives many gifts of gold and grains, fabric and flowers.

Featuring candid interviews with poojaris, pilgrims, pundits and priests as well as academic experts who have tried to understand her, artists who have tried to capture her illusive image and writers who have tried to tell her story, The Madonna Murti utilizes narrative, drama, illustrations and song to tell the tale of a statue who offers health, hope, help and happiness to those who come to her most in need of it.


The Madonna Murti Documentary Trailer
Interview with Oyetayo Raymond Ojoade, Director of Madonna Murti Documentary
1) Why did you decide to make this documentary?
Initially it was a class project when I was in film school back in 2006-2009. We were asked to pick a topic and work in groups. My group decided to locate the missing grotto of the Virgin Mary on Mount St. Benedict in Trinidad. For some reason my group members decided to drop out and I was left alone. That was when I met my wife now who was by the time my girlfriend. She said there was an even more interesting twist to the missing grotto. She said there was a Black Madonna in Siparia in south Trinidad.
I was so excited to go in search of this Black Madonna whom my wife said people of all religions go to. (Hindu, Christian, Muslim, Pagan, Baptist) They go there on Holy Thursday, Good Friday and Easter to pray earnestly to the Black Madonna and whatever they pray for, they eventually receive miraculously.
2) What equipment was used in the making of The Madona Murti (camera, audio, editing, etc)?
At the time I used the equipment given to us as students in film school. It was a Sony PD 150 standard definition camcorder. I also used an Arri light kit and basic sony lapel wireless microphones for recording audio while undergoing a talking head interview. I used Final Cut Pro 6 at the time to edit the raw footage.
3) Did you have a distribution strategy for this film? Any lessons you can share with our readers?
I did not have a distribution strategy for the film then cause I was a student and wanted to get marks alone. The film ended up being a thought provoking documentary that has been screened in many film festivals. My wife (Sharon Syriac) who was the scriptwriter for the Madonna Murti had won a grant for the script from the then Trinidad and Tobago Film Company. She used it to pay me and a few of my classmates whom we hand picked cause they were working in the industry and had many years of experience. We all went down to Siparia where to the church (La Divina Pastora RC.) where the Black Madonna was situated. We spent two nights filming from Holy Thursday to Good Friday. We got a lot of footage from the night market to the church service and the giving of alms to the less privileged.
The lessons I have learnt over time have been:
a. Stick with an idea if you think it will make it out there.
b. Listen to your heart and not anyone else.
c. Make sure you have a well compelling story that can move an audience.
---
Your Feedback
Got feedback or comments about this documentary, please share below...