Torrella, una vida pel cinema | Documentary Trailer
by Sergi Rubió
(Sabadell, Barcelona, Catalonia, Spain)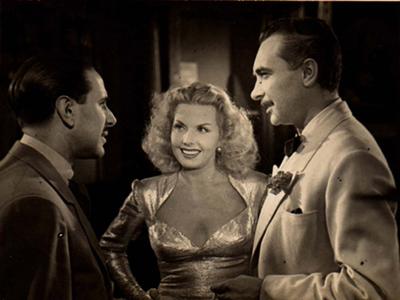 A reflective account on the life and work of Catalonian filmmaker Josep Torella i Pineda. This documentary, shot from the perspective of a young, filmmaking ingenue, lends itself to gently initiate the spectator from the life and work of the man into a revealing look at his career not merely as a filmmaker and angry writer but also as Josep Torella the friend, husband, confidant and patriarch as told by those closest to him.


Director's Notes
This is my first feature film as a Director, which I began at the age of 18. I shot it on analog video over the course of 2 years, working all roles: not only as Producer-writer-Director, but also as Cinematographer, Camera Operator, Gaffer, Grip, Production Designer and Sound. I made this before beginning my film studies, when my only filmmaking experiences were the amateur films I made before that: little movies in Super 8, with my family and friends as my Cast & Crew.
This film is a Doc-Biography of Mr. Josep Torrella i Pineda (Sabadell, 1910-2003), a Catalan writer and filmmaker, who dedicated his life to writing books, novels, plays, scripts for documentaries, and essays, and who with a life of love and passion as a cinema-enthusiast worked as a critic, journalist, writer and investigator not only of Spanish Cinema after the Civil Spanish War (with his book "Rodatges de postguerra a Barcelona", 1991), but also of Amateur Spanish Cinema throughout the 20th Century, including young and old filmmakers, in his book "Crónica y análisis del cine amateur español", 1965, for instance. Furthermore Torrella dedicated the magazine "Otro cine" exclusively to Amateur Spanish Cinema, and the publication was awarded with the Premi Sant Jordi de la crítica cinematogràfica catalana in 1961. And in 2001, he was recognized with the Medalla d'Honor de la UNICA (Union Internationalle du Cinema non Profesionel) on 2001, by his role of Screenwriter for the Amateur film "Sabadell, emporio de la industria textil de España" (filmed in 1944).
But in the 1940s, before being the director and writer of this successful magazine, Mr. Torrella was the journalist from Barcelona of the most prestigious Film Magazine in Spain: "Primer Plano", where he interviewed many Catalan and Spanish actors and filmmakers, like Sara Montiel or Catalan filmmaker Ignacio F. Iquino (considered the Spanish Roger Corman and the "godfather" of a new generation of filmmakers from 1950s, like José Antonio de la Loma or Juan Bosch)
According to friends, family, and other authors (also friends of his) Mr. Torrella was considered "Tot un gentleman de la Manchester Catalana" (in English, "A real gentleman from Catalonian Manchester"), in the words of another Catalan writer from Sabadell, Joan Cuscó i Aymamí.
After his death, Torrella was considered an icon in the culture of the city where he was born and lived: Sabadell. For this reason, this documentary was the first chapter of a project of mine, entitled "Sabadell, bressol d'artistes": a collection of 20 Doc-Biographies of 20 artists from Sabadell, born before 1940.
Nowadays, 10 years after the shooting of this documentary, my project for the next artist comes to life, this time focusing on the painter Joaquim Montserrat i Camps.
Directed by Sergi Rubió
Trivia about the film from IMBd: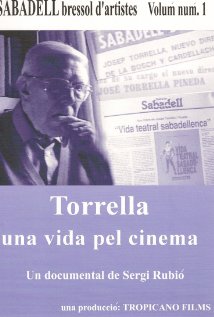 The film was shot between 1996 and 1997, but post-production did not begin until the end of August of 1998. This phase was left incomplete and was not to be finished until September of 2001, whereupon it was converted from analog to digital. This was an exhaustive process involving not just the previously edited material, but also more than 20 hours of additional footage recorded on both Video 8 mm and VHS. Ultimately, in 2001 the editing process was completed with a total running time of 140 minutes. Later on in 2007, 10 years after production, Sergi Rubió' decided to put together a new cut, restoring the image and the sound; a process that was to last another 2 years, the final version of which was finished with a more modest running time of 40 minutes, and has been made available to the public since early 2009.
Cast:
Josep Torrella
Rest of Cast (archive footage):
Joan Ainaud de Lasarte, Joan Alsina, Mossèn Joan Argemí, María Asquerino, Marc Batlle, Joan Blanqué, Marià Boy, Joan Bros, Joan Brunet, Jaume Busqué, Fernando Butragueño, Jaume Calvó, Lluís Casals, Carles Castellví, Agustí Comadran, Enric Corominas, Francisco de Cossío, Josep de Calasanç Casanovas, Josep Maria de Muller i d'Abadal, Félix de Pomés, Isabel de Pomés, Calassanç Duran, Lluís Duran, Joan Farell, Antoni Farrés, Jesús Farrés, Fernando Fernán Gómez, Marta Flores, Emilio Foriscot, Miquel Forrellad Solà, Camil Fàbregas, Joan García Fortuny, Francesc Garriga Gusi, Joan Garriga, Camino Garrigó, Josep Germà Homet, Miquel Graneri, Joan Illas, Joan Francesc de Lasa Salvador, Juan Lladó, Llorenç Llobet Gràcia, Ana Mariscal, Ricard Marlet, Ramón Martori, Juan Ramón Masoliver, Mossèn Ernest Mateu, Sara Montiel, Amedeo Nazzari, Montserrat Obradors, Juan Pallejá, Sebastián Perera, María Dolores Pradera, Jesús Puche, Emili Puig, Joan Oliver (Pere Quart), Adriano Rimoldi, Joan Ripoll, Ramon Rivera, Joan Rof, Joaquim Romaguera, Joan Romeu, Ricard Royo, Daniel Sanahuja, Fernando Sancho, Ricard Simó, Juana Soler (Juny Orly), Rafael Subirana, Enric Torrella i Cunillé, Joan Baptista Torrella Ibáñez, Salvador Torres Garriga, Francesc Trabal, Francesc Valldeperas, Adriano del Valle, Pere Valls, Ramon Vidal, Remei Vilarrubias, Dolors Viñas
Features scanned original stills gallery of
Se le fue el novio (Julio Salvador, 1945)
¡Culpable! (Ignacio F. Iquino, 1945)
Sinfonía del hogar (Ignacio F. Iquino, 1947)
Vida en sombras (Lorenzo Llobet Gracia, 1948)
Don Juan de Serrallonga (Ricardo Gascón, 1949)
Produced, Written and Directed by
Sergi Rubió
Music by
Miquel Tejada (restored version)
Cinematography by
Sergi Rubió
Xavier Vila (restored version)
Camera and Electrical Department
Sergi Rubió (camera operator)
Jordi Puigdellívol (still photographer)
Sound
Sergi Rubió
Sound Re-recording mixer
Martí Rovira (restored version)
Film Editing by
Manel Galícia (first version)
Ferran Cutillas (new version)
Xavier Vila (restored version)
Special Thanks
Joventut de la Faràndula
Ajuntament de Sabadell
Maria del Carme Torrella (acknowledgment: archival footage provided by: restored version)