Video Production Equipment
Perspective After 4 Years Of Filming
Wondering what video production equipment to buy? Dan Banici takes a look back at his gear buying choices from the past four years and how they stood up to the reality and rigors of every day shooting.
---
Guest Post By: Dan Banici
Published: December 29, 2015
Just like perhaps many others, after getting bit by the film bug, I started by buying books, taking courses, acquiring equipment, and building the fanciest rig I could afford around a DSLR.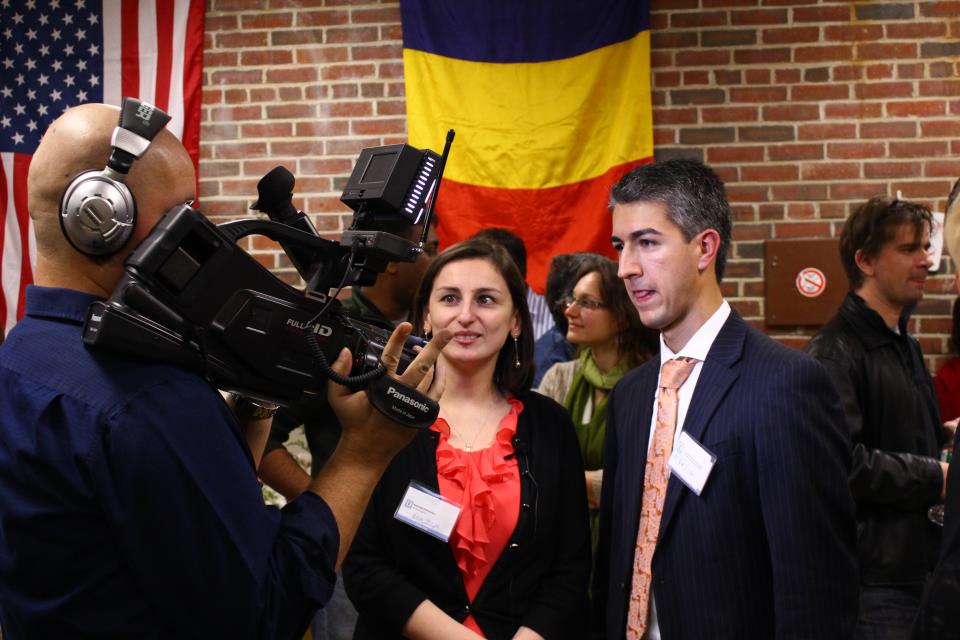 Dan Banici on location shooting with the Panasonic AG-AC8
---
My Video Production Equipment Gear List (and Lessons Learned)
I started with a
Canon Rebel T3i
.
At certain points during the learning process, some things appear to be more important than others. Some things you have to learn, others you have to buy.

Although I have a large collection of cameras and every piece of equipment I fancied, including a
32 foot jib
and a quadcopter that can lift 8 lbs, a
Rode NTG3
on a
telescopic stick
with an
H4n recorder
at the other end, and the like... these are the things that almost ALWAYS inevitably stay home. I find that the most important things one needs are:
Most important elements:
perfect image


perfect sound


perfect motion (perhaps this should go first on the list)


portability


Industrial size equipment requires time to set up and dismantle, even if you have a pickup truck to carry it around.
I only use the large crane for well paid TV spots or to lend it out to film crews for their production.
Assuming you have the perfect camera (large sensor, good battery life, superb lens) your footage will still look amateurish if not properly stabilized. That doesn't mean standing still, as good camera and subject motion is key to quality end product. Even with an expensive set of legs, perfectly smooth motion can only be achieved if you are behind the camera, manning the said fluid head tripod or monopod.
The MAIN problem that most of us run into, is we have to work alone most of the time. So how do we work alone, achieve steady (professional, cinematic) motion and carry a small package?
Here is one major step forward I made in achieving great motion while working alone:
I use an
eMotimo TB3
unit with a compatible slider. It is now perhaps discontinued, so you'd have to shop for a different brand.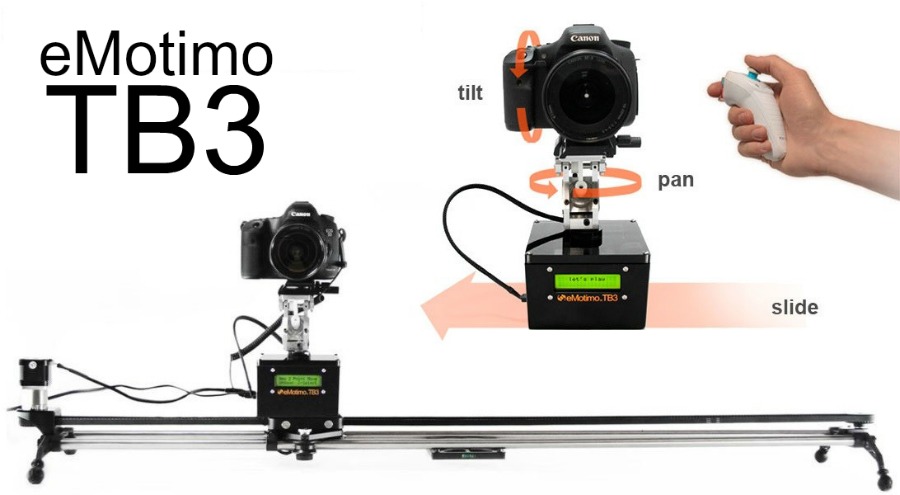 eMotimo TB3 3-Axis Motion Control
Camera Robot with Time Lapse
My TB3 (three axis motion robot) allowed me to go out in the field alone, and just like we do on a movie set, we block (set where the move starts, where it ends) then set up the unit to do that motion in the time it takes me to walk it, and it gave me moving shots that you would swear were done by the most experienced cameraman.

The motorized
Rhino Slider
(came with the TB3) adds another dimension, but it usually stays home, it's hard to carry a 4 foot solid steel thing around for the same reason I don't even carry a carbon fiber jib, it takes too much space. The beauty of carrying the motion robot around with me is that I get perfect camera motion without having to bring people. When I can't pack the 4 feet motorized steel slider, I bring one of those
tabletop motor wheels
which are way cheaper and if used well can achieve a similar effect with a little bit of Frenkensteining (or McGivering if you prefer).
This method of obtaining fluid motion while working alone came to me after having fumbled with both Soloshot and
Soloshot2
, which are also sitting on a shelf unused for a number of reasons: poor reliability, glitching, long setup time requiring multiple trips to / from camera. When you put something in your bag that you know will take you 30 minutes to set up, and then it may not work, you're going to leave it home.
I don't use the latest or fanciest of cameras, I currently carry an
A6000
and a
VG20
. One has a
35mm/F1.8 lens
with ND filter for superb shallow focus in any light, the other an
18-55mm
for flexibility.
[Above] My Sony A6000 with lens
I also keep four
Canon Vixia HF M40
in the bag, in case an event has multiple places where interesting coverage can be collected and I can delegate people right on the spot to run around collecting good moments at the same time without taking me away from the main event (usually interviewing a subject). These camcorders have a CMOS Pro sensor just like their more expensive cousins in the Canon lineup. Interlaced vs progressive is of no consequence, as it is done by the software without a glitch.
When I anticipate battery life is the major success factor in capturing the right shots, I bring a
Panasonic AG-AC8
with the
Sony VG20
(both with a few batteries that go for 4 hours in one charge).
The
A6000
provides a very low profile, and usually rests at the end of a
Benro monopod
. If I step out with nothing else, I bring it with me and it never lets me down. Built-in sound is on par with the little shoe mount Sony microphone I bought for it, but the external mic can also switch from wide to directional. It doesn't deliver the sound of a well calibrated
Rode NTG3
under a wombat skin, but it is quite usable, it cleans reasonably well later, and I don't need extra hands to use it.
Narration is done at the computer with a $100
MXL microphone
going into a
Focusrite Scarlett 2i2 preamp
(which goes into the computer via USB, recording pristine sound while bypassing the motherboard's sound card).
In the field I use an
MXL wireless lapel mic
going to the
VG20
, with sufficient distance from the camera so it doesn't pick up motor noise from the
TB3
. The only reason for the MXL lapel is that it was $200 cheaper than the Sony or the Sennheiser but supposedly up there at the same level of quality and it also covers great distance, 200 meters they claim.
---
Final Thoughts
Whatever you do, remember that only "Cops" type shows look good with a Walmart camcorder and an unskilled operator.

Your creation would benefit greatly if your motion is perfect. If you get one thing right, to raise the quality of your production, make sure it is perfect motion. 


---
About The Author
Dan Banici is a freelance video producer and filmmaker based in Hartford, Connecticut (USA) working primarily on TV commercials for corporate clients. He is a seasoned marketing professional and considers himself an avid student of film, always learning and looking for ways to improve his craft. He is the owner/founder of Hartford Film Academy LLC.


---
Please leave a comment below to let Dan know your thoughts about his article. 

Join in and write your own page!  It's easy to do.  How?  
Simply click here to return to Write An Article.


---
Other Articles You May Enjoy
---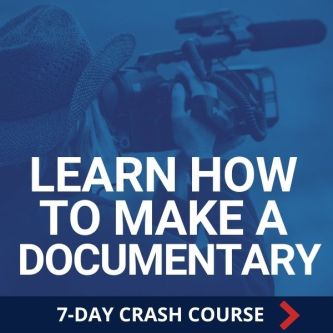 Ready To Make Your Dream Documentary?
Sign up for our exclusive 7-day crash course and learn step-by-step how to make a documentary from idea to completed movie!