Selling Your Documentary To Netflix and the Streamers 2024

Documentary Gear Trends 2022
+ 3 NEW pieces of video gear for your filmmaking tool kit!
Maybe we're biased but… filmmaking gear is definitely the coolest technology you can own.

And it's always getting cooler.
The Cinegear 2022 Convention recently wrapped in Los Angeles, California. And in May, vendors and filmmakers gathered in London for the Media Production and Technology Show.
So, it's a good time to assess new offerings and upgrade your filmmaking tool kit!
Read on for a few documentary gear trends for 2022 and takeaways as we set our sights on 2023.
Gear In This Video:
---

OUR FAVORITE DOCUMENTARY GEAR TREND

Smaller cameras, bigger results!

Over the last decade, audiovisual brands such as Canon, Sony and Panasonic have been tweaking their mirrorless models to be able to accommodate 4K, 6K, and 8K+ videography. 

But there have been some growing pains in the photo/video market...
For their low price, two-in-one options like the Sony A7S and the Panasonic GH4 have become the standard for budget-conscious documentary filmmakers.
However, the small build of these camera bodies can quickly lead them to overheat. And in general, these cameras require a few extra bells and whistles to perform for a feature-length production.
To the joy of filmmakers everywhere, a parallel gear trend has been the rise of more cost-efficient cine cameras.
Problem meet solution.
By bringing cine tech down to a more accessible price point, filmmakers can focus on buying gear that is strictly for video instead of trying to stretch the video capabilities of a mirrorless camera. There are currently several awesome options from Panasonic.
Presenting the Lumix line of box cameras:
Weighing only 1.3 lb, these box cameras are great for the run-and-gun cinematographer who wants to be able to switch from gimbal, to tripod, to drone in a clip.
Not in need of the latest version?
The slightly older, very similar Panasonic Lumix BGH1 (2020) comes in at an impressive $2,000!
For those of you who still want to be able to snap a few stills, Panasonic's newer GH6 model is a good option that offers 6K recording AND a full set of internal fans.
---
---

NEW DOCUMENTARY GEAR TO BUY

1. A universal camera monitor

The brand Atomos attended the Media Production and Technology Show to present their top-selling universal monitor, the Ninja V.

External monitors, though they can be expensive, are an essential piece of gear for serious filmmaking. The electronic viewfinders on commercial camera bodies are small, and if working with a cinema camera, you probably won't have one at all! Plus, depending on the size of your rig, a monitor may be necessary in order to get a good look at your shot.
At Atomos's showcase, the Ninja monitor excelled on a BlackMagic Pocket 6K Pro, a Sony FX6, and a Lumix GH6! The greatest benefit of the Ninja is that you can use this monitor with so many different cameras. But, if it's a little out of your price range (understandable), take a look at these options:

2. A waterproof lavalier

Documentary filmmakers rejoice!

A big, unpredictable risk when filming a documentary is the potential damage to your gear. Weather, locations, and other factors can put some real wear and tear on your equipment. But at the same time, who wants to miss out on that cinematic moment during a rain storm?
For only 100 bucks, the waterproof lavalier from Deity is delivering serious solutions in the professional audio scene. Other comparable lavaliers can run upwards of $300 dollars, so, this gear trend is nice on the wallet. Check it out!
Learn how to record audio like a PRO.

3. An affordable cine lens
Photographers know that the lens makes all the difference in the quality of your photograph. But filmmakers can sometimes get really caught up in the camera, without paying much attention to the all important "glass."

One of the best ways to beautify your filmmaking is by investing in a high quality "cinema" lens. While you can use a regular all-purpose photography lens to shoot video, a cinema lens will allow you to get a better measure on the light. You won't be able to use autofocus, but if you're filming in a controlled setting, these lenses will truly deliver.
The cine lenses from MEIKE are some of the best out there. If you're balking at the price, MEIKE is technically on the low end of cine lenses. Give it a look in this video:
In total, $1,000 will get you some really nice gear upgrades to last you through 2022 and beyond.
What documentary gear trends have you been watching?
Comment and let us know!


---
Documentary Video Production Equipment Check-List
---
---
---
Documentary Courses & Templates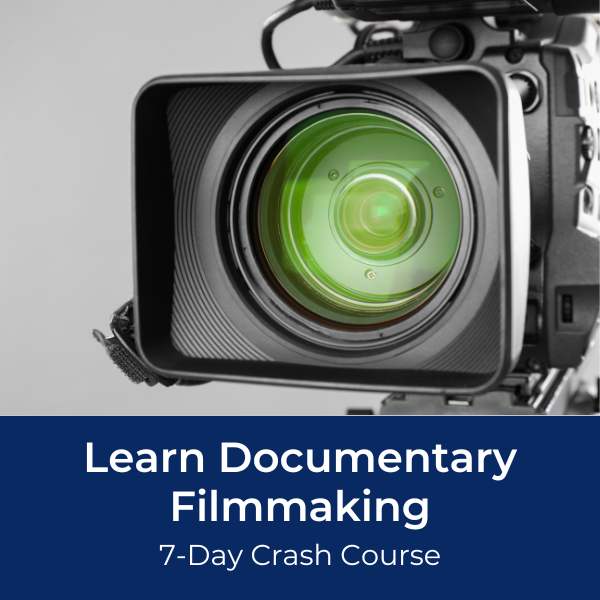 Ready To Make Your Dream Documentary?
Sign up for our exclusive 7-day crash course and learn step-by-step how to make a documentary from idea to completed movie!