DVD and Blu-ray

Finding The Best DVD Authoring Software For Your Documentary or Video Project
---
By Faith Fuller, Publisher
When I first began researching DVD authoring software many years ago, I needed something simple and low-cost that could create professional-looking DVD's for some smaller corporate video projects.

Since I work on an iMac computer and needed general software for a variety of video projects, the choice was easy: Apple's iDVD.

However, iDVD has since been discontinued and last year I transitioned to Final Cut Pro X (video editing software) which includes DVD authoring as part of the package.  I must admit that I was disappointed in the DVD authoring/burning capabilities that came with Final Cut X.  It can do basic functions, but for true customization, you'll need to go elsewhere.
For a documentary project I was working on, I ended up hiring a professional editor to create a DVD for me using DVD Studio Pro which has also been discontinued but is still widely used (and praised) by the pros.
For information about DVD Burners, Blu-ray Burners or DVD Recorders, go straight to that page. 
---
What is DVD Authoring?
DVD authoring is the process of creating and combining the various elements of a DVD (video clips, artwork, photo slideshows, music, etc) before it is burned to disc.
It's the process of telling the DVD what to do when someone inserts the disc in a player. Does a video start playing as soon as the disc loads? Does a menu come up that gives the viewer choices such as "Play Movie, Scene Selections, Bonus Features, etc." Is there music playing under the menu? Can the viewer skip through to each chapter? Are there subtitles?
These are the kinds of choices made during the authoring process. Depending on the complexity of the DVD authoring software you choose, some software comes with pre-made templates, others can be built from scratch.
Typically, the more control and features you want, the more complex and expensive the software.
---
How To Buy DVD Authoring Software
DVD authoring software doesn't have to be expensive. In fact, it could be "free" if it comes bundled with another item you purchase such as video editing software or a DVD Burner.
There are three important factors to consider before purchasing software: 
Your Budget


Your skill level and/or willingness to learn


Special features needed for your movie project(s), such as subtitling, copyright protection, customized menu's & artwork, Blu-ray creation, etc.
If you want a truly unique DVD like the ones you see from the big Hollywood studios, then you're going to have to learn some new skills (or hire someone who is already an expert).
A great professional (& expensive) DVD & Blu-ray authoring software package with tons of great features is Adobe Encore C6.  
Many filmmakers still use the now-discontinued DVD Studio Pro (part of Final Cut Pro Studio which was replaced with Final Cut Pro X).  You may be able to buy a used version on EBay or Craigslist.
A more low-cost option for authoring DVDs is Roxio Creator.  
---
What is Blu-Ray?
Blu-Ray (also known as blu-ray disc or BD) is an optical disc storage format. It is the current standard for recording and playing back High Definition video.
Because it can store large amounts of data, more than five times as much as a standard DVD, Blu-Ray allows for much larger and higher quality video files. Plus lots of advanced features such as video games and interactivity with the Net.
(Blu-Ray discs cannot play back on standard DVD players)
If you are creating a feature length documentary in High-Definition, Blu-Ray should be a serious consideration. 
---
Filmmaking Tools Quick Links
---
Related Articles
Return to Desktop Documentaries from DVD Authoring Software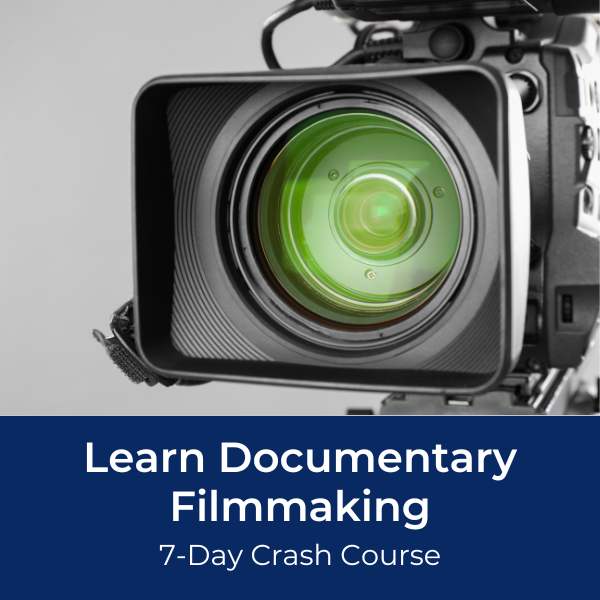 Ready To Make Your Dream Documentary?
Sign up for our exclusive 7-day crash course and learn step-by-step how to make a documentary from idea to completed movie!