Interview With Filmmaker 
Jeffrey Farrell | IMAX Films, Documentaries, Feature Films
---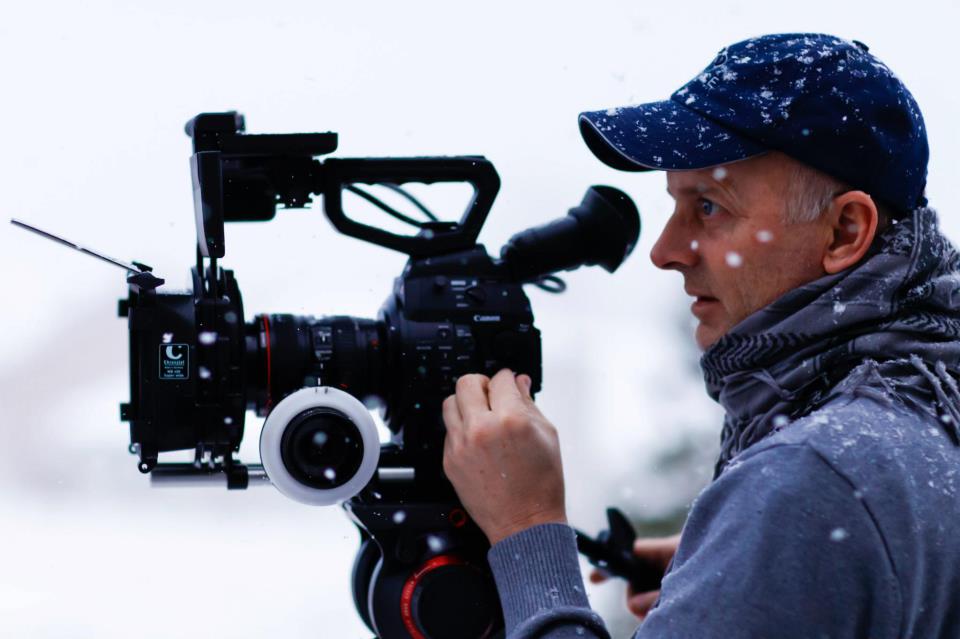 Jeffrey Farrell jumps out of airplanes, hangs off cliffs and dives into the oceans with his camera to get the most spectacular shots he can for films, documentaries and television.  His work has been seen on the Discovery Channel, National Geographic and ESPN (just to name a few). And he's been awarded two Emmys for his work as a cinematographer.  
---
Interview With Filmmaker Jeffrey Farrell
Posted May 18, 2013


Question: How did you first get involved with filmmaking?
Jeffrey Farrell:
I was your typical straight "C" student in college and I had no idea what I wanted to do with my life. On a whim, I took a video production course and I loved it! I switched to a Film/Video major and I was hooked. I bartended at night in downtown Pittsburgh and some of George Romero's (Dawn of the Dead) crew used to come in for drinks a lot and I got to know them pretty well.
Later that year they told me that "Mrs. Soffel" with Dianne Keaton and Mel Gibson was shooting right next to my apartment. I went to the set and volunteered to PA for free for the week. I basically held a blanket and umbrella for Ms. Keaton and followed her from her trailer to the set and back in the rain.
I was mesmerized by the camera crew, camera gear, lighting fixtures, etc. I knew right then that I wanted to work in the camera department.
The D.P on the film, Russell Boyd, (along with some other great DP's through the years) gave me some great advice on how to get into the camera department. Over the next 8 years, I worked from PA to 2nd electric to Gaffer to 2nd AC to 1st AC to Camera Operator to DP.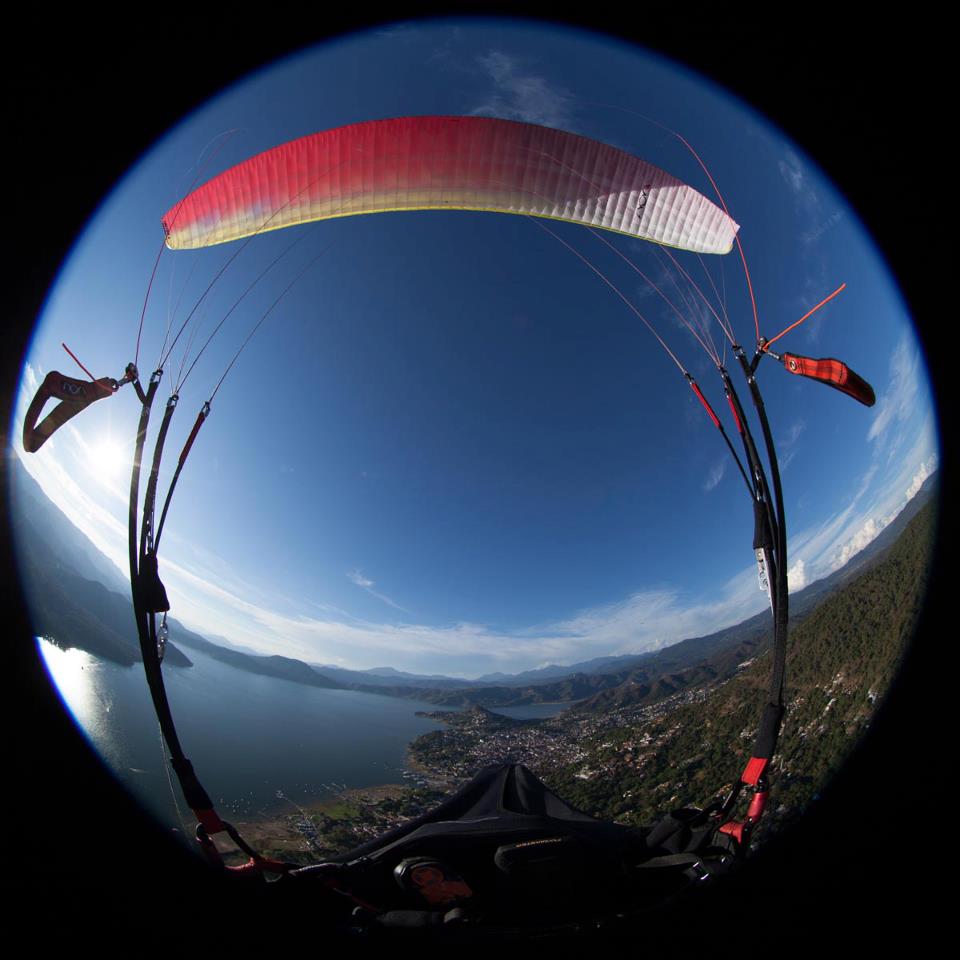 Photo Courtesy Jeffrey Farrell:  
Paragliding over Lago de Valle in Mexico.  
Shooting With the Canon 5D MK II, Canon 8mm Lens.
---
Question: A lot of your work seems to revolve around extreme shooting such as paragliding, sky diving, aerials, underwater, mountain climbing, etc.  What led you to that niche?
Jeffrey Farrell:
All of the activities mentioned, are also my hobbies. I would get a call, "we're doing an ice climbing show, do you know how?" - "Well I sure do!". To ask a DP that has never done those things before is crazy, but for me, I was already in my comfort zone and I had been shooting personal stuff doing all of that. Hand me a camera and I will shoot while I'm in a Helicopter, fixed wing, sail planes, paraglider, sky diving, SCUBA diving, climbing and mountaineering. That is about 50% of my work, the other 50% I really truly love lighting and creating a unique and beautiful feel to a film. I think I am most happy on a set or location and working with a great crew. Those are my favorite days. Lighting is my true passion.
---
Question: What's the biggest thing you've learned shooting in extreme conditions?
Jeffrey Farrell:
Safety first, seriously. There are enough distractions working on a film that the minute you add hanging off a cliff or from a helicopter or a frozen waterfall to the equation, the chances of an incident increase exponentially. I ALWAYS have a safety rigger with me when doing 'stunt' or 'extreme' work. I have no problem tying myself into climbing gear and descending a 500' cliff but before I do, I always have my rigger check my kit out before doing so. On more than one occasion, they have caught a minor glitch.
Second, ALWAYS have the shots planned before hand. Trying to wing it in extreme conditions is a good recipe for poor footage or not getting what the director & editor need.
---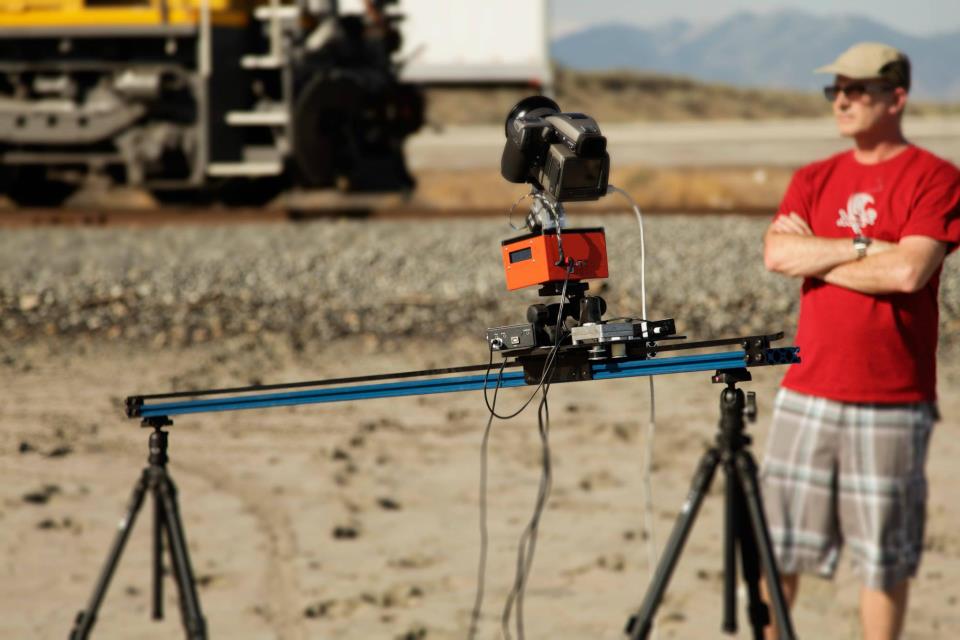 8K Productions on location in Utah shooting with: 
Emotimo TB3, Dynamic Perception Stage Zero & MX2 and
Hasselblad H4D-40
---
Question: How did you "break in" with the big guys like Discovery Channel and National Geographic?
Jeffrey Farrell:
I had worked on a number of IMAX movies with my friend and director Adrian Warren. He was hired to Direct "Secrets of the Wild Pandas" for National Geographic and of course he brought his favorite DP with him! It was a long and brutal shoot out in the middle of nowhere in China. That gig and a few others that I had won two Emmy Awards for gave me some added street cred in the biz. That lead to future opportunities with some distinguished clientele.
---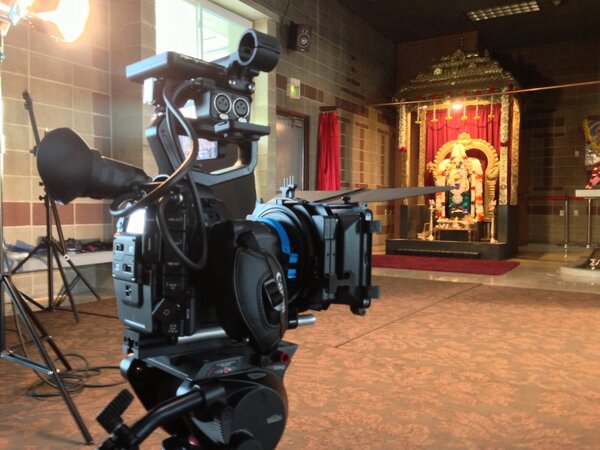 Photo Courtesy Jeffrey Farrell and 8K Productions: 
Shooting at a Hindu Temple with the Canon C300
---
Question: I notice that you carry around with you the Canon C300. Can you give us a mini-review and why you choose that particular camera for your work?
Jeffrey Farrell:
Quite a few reasons and these are in no particular order because they are all equally important to me.
Ergonomics. I setup a camera "shoot out" with my local dealer and I had 7 of the leading cameras there. The C300 was the last one I picked up and it instantly felt like home to me. In my film days I had a Super 16mm Aaton LTR54 and this had a very similar and intuitive working layout to me. It felt like home and it is small enough to fit almost anywhere.
Flesh tones. In my opinion, Canon has it nailed better than anyone.
Non-proprietary recording format "CF" cards. You can pick them up anywhere and insert them into any computer.
Internal broadcast standard 4:2:2, 8 bit, 50 mbps internal recording.
Internal ND filters – HUGE to me. I am a depth of field nut.
The 'EF' mount opens the door to hundreds of lenses and I already had a bunch of Canon glass.
Low light sensitivity. No other camera can touch it in that department.
LONG battery life.
Canon C-Log gives great dynamic range.
Overall, I loved the picture it produces.
The XF files can be dropped into Premier Pro and edited natively with no transcoding.
I can fit the entire camera, batteries, charger and 2 lenses into a Pelican 1620 case that fits in the overhead bin of every commercial aircraft. Awesome for travel peace of mind!
I would like to say that the most important thing of all is the person behind the camera. The camera is only a tool and there are many tools out there. Sometimes, my camera is not the right tool for the job. It completely depends upon your project, end distribution and post workflow.
---
Question: What if a filmmaker is on a super-tight budget and can't afford the C300? What would you say is the best "low-cost" "broadcast quality" video camera on the market today?
Jeffrey Farrell:
The next stop down would be the Canon C100, which is very affordable to rent. Couple that with an Atomos Ninja 2 and you can record in 4:2:2, 10 bit up to 200 mbps in ProRes or Avid codec. I use the C100 and Ninja 2 as my "B" camera.
Below that, the Canon 5D MK III or Canon 5D MK II and a Ninja 2 will give you great results also.
---
Canon Comparison: 
Professional Canon Video Cameras 5D, C100, C300, C500
Canon 5D, Canon C100, Canon C300, Canon C500
---
Question: What's your biggest advice for a new filmmaker just starting out on his/her first documentary?
Jeffrey Farrell:
Planning, scouting, planning, scouting with your DP and most importantly, scouting locations at the time of day that you plan on shooting there. That way there are no surprises. There's nothing like a scout done at night on a location that you plan on shooting during the day only to find out that there is a woodworking shop next door operating from 9-5 and killing your sound.
After that, plan and scout some more. Make lists, very detailed lists. One more thing, feed your crew well. If you do, it will be paid back 10X.
---



Jeffrey S. Farrell

Jeffrey S. Farrell is a Salt Lake City, UT based DP | Director | Filmmaker. He has won 2 Emmy Awards for Outstanding Cinematography. His portfolio of work includes IMAX movies, Network Specials, TV Series, feature films, documentaries and corporate pieces. He is currently working on a series about diversity in Utah. You can find him at www.8kproductions.com or jeff(at)superflyinc(dot)com
---
Filmmaking Quick Links
---
Other Articles You May Enjoy:
---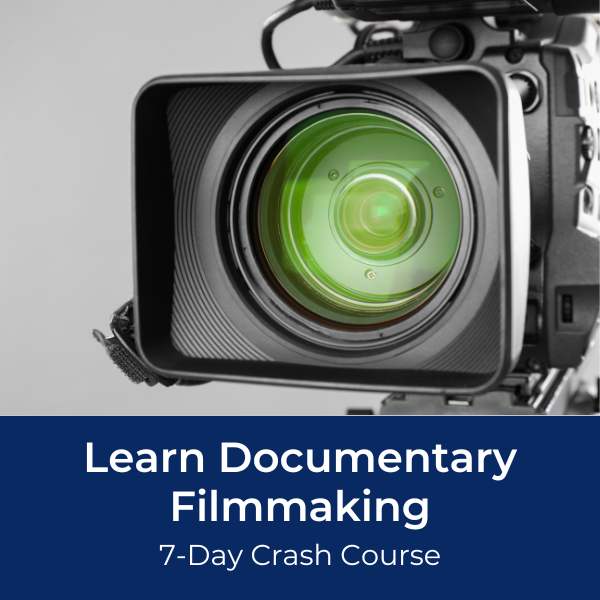 Ready To Make Your Dream Documentary?
Sign up for our exclusive 7-day crash course and learn step-by-step how to make a documentary from idea to completed movie!