Top 10 Documentaries of All Time
YouTube channel Cinefix is known for well-curated film lists and reviews. Here, they have collected the best documentary films of all time. Many of which you've likely never heard of.
This isn't a "most popular" list. This list looks at how the documentaries were made and if they broke new grounds in storytelling.
This list demonstrates to future and current documentary filmmakers that there is no single formula for success.
For your story to be successful you need to find a compelling angle and more importantly find your voice. Tell the story the way you want to tell it. That's one of the great things about documentary filmmaking.
With all that said, here's CineFix's list of the top 10 best documentaries of all time.

---
10. Shoah
Shoah is a film about the Holocaust. It premiered in 1985 to worldwide acclaim. Directed by French filmmaker Claude Lanzmann, the film runs for 566 minutes. That's right. Shoah is over 9 hours long. It took 11 years to make the film. 
9. Harlan County, USA
With a focus on workers' rights, filmmaker Barbara Kopple pointed her lens at the Duke Power Company in southeast Kentucky as 180 coal mine workers and their wives fought for safe working conditions and fair wages. Kopple and her crew spent a year with the families in the film to tell this story.
8. The Quince Tree Sun
Also known as Dream of Light, this film covers painter Antonio Lopez as he tries to paint the quince tree. The film, directed by Victor Erice, shows Lopez as he tries to capture a perfect moment on canvas. The film's accouting of Lopez's attempts to work through all sorts of struggles, including his own mortality, make this a film worth watching.
7. The Emperor's Naked Army Marches On

This Japanese film centers on Kenzo Okuzaki as he searches for information on the deaths of two soldiers in his unit during World War. While on his search, Okuzaki holds no punches on those he interviews about events that happened 40 year prior. At some points Okuzaki even threatens those he's questioning as he relentlessly pursues the truth.
6. Hoop Dreams
Hoop Dreams follows two Chicago high school basketball players as they try to reach the NBA. Initially intended to be a 30 minute feature for PBS the filmmakers ended up shooting over 250 hours of footage over a five year period. 
5. Stop Making Sense
Stop Making Sense is a concert film that looks at the band Talking Heads as they promoted their album Speaking In Tongues. The film was the first to use digital audio techniques and was filmed over the course of four performances at Hollywood's Pantages Theater in 1984 and is considered by many to be the best concert film ever.
4. Close-Up

Close Up tells the real life story of an Iranian man who impersonated an Iranian filmmaker and then conned a family into believing that they would star in a new film he was producing.
Based on events that took place in Northern Tehran in the 1980's, the film debuted in 1990 to negative reviews in Iran. It was only after Western audiences saw the film that it gained a global following.
3. Baraka

Making it's debut in 1992 this non-narrative documentary continues to draw in new audiences to this day.
It's a simple, beautiful visual and auditory collage of life on Earth. It could be used as a way to show life on Earth to aliens in another galaxy.
If you have any desire to be a cinematographer, this is a film you must watch and understand.
2. Sans Soleil
Another film on the list that expands the documentary filmmaking genre. The film underscores humanities inability to remember correctly and how that influences the rest of the world. 
Released in 1983, the film was largely put together in the 1970's using stock footage and a hodge-podge of other videos from around the world.
1. As I was Moving Ahead, Occasionally I Saw Brief Glimpses Of Beauty

At over 5 hours long, As I Was Moving Ahead, Occasionally I Saw Brief Glimpses Of Beauty is one of the longest experimental documentaries ever made.
The film is simply an effort by director Jonah Mekas to recount his life using almost 30 years of home movies. Mekas once called his film "a film about people who never argue, never have fights, and love each other."
---
Popular Microphones for Documentary Filmmaking
---
Are You A One Person Documentary Crew?
Additional Filmmaking Resources
Gear Kit For One-Man Documentary Film Crew with Bob Krist
Free Film, Video, Audio and Photos For Your Documentary
Shooting Solo: A Low-Budget Filmmaker's Equipment List
---

Recommended For You
---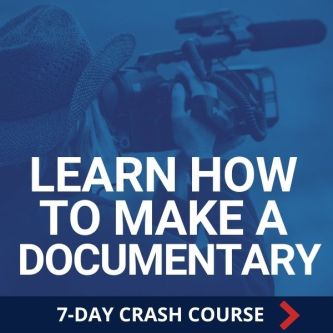 Ready To Make Your Dream Documentary?
Sign up for our exclusive 7-day crash course and learn step-by-step how to make a documentary from idea to completed movie!