Top 10 Best Documentary Websites
For Filmmakers

Best Filmmaking, Distribution and Funding Resources
Best Documentary Websites For Filmmakers
International Documentary Association (IDA) - The heavy-weight champion of all-things documentary. The IDA is a tireless advocate for documentary filmmakers. Founded in 1982, the IDA is a 501(c)3 non-profit organization that provides countless resources for filmmakers including educational seminars, fiscal sponsorship, funding opportunities and updated industry news to help filmmakers stay ahead of the curve.  


The Independent - Independent Magazine offers some great nuggets of advice for documentary filmmakers.  Check-out their filmmakers tool kit for a rich variety of articles:  everything from "Health Insurance for Artists" to "Self-Distribution Case Studies". The Independent goes all the way back to 1978 as a resource for "independent, grassroots and activist media-makers."


The D-Word - A fantastic "meeting place" for documentary filmmakers around the world to discuss any and all topics related to making documentaries.  This is a free forum and covers a wide variety of topics, everything from fundraising to distribution. They do require a sign-up process to access the "documentary professionals" discussions.  


Documentors -  If you're looking for one-on-one expert guidance, this is a great place to go. Husband and wife documentary team Hank Rogerson and Jilann Spitzmiller run this site as an extension of their production company Philomath Films. Their documentaries have showcased at the Sundance Film Festival and on major television networks including the BBC, PBS, Discovery Channel and Bravo. They have a lot of freebies and insider tips on their site. They also have some excellent in-depth tutorials such as their popular Documentary Budgeting System offered here on Desktop Documentaries.


Docs In Progress - Although Docs in Progress is based in Maryland (near Washington, DC), this is still a great resource no matter where you're located.  Resources include interviews with industry experts, funding opportunities, one-on-one consulting, summer youth camp and hands-on filmmaking workshops.   


The Film Collaborative - If you've completed your film or getting close to it, check out the Film Collaborative for help on how to best distribute your film and find an audience. Download a free copy of "Selling Your Film Outside the U.S.", the second volume in their "Selling Your Film" distribution case study book series. 


Creative Cow - Although this isn't a documentary specific site, this is a fantastic resource for all-things video production.  A lot of video/film professionals hang out on this site and you can get some really good answers to your filmmaking questions here.


Video University - "Master the Art, Technology, and Business of Video Production."  That's the mission statement of the Video University website founded by freelance video and network producer Hal Landen in 1997.  You'll find many terrific articles offering insider information on a wide variety of topics including camera reviews, tips for creating a video business, crane shots, Photoshop tips and tricks... and much much more!  A big thanks to Hal for creating this fantastic resource!


Filmmaking Stuff - If you're looking for creative ways to make and distribute your film, Jason Brubaker gives you the down and dirty on how to find an audience and distribute your film "without the middle man."  In addition to distribution, there are hundreds of free articles with no-fluff common sense advice on all-things filmmaking. For a step-by-step film distribution how-to, try his Movie Maker Action Pack.


Videomaker - And last but certainly not least is Videomaker Magazine. Started in 1986 right after the release of the first personal camcorders, Videomaker is a vast resource for video professionals and video hobbyists covering everything you can think of involved in the filmmaking process including pre-production, post-production, equipment reviews, product comparisons, duplication, webinars, workshops and everything in between.


Best Documentary Websites:
Did we leave any important documentary filmmaking websites off our list? Please leave a comment below.  
---
Recommended For You
---
Other Articles You May Enjoy:
---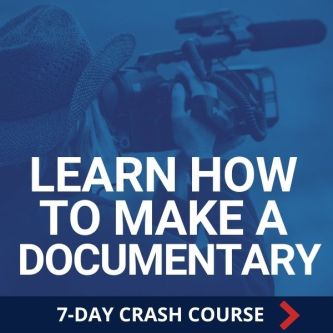 Ready To Make Your Dream Documentary?
Sign up for our exclusive 7-day crash course and learn step-by-step how to make a documentary from idea to completed film!