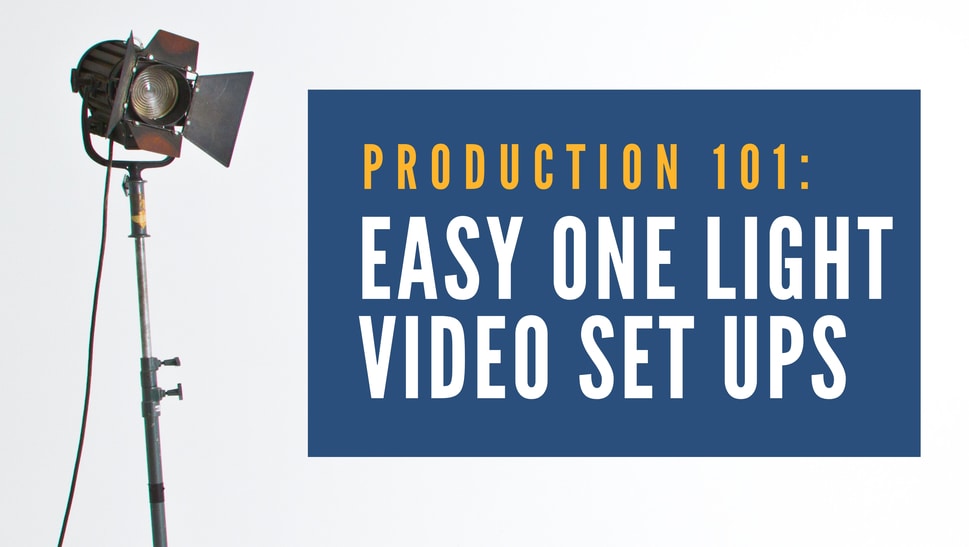 Easy One Light Video Set Ups
Learn How To Make A Documentary
Lighting for a documentary does not have to be a complicated exercise.
If budget restraints prevent you from hiring a light crew, don't worry. You can get a lot done with just one light and some imagination.
A one-light set up is an ideal run and gun solution for filmmakers pressed on time, budget and resources.

With just a few demonstrations you can see how to make your one-light set up work for you.

Kevin from Filmora quickly goes over three easy one light set ups in this video.

Lighting Gear In This Video
3 Easy One Light Set Ups
1. Top Down Lighting
With a diffused light you can create soft shadows. Simply place a diffused light above your subject's head and move around until you find a look that suits your needs. You can use a stronger or weaker bulb to increase or decrease the amount of light you need. A weaker light bulb will need to be placed closer to your subject. If your light source is too strong you can use a diffuser that lets less light through. Using a tripod may be necessary in order to keep the light constant.


2. Side Lighting
Using the same or a similar single light source you can place the light on the side of your subject. A diffused light works best. And, like the top-down method trial and error will help you decide exactly how to light your subject. You can have someone hold the light and move it around to give your interview more action. 


3. Ring Lighting
While the first two tips can be pulled off with a lamp, a light bulb, and something to diffuse the light, this next tip requires a different type of light. The ring light is a favorite among vloggers but it can also serve well as a simple and easy way to light an interview subject for your documentary. You can place the light in front of your subject or you can move the ring light around in the same manner as the other light. Try a ring light from above or the side to get a unique lighting set up.


---
Lighting For Video
---
Bonus Video Lighting Tips
Combine Your Light With Window Light
Video cameras (all cameras) love lots of light. If you are shooting in a well lit room you may want to establish light from a nearby window as your primary light source and use your one light set up as an accent light or fill light. 


Take Advantage Of Your Background
Your background for interviews should always get a lot of consideration. Using a darker background will help to make your subject stand out. 


Consider Close Up Shots
If your one light isn't giving you enough light and there are not any nearby windows, consider framing your subject's face (or just about the whole face) in the frame. This will allow you to get your one light closer to your subject's face and close up shots can be very effective as they tend to demand more of the viewer's attention.
---
Recommended For You:
---
Are You A One Person Documentary Crew?
Recommended For You
Gear Kit For One-Man Documentary Film Crew with Bob Krist
Free Film, Video, Audio and Photos For Your Documentary
One Man Film Crew (Can I Make A Documentary By Myself?)
Get a Free Documentary Starter Kit
---
Smartphone Filmmaking Kits
---
---
---
---
Ready To Make Your Dream Documentary?
Sign up for our exclusive 7-day crash course and learn step-by-step how to make a documentary from idea to completed movie!