Selling Your Documentary To Netflix and the Streamers

NETFLIX DISTRIBUTION CASE STUDY | 'TEN DOLLAR DEATH TRIP'

How a Desktop Documentaries Student Got Their Documentary On Netflix:
Our Q&A with Filmmaker Dominic Streeter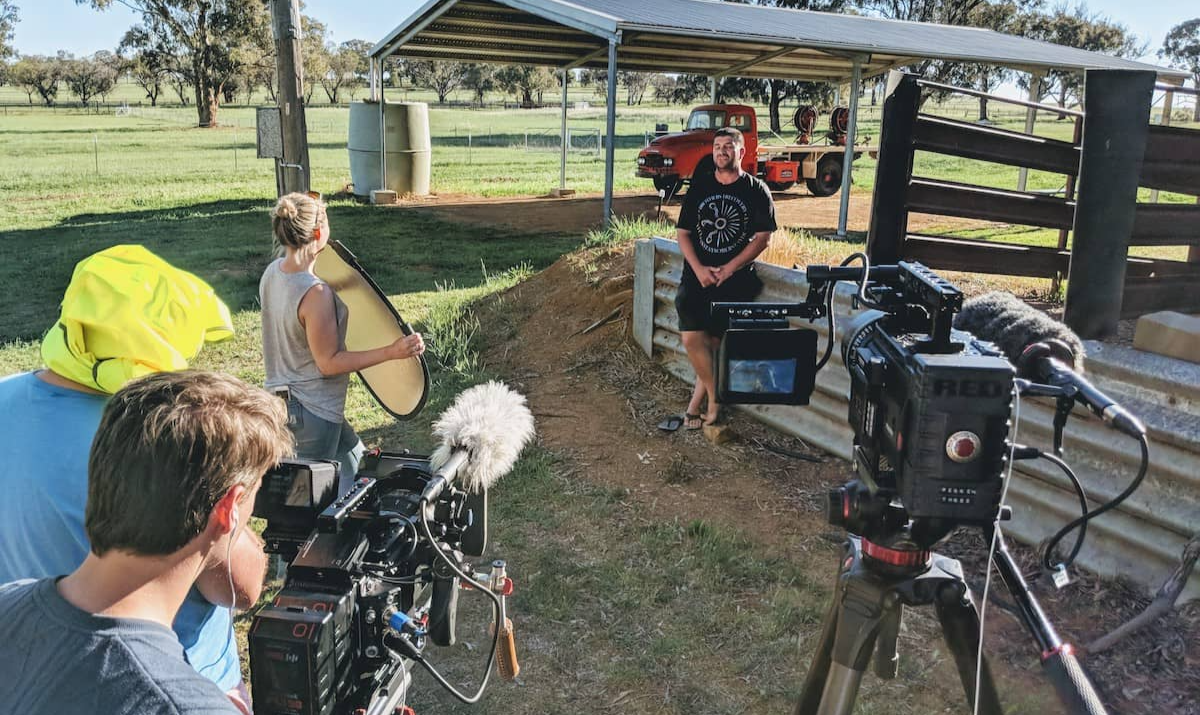 Dominic and his documentary crew
Most independent filmmakers share a common dream:

Make your documentary your way. Get the attention of a buyer. Share your art with the world.
For filmmaker Dominic Streeter, that dream became his reality when he sold his most recent documentary to Netflix.
Ten Dollar Death Trip is Streeter's third feature-length documentary. It's about the worsening fentanyl crisis, told from the streets of Vancouver, Canada.
Streeter joined the Desktop Documentaries course Selling to Netflix & the Streamers and, one year later, successfully sold Ten Dollar Death Trip to the streamer.
Read on to learn how Dominic did it!
---
Q&A: Selling a Documentary to Netflix
BACKGROUND
Dominic Streeter is the founder and creative director of Hide&Seek Media, where he makes human-focused documentaries for clients such as Channel 4 (UK), BBC, and Deutsche Welle.
Streeter has been making documentaries for about 10 years, and this is his first time working with Netflix.
---
TIMELINE
DS: "This film started in 2019 when I went to Vancouver and witnessed the fentanyl crisis on the ground. I had the feeling straight away, like a compulsion, to make a film right away and raise awareness of the issue."
---
FUNDING
DS: "We (Hide&Seek) self-funded the film and pulled in favors in order to make it."
Still from Ten Dollar Death Trip, now on Netflix Europe

---
PRODUCTION
DS: "It was probably about six months after visiting Vancouver that I came back and filmed [the footage for] 10 Dollar Death Trip. In the meantime we were negotiating access and talking to people on the ground. So, we shot it in 2019 over one month and released it in 2020."
DD: What size crew did you work with?
DS: "Only three people. Me (director, producer, interviewer, narrator), a director of photography, and a sound engineer/assistant camera operator.

As for preproduction, it was just me and another researcher.
I felt that we could spend 12 months in preproduction researching the film, but within two days on the ground it wouldn't be worth the paper it was written on, because the nature of life out there is so fluid and transient. Having filmed, I maintained that this was definitely true.
To be honest, the best stuff came from just knocking about there and meeting people and making friends. Waking up each day and seeing what happened."
---
---
THE SALE TO NETFLIX
Dominic's path to Netflix required first finding a sales agent.
DD: At what stage of production did you search for a sales agent?
DS: "I found a sales agent in postproduction after the film was already done. We finished the film and I just cold emailed about a dozen agents with a screener link. We were picked up by Sideways Pictures and signed a three-year distribution deal with them. This all happened over the course of a month at the end of 2020."
(Learn how to find sales agents inside the Netflix 2023 Course. Bonus: get an email template for cold-contacting sales agents & distributors.)
DD: What kind of distribution did you originally pursue?

DS: "From the beginning, Sideways has taken care of all of the distribution deals. We didn't do any festivals. The film went straight to television and so far, the documentary has been shown in most countries throughout Europe and Australia.
DD: You also reached quite a large audience on YouTube. How does that work?
DS: "Deutsche Welle in Germany got the license [from our distributor] to put the film on their YouTube channel where it got about 8 million views. Then Der Spiegel TV took it and shared it on their platform. The same process followed for the channel True Story Documentary, which our sales agent took care of as well."
DD: How did you end up in contact with Netflix?
DS: "The film had been sold to so many [TV] markets globally and I just didn't think that Netflix was one of those markets.
But then I got an email one day from our sales agent that Netflix picked it up [as an acquisition]!

Browse our database of 900+ Netflix Producers inside Selling to Netflix & the Streamers course!

---
FORMAT
DD: Did you have to adapt your film to a specific format for Netflix?
DS: "No. I always thought it would be a 45-60 minute piece. The original director's cut was 63 [minutes] and then we were asked to make a 52- minute cut [for TV].
DD: Why did you decide on that format?
DS: "I had an idea in my head of where the film could live... it's a VICE style documentary or Channel 4 in the UK.
Channel 4 was actually one of the first networks we approached and they said no to it. But that was the [distribution] format that we first had in mind when we made it."
Watch Ten Dollar Death Trip on YouTube
---
THE EDIT
DS: "We took a deliberate decision to not sugarcoat this story. It's really raw. Some of the feedback actually is that people find it quite hard to watch. But it's supposed to be hard to watch. It reflects life out there. And we felt it was important to do that."
DD: Did Netflix ask to make any changes to the cut?
DS: "Not at all. I thought Netflix might censor it in some ways or change some of the scenes. Some other networks did do that - in-house editors just chopped off bits here and there.
But Netflix just ran it as is."
---
GEAR
Streeter used two RED Komodos to shoot Ten Dollar Death Trip
This low-priced cine camera is Netflix approved
Check out these RED Komodo Camera Accessories
---
PROFITS?
DS: "Between the Netflix deal and our other distribution channels we have broken even."
NEW!

Netflix 900+ Interactive Database

Simplify your Netflix research & idea development with Peter Hamilton's personal research tool - an interactive database of 900+ Netflix documentary titles, producer names, key Netflix executives, talent, trends, graphs, charts and more...

An incredible resource to gather key Netflix trends and insights at the click of a button!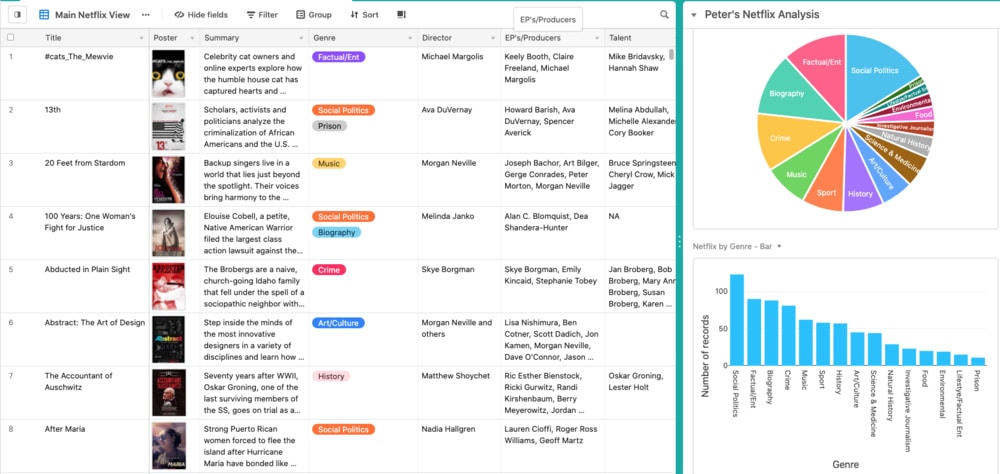 Get instant access to the Netflix database inside the course:
Selling Your Documentary To Netflix & The Streamers


---
THE VALUE INSIDE 'SELLING TO NETFLIX'
DD: What has been the most valuable aspect of the Netflix course?
DS: "I consider myself quite early along in my filmmaking journey. I have a lot to learn. It's such a great course and it's exactly the content you need, because it's difficult as a solo filmmaker.
You might be brilliant at making films but useless at the business of filmmaking. And this course is the one stop shop for that.
In that regard, the group coaching calls have been my favorite part of the course."
---
NEXT PROJECTS
DD: Do you have any other films in the pipeline? How are you preparing for their distribution?
DS: "We have three films in production currently. Just like with 10 Dollar Death Trip, we have chosen to wait until the films are complete to pursue distribution, and finish them the way we want to.
I think it's nice to cling on to that freedom you have as an emerging filmmaker. That's what we're trying to do with the next films."
---
ADVICE TO EMERGING FILMMAKERS
DS: "For young filmmakers, there's enough that's hard about making your way as a documentary filmmaker. So, if you're going out and making your films on a DSLR or even an iPhone, that's a gift. That's you practicing your art. And if you hit the big time, you'll probably look back and miss those days."
---
About Dominic Streeter
Dominic is the founder of international production company Hide&Seek Media.
Since founding Hide&Seek Dom has directed and produced documentary projects in
Europe, North America, Asia, the Middle East and Australia.
Humanitarian crises, conflict zones, public health and societal issues are recurring themes that thread through his films. His work has led to extensive research in the areas of addiction, drug policy and mental health; areas that he is considered to now be a leading journalistic voice. In 2020 his Australian film, Half A Million Steps, triggered a AUD $305 million dollar funding pledge into treatment and harm reduction by the New South Wales government.
Dom is currently directly two films which look at mental health and PTSD in the emergency services, a film about Scotland's alarmingly high rate of overdose deaths and a docu-series following London's biggest NHS Trust throughout Covid-19.
Dom lives in Battersea, South West London, with his fiancé.
---
---
Documentary Resources
---
Ready To Make Your Dream Documentary?
Sign up for our exclusive 7-day crash course and learn step-by-step how to make a documentary from idea to completed movie!