Top 20 Documentary Films
2010-2019
Learn How To Make A Documentary
The last ten years have seen an increase in interest and in production of documentary films. Audiences have come to expect feature film production quality but still resonate very deeply with a well told story. 

With production gear becoming somewhat irrelevant (you can make a film with your smartphone) all that is needed is to tell a good story. Which is easier said than done!
WatchMojo has compiled a list of the top 20 documentary films of the past decade.
We thought now would be a good time (post Oscars) to share this list and to make you aware of how documentary films have come to have a more profound impact on our daily lives. 
This truly is an open age for documentary filmmaking. 
Top 20 Documentary Films 2010-2019
20. "Won't You Be My Neighbor" (2018)
Take an inside look into the life of everyone's favorite neighbor, Fred Rogers. Known as Mr. Rogers on his long-running television show Mr. Roger's Neighborhood, Fred Rogers brought comfort, education and gentle preparation to younger kids. He was a pioneer in broadcast television reaching millions of children. "Won't You Be My Neighbor" takes an honest behind-the-scenes look at the life of Fred Rogers showing that even the best of us struggle. 
19. "20 Feet from Stardom" (2013)
From Morgan Neville, the producer of "Won't You Be My Neighbor", "20 Feet from Stardom" follows the path of singers you've heard but have likely never seen. Back up singers for popular artists are often part of big events and well-known songs but are never in the spotlight and are always looking for the next opportunity to make it big. Go behind the scenes of some of your favorite music.
18. "Minding the Gap" (2018)
Covering more than a decade of filming, "Minding the Gap" follows three boys as they grow into manhood. Unflinching in its approach, the film garnered much attention due to the backgrounds of each character and their shared love of skateboarding. This is director Bing Liu's first feature film.

17. "Apollo 11" (2019)

What is striking about this telling of the first manned moon mission is that it is told without narration, interviews or modern recreations. Using 70mm footage previously unreleased to the public and other archival footage, producer/director Todd Douglas Miller crafts a very unique telling of a familiar story.
16. "Citizenfour" (2014)
Winner of the 2015 Academy Award for Best Documentary Feature, "Citizenfour" goes deep into the deep-state of the NSA/Edward Snowden spying scandal. Director Laura Poitras follows up on an email from "Citizenfour" (Snowden) who claims that a massive spying ring is being conducted on unwilling citizens. Joined by journalist Glenn Greenwald and investigative reporter Ewen MacAskill of The Guardian, Poitras travels to Hong Kong to meet "Citizenfour" for the first time.
15. "Going Clear: Scientology and the Prison of Belief" (2015)
Produced in 2015 by HBO and Alex Gibney, "Going Clear: Scientology and the Prison of Belief" follows the book, "Going Clear: Scientology, Hollywood and the Prison of Belief" written by Lawrence Wright. The film exposes leaders of Scientology and the tactics used on it members. As a result, Gibney and many of the ex-Scientology members that appeared in the film were harassed by the Church of Scientology. The film was nominated for seven Emmy Awards.
Going Clear: Scientology and the Prison of Belief


14. "Searching for Sugar Man" (2012)
Following leads to find a famous musician in South Africa, Stephen "Sugar" Segerman and Craig Bartholomew travel to Cape Town to see if the rumored death of American musician Sixto Rodriguez was true. Written and directed by Malik Bendjelloul, this 2012 film was shot, in part, on an iPhone.  
13. "I Am Not Your Negro" (2016)
Following the unfinished manuscript "Remember This House" written by James Baldwin, the "I Am Not Your Negro" documentary covers Baldwin's friendships with Malcom X, Martin Luther King, Jr., and Medgar Evers during the Civil Rights era. Narrated by Samuel L. Jackson the 2016 film was nominated for an Academy Award for Best Documentary Feature and won the BAFTA award for Best Documentary. 
12. "Tickled" (2016)
Some films just happen. New Zealand television reporter David Farrier who covers quirky and odd stories sees videos online of "competitive tickling". He decides to investigate and contacts the video's producer, Jane O'Brien Media. But the producers react by saying they don't want a homosexual journalist reporting on their videos. What follows is a series of events that put the filmmakers right in the middle of the story. A true story in investigative courage.
11. "O.J.: Made in America" (2016)
Directed by Ezra Edelman and produced for ESPN, "O.J.: Made in America" documents the legendary life of O.J. Simpson starting from his college football days in California. Edelman takes a 30,000 foot view of how O.J. Simpson fit into the American culture and how and why his murder trial affected U.S. politics and culture. It won the Academy Award for Best Documentary Feature at the 89th Academy Awards.
10. "Fyre: The Greatest Party that Never Happened" (2019)
"Fyre: The Greatest Party that Never Happened" chronicles the failed Fyre Festival in 2017. Event promoters were unprepared for the event and event-goers were forced to "survive" without any leadership or direction from organizers. The film was co-produced by Jerry Media, the same company behind the social media promotion of the Fyre Festival and Matte Productions, the company responsible for the promotional videos leading up to the event.
9. "They Shall Not Grow Old" (2018)
From the man who brought you The Lord of the Rings trilogy, director Peter Jackson takes on World War One using archival film footage nearly 100 years old. Jackson again pushes the boundaries of cinematic technologies by colorizing most of the footage and using advanced audio techniques and audio actors to bring the viewer into more of a direct (modern) interpretation. Jackson considered that looking at archival quality footage makes viewers less empathetic to the soldiers and people filmed. He wants to bring viewers closer to the personalities behind this story and does so by transforming (updating) footage to a degree modern viewers in which modern viewers can be more empathetic.
8. "Amy" (2015)
Produced in 2015, "Amy" covers the life of singer Amy Winehouse. Winehouse soared to popularity and with that she brought her struggles with substance abuse. "Amy" covers Winehouse from before her fame to her untimely death in 2011. More than 100 people were interviewed to tell the story of how and why Amy Winehouse has been considered "the best singer in the world".
7. "Free Solo" (2018)
"Free Solo" follows climber Alex Honnald as he attempts a free solo climb of El Capitan. Part of the film documents how the film was made. Director Jimmy Chin and his camera crew, all experienced climbers, went to great lengths to find the right angles while managing the cameras and gear. Produced by National Geographic Partners, "Free Solo" earned $5 million in its first five weeks in theaters.
6. "Life Itself" (2014)
"Life Itself" documents the life of Chicago film critic Roger Ebert. With excerpts from his television show with fellow film critic Gene Siskel, interviews with many recognizable faces and appearances on late night television, "Life Itself" presents how Roger Ebert went from film critic to a cultural voice for America. 
5. "Icarus" (2017)
From bicycling to a state sponsored athletic doping program in Russia, Icarus follows filmmaker and competitive cyclist Bryan Fogel as he attempts to prove that current methods of testing athletes is insufficient. Grigory Rodchenkov, director of the Russian national anti-doping laboratory reveals with evidence that the Russians are actively engaged in doping. Threats to Rodchenkov's life were made and two of his associates wound up dead. Russia holds that it is not engaged in doping to this day.
4. "Exit Through the Gift Shop" (2010)
Produced by street artist Banksy, "Exit Through the Gift Shop" follows Thierry Guetta who is obsessed with street art. Guetta spent years filming his interaction with Los Angeles street artists all the while telling them that he was making a documentary. After more than 10,000 hours of filming, an editing team sifted through Guetta's footage to bring forth only seconds of useable footage. The film takes twist and turns and keeps the audience guessing. Just how Banksy likes it.
3. "Blackfish" (2013)
This is the film that brought to light the struggles orca whales endure in captivity. Following the life of one orca whale from ocean capture to time being spent abused by other captive orcas, "Blackfish" sheds light on how animals are treated and abused for human enjoyment. 
2. "13th" (2016)
Titled after the 13th Amendment to the US Constitution, "13th" covers how the abolishment of slavery has evolved America into what it is today. Filmmaker Ava DuVernay, holds that while the institution of slavery was abolished the intentional deprivation of blacks in America persists through laws enacted to persecute and cultural identifiers meant to diminish black people. It was nominated for Best Documentary Feature at the 2017 Oscars.
1. "The Act of Killing" (2012)
"The Act of Killing" takes a dramatic, imaginative and dark look at the mass killings in Indonesia during 1965 and 1966. Anwar Congo, who claims to have killed more than 1,000 people, recounts his time making films and killing people during the genocide that killed nearly a million people. Unique in its opportunity and presentation, "The Act of Killing" stands alone in a category of one.
There are a lot of documentaries out there.
Was one of your favorite on this list? What else should be added to the best documentaries of the past decade?
Let us know in the comments below.
---
Recommended For You
12-Point Check-List For Aspiring Documentary Filmmakers

Free Film, Video, Audio and Photos For Your Documentary
Get a Free Documentary Starter Kit
---
Top Smartphones For Filmmaking
---
Smartphone Filmmaking Kits
---
---
---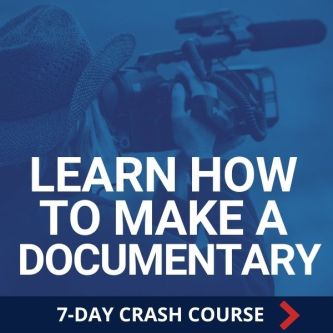 Ready To Make Your Dream Documentary?
Sign up for our exclusive 7-day crash course and learn step-by-step how to make a documentary from idea to completed movie!