Underwater Documentary Cinematography With Wildlife Filmmaker Michael Maes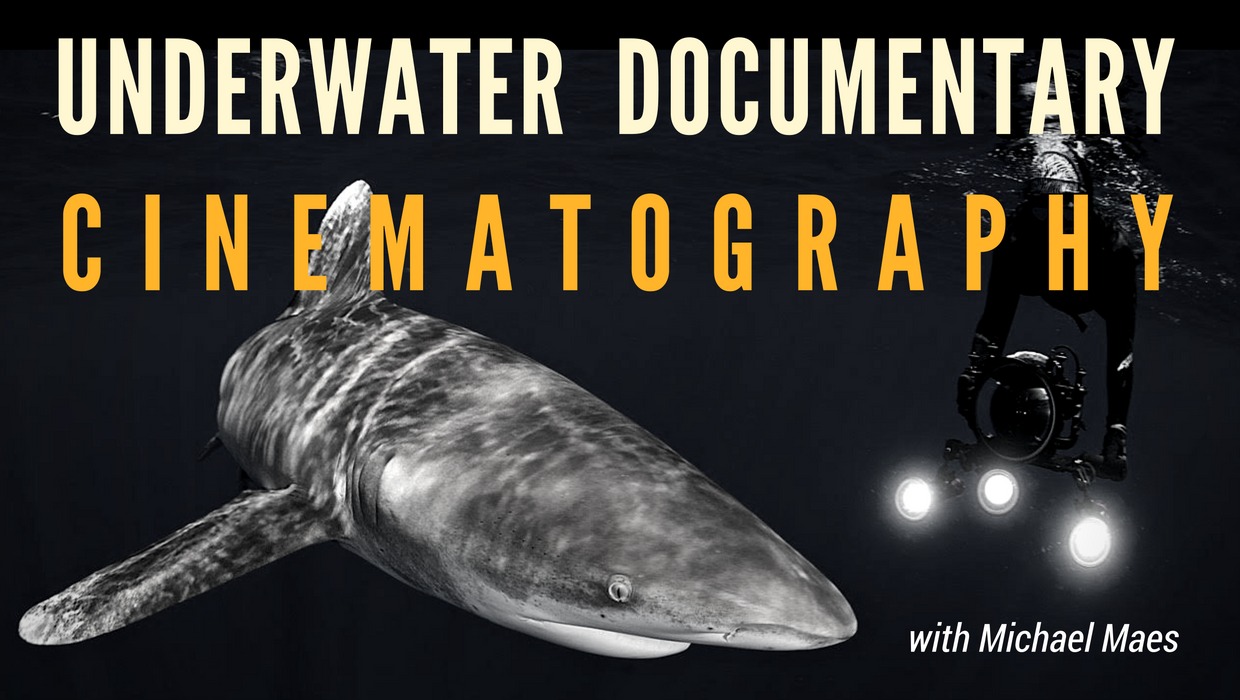 After 24+ months of shooting and editing, the documentary EPIPHANY was released to the world in December 2016 via iTunes. 
We caught up with the extraordinary producer, DoP and cinematographer of the film, Michael Maes, to ask him a few questions about life as an underwater and wildlife cinematographer.


---
Underwater Documentary Cinematography:

Interview with Michael Maes
[Question] How did you get your start in underwater documentary cinematography?
[Michael Maes]
While diving, I often forgot some of the beautiful encounters I had so I wanted to take some snapshots so I could look back at what I saw. As I didn't want the hassle of a big rig, I got myself a GoPro: just point and shoot. But soon that didn't satisfy my pervasive quest for perfection, so I gave in and switched to a Nikon D7000 which shot nice 1080p video. That's the camera which taught me the biggest chunk of underwater filming.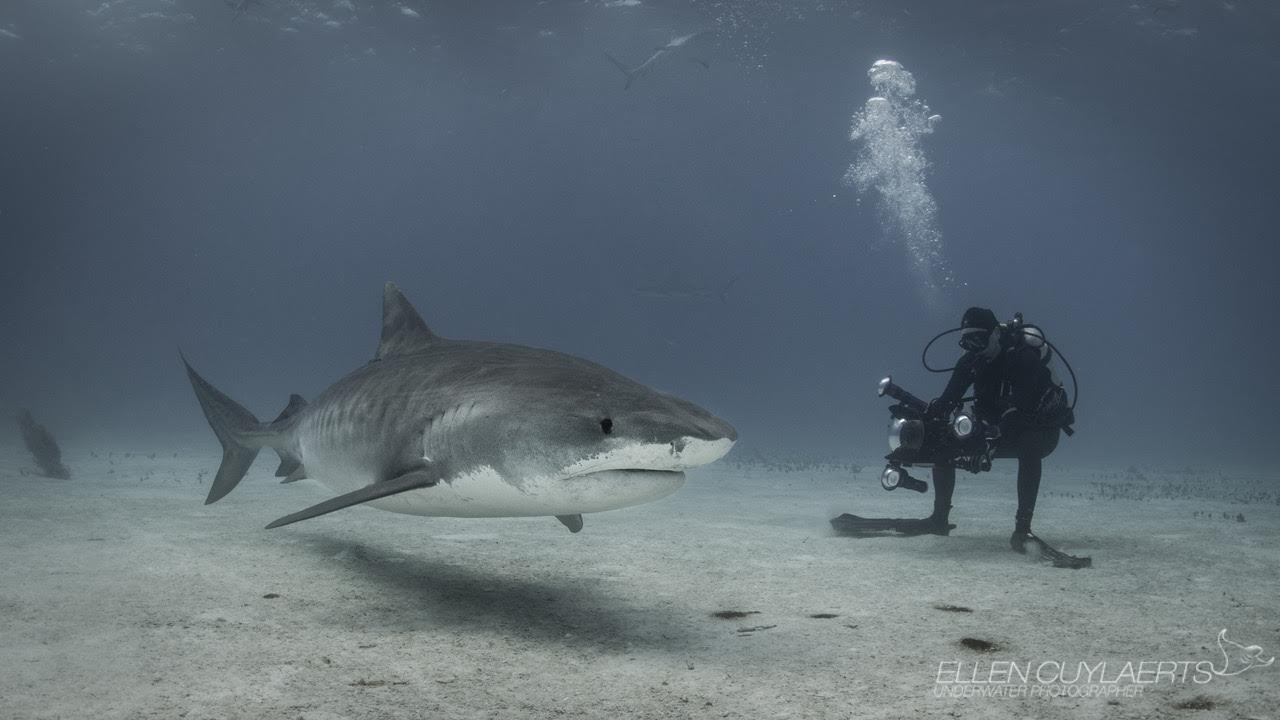 -Underwater Documentary Cinematography-
Michael Maes filming the famous (yes, she is a world-wide super-star)
tiger shark "Emma"at Tiger Beach, Bahamas
Photo Credit: Ellen Cuylaerts

Filming With Sharks
[Question] You seem to film a lot with sharks. Aren't you scared?
[Michael Maes]
No.

But this needs some nuance: I know sharks, how their instincts works, what they could do or not do. I always respect them and show them my gratefulness to be allowed in their habitat.
I've been scared only once by sharks and that was because of my own stupid decision. I've been run over by sharks, tail-slapped over 100 times, checked-out by Oceanic Whitetips; but never have I felt in danger. That said: I've gotten out of the water a couple of times as the situation became too tricky by other factors. Rule number one: Safety First!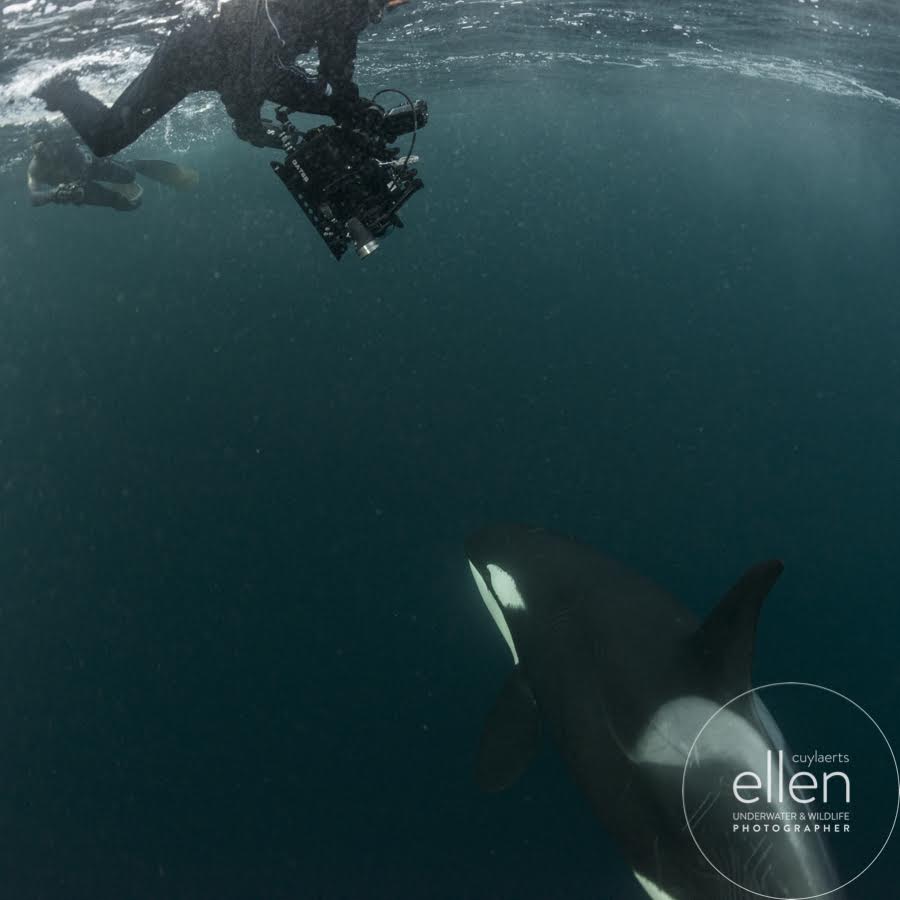 -Underwater Documentary Cinematography-
Michael Maes filming the Matriarch of a pod of orcas (killer whales) near Tromsø, Norway (Arctic)
Photo Credit: Ellen Cuylaerts
Epiphany Documentary Idea
[Question] How did you first get the idea for the Epiphany documentary?
[Michael Maes]
When my wife Ellen (the protagonist) and I attended a fundraiser in Orlando back in 2013, we bid on a 'shark feeding course' by Cristina Zenato. It was my intention to film Cristina – who is probably the most recognized shark advocate around the world – at work. 
Due to difficulties scheduling the shoot we realized we might had to let go of plan A — filming Cristina — and build a story around an 'average' housewife; mother of two autistic children; afraid of water, fearing sharks; in short: Ellen. 
As the viewer can relate to such a person, it would be a perfect angle to tell him or her the story about the threats sharks face caused by mankind. 
Ellen started drafting a script on the plane the very next day.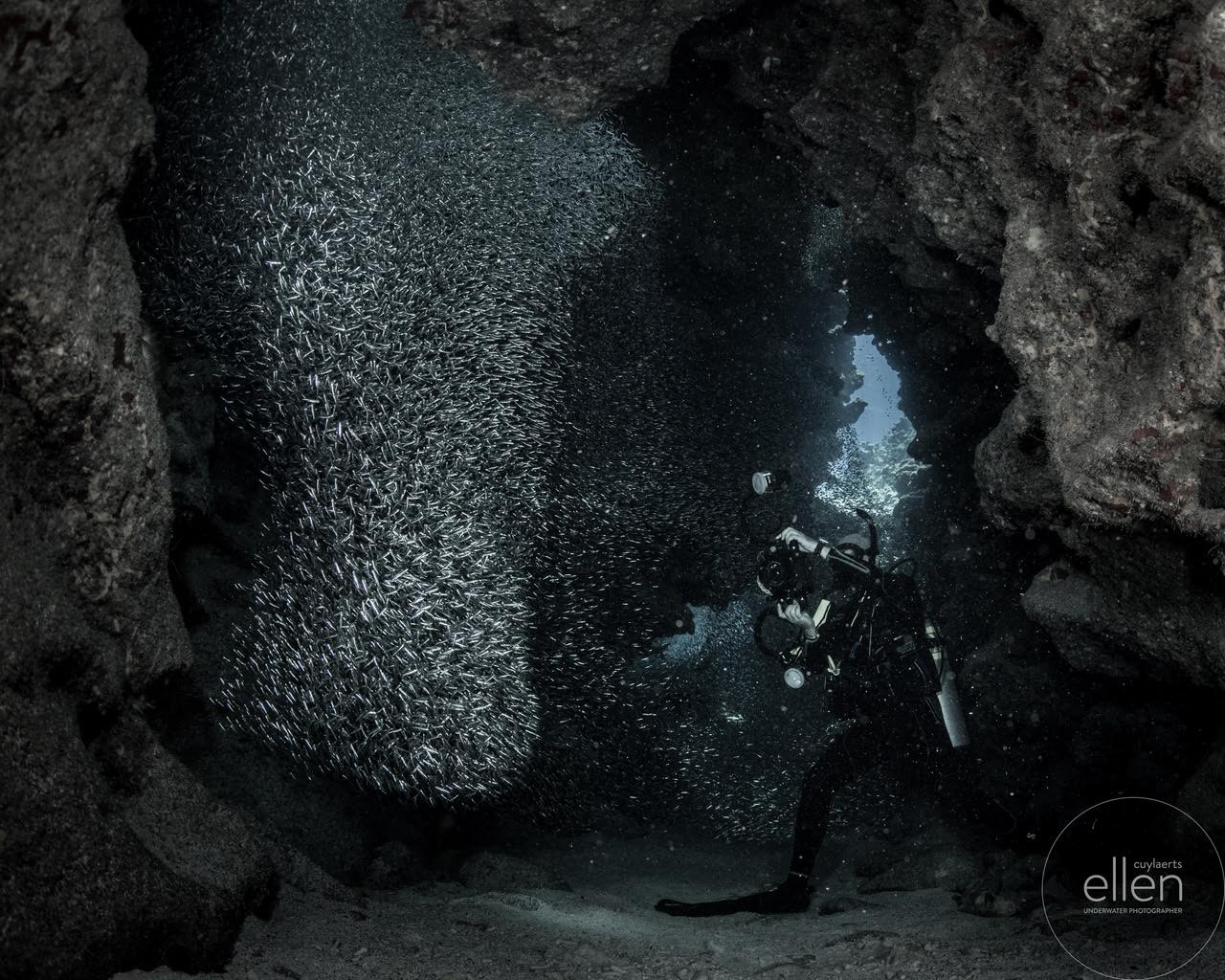 -Underwater Documentary Cinematography-
Michael Maes filming silversides (fish that resemble anchovies) in Devil's Grotto, Grand Cayman.
Photo Credit: Ellen Cuylaerts
Epiphany Documentary Stats
[Question] Share some quick stats about the making-of Epiphany: 
[Michael Maes]
The shooting of Epiphany took 18 months. Then we went into post-production for 6 months. Next we started the Film Festival scene and finally released nearly world-wide on iTunes after another 6 months. So from initial idea to release on iTunes it took us 30 months.
I don't remember exactly how many terabytes of footage we shot, it must have been around 8TB. So given the cameras we used for this production – three Canon 1D Cs, one Sony Z100 and a bunch of GoPros – that must have been dozens of hours of footage.
The initial core team was very small: Ellen, myself and someone we thought perfect for the job, Frans De Backer.
Along the way many volunteers helped us out and in post I spent a long time in London to do the color grading at the Post Factory. Simultaneously Eric Bettens, a Belgian music composer, wrote all the scores for and on the film. Let me explain: we cut the film with stock music and when the cut was locked, the composer got a copy without music and wrote his masterpieces for Epiphany.
In total we must have traveled around 20,000 miles to produce Epiphany.
---
Biggest Challenge Making Epiphany
[Question] What was your biggest challenge making Epiphany?
[Michael Maes]
I think, without a doubt, the continuous invasion in your personal life was the toughest challenge for Epiphany. We were shooting on "dream locations" and my family (and sometimes myself too) constantly had a camera and mic in their faces. There was not much privacy for us during these 18 months. Our daily lives became "Epiphany". As our complete little family was involved, that was very demanding.
---
Documentary Funding
[Question] Did you raise money for your film or was it all self-funded?
[Michael Maes]
I didn't want to have any outside funding for this film as I wanted Epiphany to be very RAW. It had to make you stop and think about your own life.
No hair-styling, no makeup, no fake… just life "as it is" (well, in our case anyway… haha).
That created an unusual vérité documentary, something that would have been impossible with outside funding (and consequential interference).

Luckily for the artistic side of Epiphany I was able to solo-produce it.


---
Filmmaking Gear
[Question] Can you share some of your filmmaking tools, your gear list, editing software/system?
[Michael Maes]
My gear list is way too long, sometimes even embarrassing, haha!
I am an extreme wildlife cinematographer, specialized in large mammals and sharks. My areas of operation are the High Arctic and the tropics; both on land and underwater.
This makes my setups very particular and they need to survive extreme environments.
I can be filming 16 ton sperm whales at the surface, diving with 15 to 30 feet long sharks, getting close to the most extreme predator on earth: polar bears. I can be filming on 110º F drylands, 29ºF water underneath an iceberg or in a -40ºF blizzard. 
This demands various tools and of the highest quality to get the job done.
My most used camera gear is RED Weapon 8K cameras, Zeiss PL primes and zooms and – especially for filming polar bears – my "cannon Canon" CN20x50: a PL cine lens which ranges from 50mm to a mind-boggling 1,500mm. Weighs a ton though… 
As underwater housings (also on RED Weapon 8K) I use both Gates DEEP WEAPON as Nauticam's Weapon-LT (which is a "tiny" housing compared to the others). 
A very peculiar thing to mention: underwater I shoot with ancient technology lenses; the NIKONOS RS lenses, which haven't been made anymore for over 25 years. These are the only lenses in the world which are designed especially for underwater usage (water has different optical laws than air).
As my films are not action nor fantasy, I don't require special effects. As such I use DaVinci Resolve Studio from start to finish. For my workflow that works very well.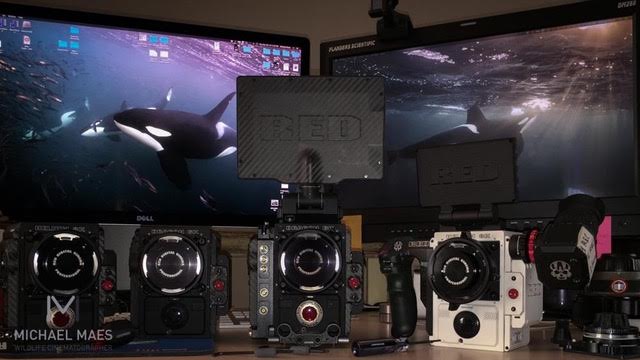 2 Weapon Dragon 6K cameras and 2 Weapon Helium 8K. The white one is nicknamed "Stormtrooper" in the RED community.
---
Challenges Working With RED Camera
[Question] Biggest challenge working with the RED camera? Why did you choose it?
[Michael Maes]
Personally I think everything on a RED is challenging. It is a very difficult camera to operate in extreme conditions. But once you master it and you nail the shot, it is beyond competition.
Let me put the above in perspective: all characteristics of a RED Weapon – apart from its massive resolution – are "beatable" on an individual base. But I haven't found a camera which beats the RED when you put all the criteria together, combined. It's not the best at SloMo, but it's very good at it. It's not the best color space, but it's a very good one. It's not the best at DR (Dynamic Range), but it's extremely good at it….
That's why I chose Epic-MX, Dragon and now Weapon Helium and Vista Vision 8K.
Apart from that: processing that massive data Weapon produces is a PITA…
Another worthy mention: I shot some nice clips on my… iPhone too… haha! Basically there are two facts: the best camera is the one you have at hand & it's not about the camera but about the shot.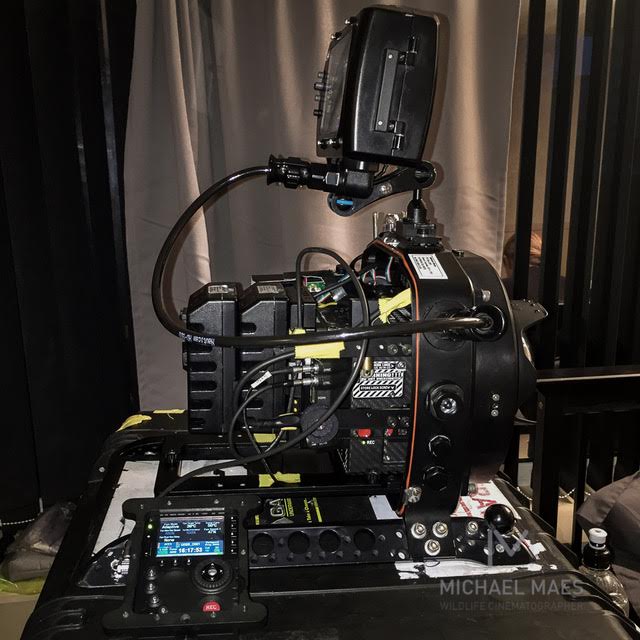 An 8K RED Weapon Helium in a Gates DEEP WEAPON housing with the vintage Nikonos RS R-UW 13mm f2.8 Fisheye lens.
---
Advice & Final Thoughts
[Question] Final thoughts or advice for someone wanting to become an underwater documentary cinematographer?
[Michael Maes]
Forget about the filming, first become a very good diver. Master your buoyancy, train your skills over and over again. Once you are that "master diver", add the camera. Two reasons: bad diving causes damage to the underwater environment ; and if you have no perfect control over your body, there's no way to shoot top footage.
Next learn about light. Light acts completely different underwater and it's a factor that makes or breaks your shot.
Then you have to learn all about the animals you want to film. If you know their "thinking", you will be able to become part of their world. That makes them feel comfortable with you, which gives you better lens-time.


---
About Michael Maes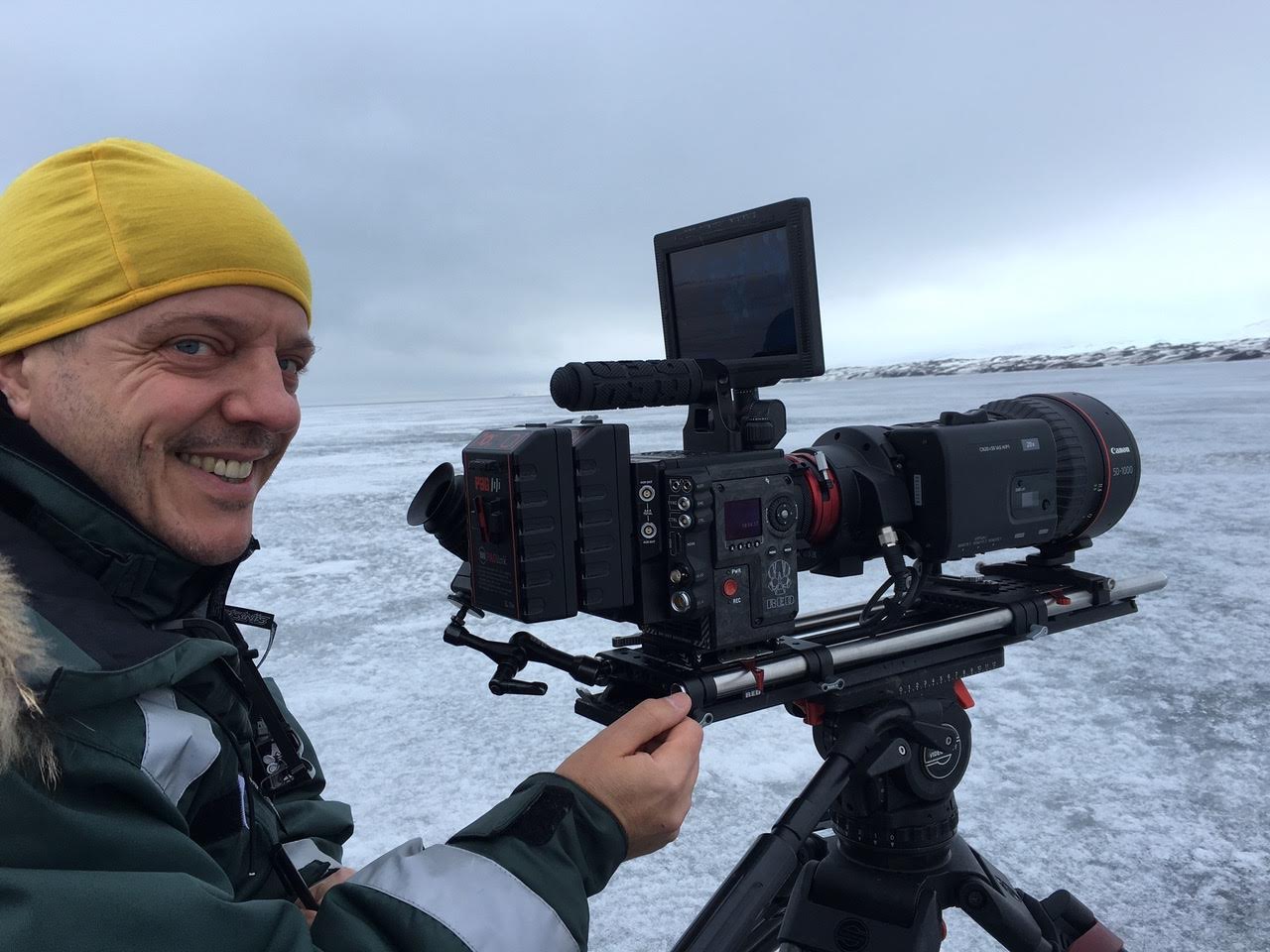 Michael Maes filming polar bears in Svalbard (High Arctic) on a RED Forged Weapon with the Canon 50-1000mm "bazooka" cine lens. It was a hot day at some 15ºF…

Michael Maes is a Grand Cayman-based wildlife cinematographer, specializing in big animals and animal behavior. His work has been broadcast on various national television including Nat Geo Wild, Outside Television, CBC. At the heart of his films is showing people the beauty and fragility of this blue planet, from the depths of the warm waters to the white vastness of the polar regions.


Learn More:
---
Underwater Photography Courses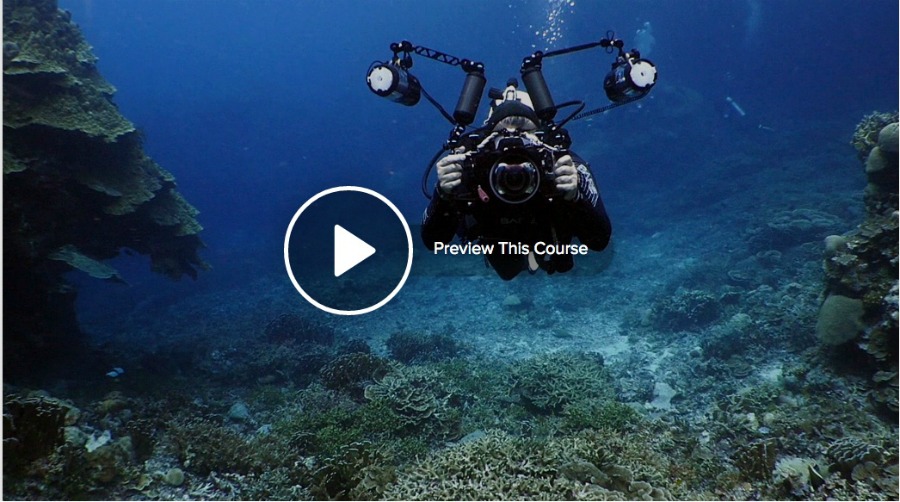 Underwater Photography: Wide Angle from LinkedIn Learning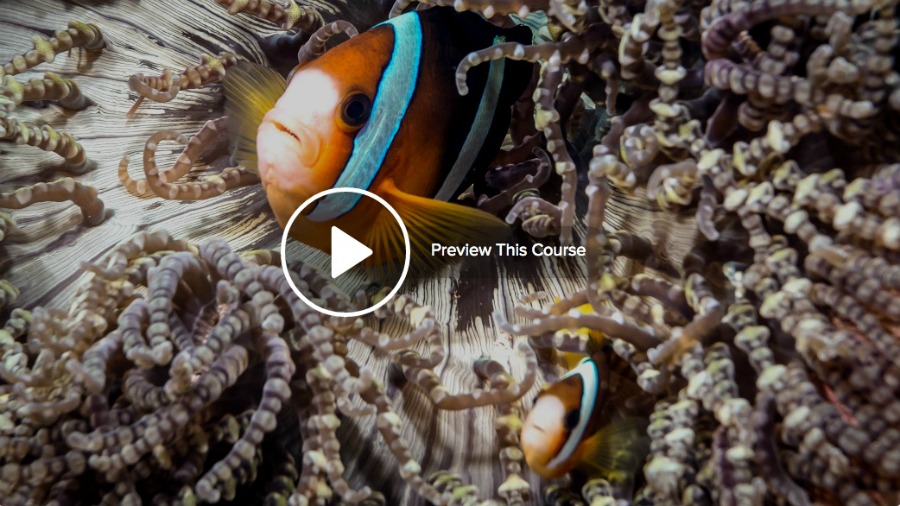 Learning Underwater Photography from LinkedIn Learning




---
Other Articles You May Enjoy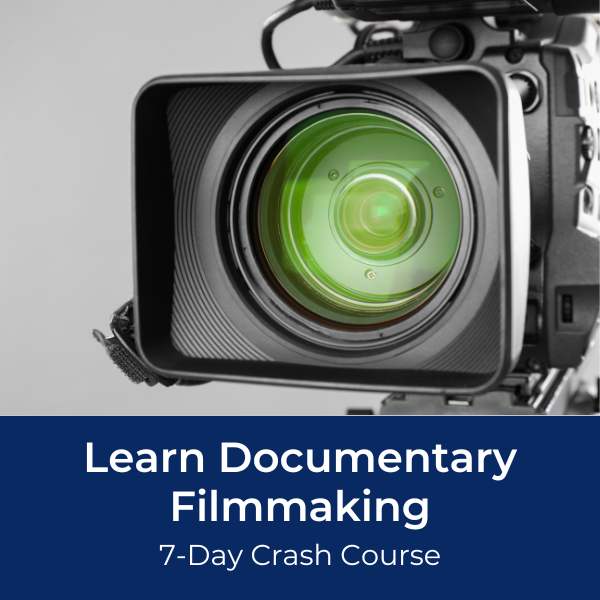 Ready To Make Your Dream Documentary?
Sign up for our exclusive 7-day crash course and learn step-by-step how to make a documentary from idea to completed movie!