Building An Audience For
Your Documentary

Film Distribution Experts and Filmmakers Share Tips and Advice
---

One of the most important things you can do as a filmmaker is to build an audience for your film. 
Your audience is your publicity and funding machine!
Don't wait until you need cash to start looking for your audience.
An audience that has been nurtured for months or years will become eager supporters when they are needed. 
---
5 Tips To Find And Build Your Audience

1. Think in Keywords – Have you ever uploaded a video to YouTube and typed in the keywords that describe that video? Those keywords are BIG clues to your audience. Think about the keywords and themes of your documentary: "olympics", "elderly", "Pakistan", "funny", etc. Those keywords represent your audience!

2. Scratch The Itch -  What's the hook that's drawing people to your documentary? Is it a shared passion such as human rights, love of travel, football? Is it the desire to promote a shared value such as a plant-based diet, finance reform or homeschooling? Find out where those people "hang out" (blogs, forums, events, etc), tell them about your movie. Sign them up for your email list and Facebook page!

3. Engage and Entertain – It's not enough to just report information about your project. In fact, talking about "me, me, me" is a big turn-off. What is it about your project is interesting to your audience? What will entertain, shock and delight your audience? As a filmmaker, you have a distinct advantage that you are already shooting footage that can be repackaged into short compelling snippets for your social media pages.

4. Create Series of Film Trailers – The sooner a trailer can be produced about your movie, the easier it becomes to start building your audience. And don't think that just one trailer will do. Making multiple trailers geared specifically toward different niche audiences will yield bigger and better results. Don't wait until your documentary is completed to make a trailer. Engaging an audience long before the movie is made will yield much better results.

5. Find the "Influencers" – Remember the keywords and themes for your documentary? Who are the influencers (bloggers, organizations, authors, etc) in those niches? Reach out to those people and get them so excited about your documentary that they can't resist sharing your project with their audience. Can you offer a freebie to their audience? An exclusive video clip? Produce a free video for the influencer? Do what filmmakers do best… get creative!


"Building An Audience"
Expert Video Series
Below is a series of hand-picked videos from various distribution experts and filmmakers explaining tips and tricks for building your audience. Watch and learn!


---
How To Build An Audience & Market A Movie
Sheri Candler is a distribution and marketing expert who has consulted with numerous independent filmmakers.
---
How To Identify Your Target Audience
"Merchants of Doubt" director Robert Kenner tells IDA Executive Director Michael Lumpkin that he hopes to reach people who believe climate change is real but don't know what to do about it.

---
Difference Between Crowdsourcing and Crowdfunding
Richard "RB" Botto, CEO of Stage 32, explains the difference between crowdsourcing and crowdfunding and why it's an important distinction when building an audience for your film.
---
First Steps To Building A Social Media Audience For Filmmakers
Emily Best is the CEO and founder of the Seed&Spark crowdfunding platform. She says building an audience ahead of time is essential to a successful crowdfunding campaign. 
Watch the full interview on YouTube:
"A Masterclass in Crowdfunding & Film Distribution" with Emily Best


---
How To Build A "Quality" Audience For Your Movie
Film director Nicolas Alcala shares how his team built a solid following for their movie The Cosmonaut. He says it's not about the NUMBER of fans & followers you have, but the QUALITY of those fans.
---
Kickstarter Filmmakers on Finding and Building Your Audience
As part of Kickstarter's Creator Basics series, four filmmakers give tips on how to find and build your audience.

Karyn Parsons, Creator | The Janet Collins Story
Adam Weber & Jimmy Goldblum, Co-Directors | Tomorrow We Disappear
David Thorpe, Director | Do I Sound Gay?
Malika Zouhali-Worrall, Director | Call Me Kuchu
---
Recommended For You
---
Enjoy This Page? Get More Free Filmmaking Tips and Insights...
Documentary Resources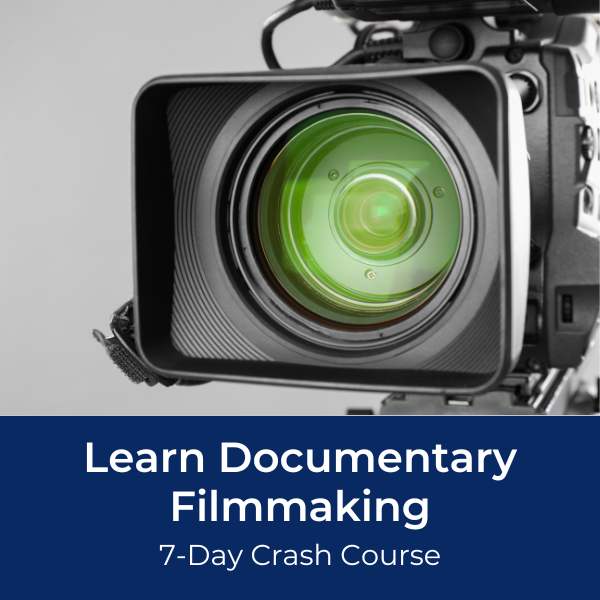 Ready To Make Your Dream Documentary?
Sign up for our exclusive 7-day crash course and learn step-by-step how to make a documentary from idea to completed movie!