Best External Hard Drive For Your Documentary Project

Tips for editing your documentary
---
What is an External Hard Drive?
An external hard drive is a device that provides additional data storage for your computer.
All computers have an internal hard drive and are limited in how much data they can hold. If your internal hard drive begins to get full it will slow your computer down. Video and photo files can be large and you can quickly consume all the space you have on your internal hard drive.
An external hard drive is quite simply additional hard drive space that lives outside of your computer. When doing video production it's a good idea to have an external drive or two to store all of your footage. Especially with the large HD (high definition) video files.
---
Use External Hard Drive As Back-Up
Having your footage duplicated on an external hard drive is also a great way to keep your footage safe. If your computer crashes, you could lose all data within the computer. Having your footage duplicated on an external drive helps to protect your valuable files in the event that the unthinkable happens.
For under $100 you can gain an additional terabyte of data for your PC or Mac. External drives work on desktop and laptop computers.
How much information can a terabyte hold? About 750,000 photos or MP3s. Or, more than 230 full resolution movies. A terabyte is a lot. But if you are shooting a lot of footage, you'll be amazed how quickly you can max out even that much storage. If you have multiple input/output ports you can add even more hard drive space.
---
Portable External Hard Drives
Some external hard drives are portable. They allow you to keep shooting in the field. Simply shoot your day's footage and add it to the hard drive while out in the field. For documentary filmmakers, a portable drive can be a life saver.
---
Hard Drive Speeds
What about hard drive speeds? You will likely see one of these two numbers 5400rpm or 7200rpm. These refer to the speed in which the disk spins. The faster it spins, the faster the data will transfer. So, a hard drive that registers 7200rpms will transfer your files faster than a 5400rpm hard drive.  Also, 7200rpm is critical for editing performance in reading video files.  A slower drive will struggle with multiple video layers or when video files are on different parts of the drive. 
One caveat, if you are using a USB 2.0 cable and connector, the additional speed you get from a 7200rpm hard drive may be negated. To ensure that you are getting the most out of your hard drive, consider using USB 3.0 or fire wire cables. Both of these will help to move your data quicker. 
---
Best External Hard Drive Choices
There are plenty of hard drives to choose from. A basic concept to keep in mind with hard drives, like many other products, is that you get what you pay for.
You can buy a fast and large hard drive for less, but you are likely going to take a hit in build quality and performance.
In general, the more expensive hard drives are better. Again, you get what you pay for and this is an area where you really don't want to skimp on quality. Listed below are a few that you may want to consider. 
---
| | |
| --- | --- |
| | We've used this external drive on trips to China, India and South America. We've even used it on a cross country bike adventure. The Lacie Rugged Mini is a great product that does exactly what it's suppose to. Plus, it's USB 3.0 connectors allow for faster file transfers. You can get the Lacie in a variety of storage capacities. The more data it can store, the more it will cost.  |
---



We cannot personally comment on the Seagate GoFlex, but other reviews indicate that it is another quality product.

Like the Lacie, this Seagate model makes use of USB 3.0's faster transfer times. 
---



Yeah, we noticed the price tag too. But look how much storage you get!

And it moves files faster than a speeding bullet. 
---
This is a small drive that may even fit in your pocket. It's got a terabyte of storage capability which is quite impressive for its size.

If you need to travel light, this may be the choice for you. 

---
Thanks to Scott Umstattd and David Pavlich for contributing to this article.
---
Filmmaking Tools Quick Links
---
Other articles you may enjoy:
---
---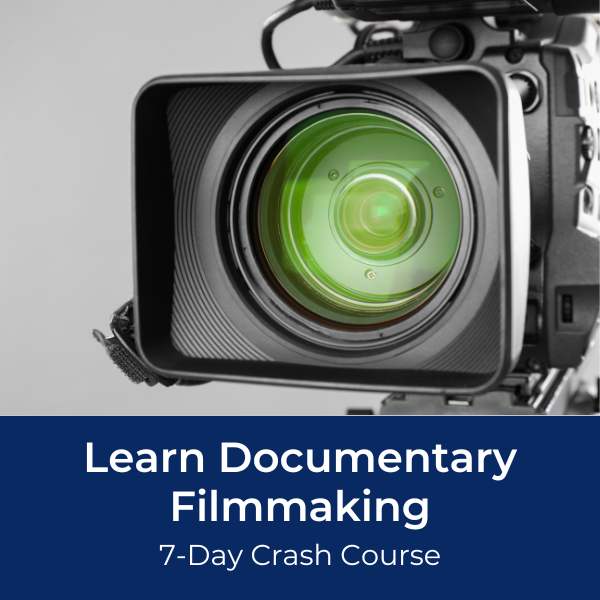 Ready To Make Your Dream Documentary?
Sign up for our exclusive 7-day crash course and learn step-by-step how to make a documentary from idea to completed movie!