How To Get Started Making A Documentary
There are many exciting ways to get started making your documentary. 
Perhaps you are starting from scratch with no footage, no interviews, no plan, no nothing.
On the other hand, you may already have a box full of old film footage that your grandfather shot during WWII and you're wondering how to start pulling it together into a compelling story. 

If you don't have an idea for your documentary, start here: 
Documentary Ideas.
Below are some quick tips to get you started on your documentary-making journey:


---
Quick Tips: How To Get Started Making Your Documentary


Network with other filmmakers - Attend a film festival or volunteer on a documentary film set. Meet other filmmakers and ask how they got started. Get inspired, ask for advice. Join filmmaker and documentary forums online such as the D-Word.com or documentary groups on LinkedIn. Offer to help other filmmakers with THEIR projects. There's nothing more inspiring than seeing another filmmaker in action to get you moving on your own project! 


Hit the record button - Don't worry so much about a treatment or writing anything down. Just go out and start shooting anything that seems interesting for your story. You can figure out how it's going to all come together later. Be open to change and following the story as it unfolds.


Write an outline - Write down the major points or sections you want to cover in your documentary. Not sure what the major sections are? Think about the important questions you want answered in your documentary. Write those down and then figure out what information or footage is needed to start covering each of those major points or questions.


Shoot ONE interview – It's easy to get overwhelmed with everything that needs to get done to make a documentary. Choose the easiest and most accessible person you can think of and interview them.


Get on Social Media – It's never too soon to start building an audience for your film. The whole process of making a documentary can start with a simple Facebook page or a blog. Get people talking about the topic of your documentary and start sharing progress on your film. These early followers become your extended production team providing support in the form of ideas, funding and connections. Click here to learn how to build an audience.


Make a trailer – This might be THE most important thing you can do to start the process of making a documentary. Even if you don't have any footage shot yet, get creative and put something together with photos and archival footage. A 1-5 minute trailer is not only a great way to test your idea before committing to a full length feature film, it's a fantastic fundraising and promotional tool.


Find a camera – On the more practical side of things, in order to make a documentary, you're going to need some equipment. At the very least, a camera and a video editing computer will likely be necessary. Get help choosing your camera and choosing your computer. Or browse a low-budget documentary gear check list.


Conduct a crowd funding campaign – There's nothing quite like a fundraising campaign to galvanize you and your team. There's lots involved in a crowd funding campaign. It's best if you can have a following of at least 500-1000 people first and you'll need a video trailer. For inspiration, check out documentary fundraising campaigns on Kickstarter.com and IndieGoGo.com. 


Sign up for a filmmaking workshop – If you are truly starting from scratch, a basic course in video production could be just what you need. Check your local university or community college for classes, browse Video Production Workshops, or get started right away with our 7-Day (Online) Documentary Crash Course.


So those are a few ideas how to get started making a documentary. Did that help solve a bit of the mystery for you? If so, please let me know in the comments below.


---
Free Documentary Tips
Every week, Desktop Documentaries sends a new documentary tip straight to your inbox to help you along your filmmaking journey. This is a great way to stay motivated and on track with your documentary! We promise to send only relevant and worthwhile content. (And plus get some extra free goodies!)


---
7-Day Documentary Crash Course
The 7-Day Documentary Crash Course is a great place to start if you are a complete beginner or if you're stuck or not quite sure what to do next.
The entire documentary making process is broken down into bite size easy-to-understand lessons. As the saying goes, "You don't know what you don't know."
If you're ready to get serious about making your film, the crash course is a no-brainer to jump-start the process for you!


"I can't say enough good things about this course. It was exactly what I was looking for and WAY more. I've gone to film school so some of the info was a refresher and a lot of it was new. For anyone looking to make a film, this is the perfect resource - comprehensive, organized and the information you will actually need." ~ Asha Mevlana


Learn more about the crash course and 
start your first documentary lesson right now.
---
---
Documentary Courses & Templates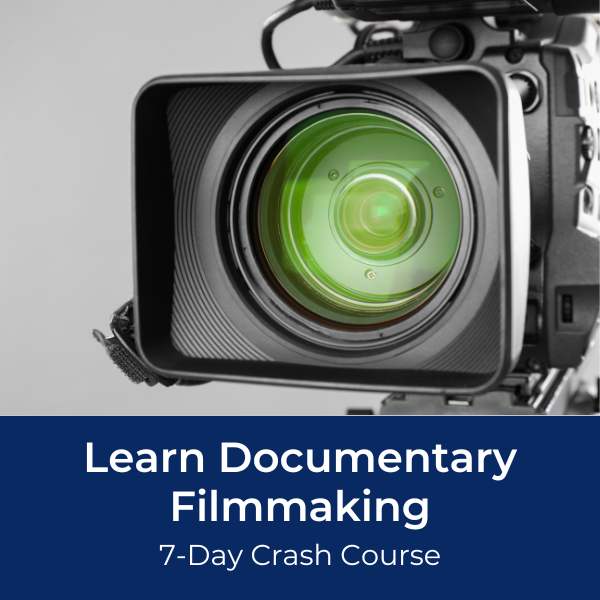 Ready To Make Your Dream Documentary?
Sign up for our exclusive 7-day crash course and learn step-by-step how to make a documentary from idea to completed movie!