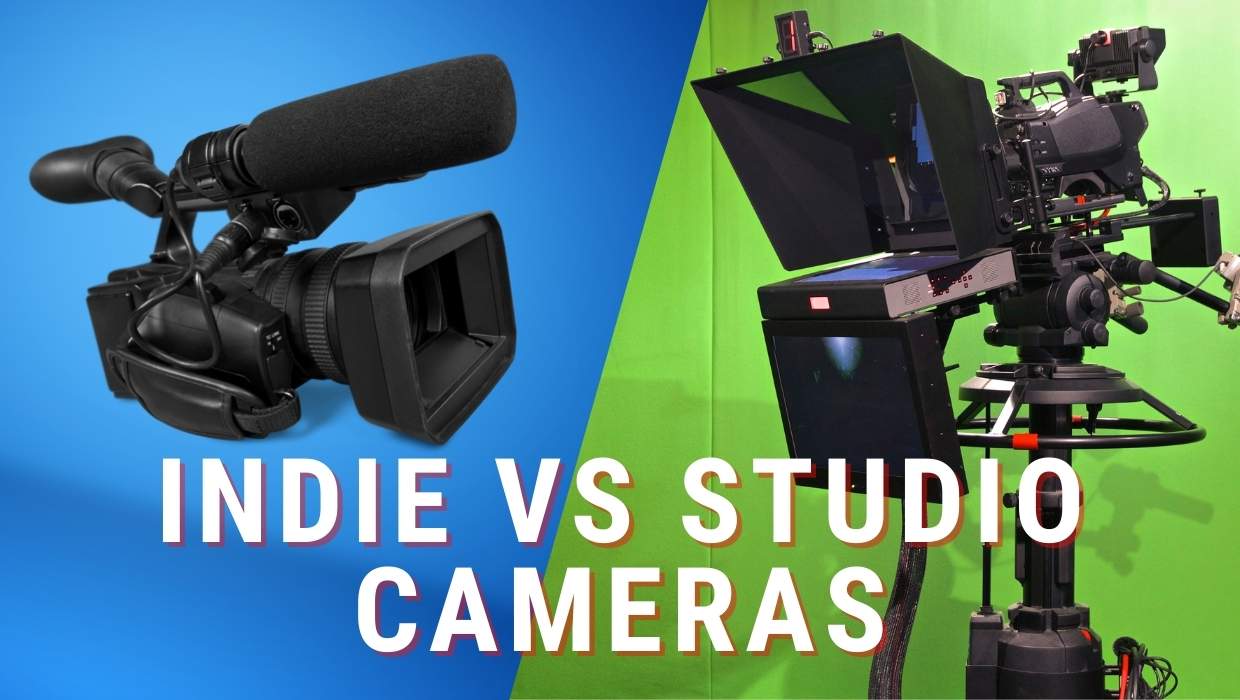 What's the Difference Between Indie vs Studio Cameras
Learn How To Make A Documentary
If you've ever found yourself wondering why high-end cameras and lenses are used when it's so easy to capture amazing footage by simply using the smartphone in your pocket, then this video from Indy Mogul will be one you want to watch.
What is a studio camera and do you really need (or want) one? 
Studio cameras originally started out as television production cameras. These are the cameras that were used to broadcast the evening news as well as the cameras that were used on the streets by television news crews.
These are the cameras that rest on the shoulders of the videographer or mounted on a tripod with a huge lens when used at sporting events.
Today, studio cameras are lighter and smaller and are used for anything from music videos to corporate branding videos.
What is the draw to these high-end cameras and lenses (and the accessories that come with them)?
For one, reliability. These cameras are work horses and are made to work correctly every time, in addition to recording the highest quality video. But these cameras require training to operate and sometimes a team to manage.
In this video, Host Ted Sim visits Illya Friedman from Hot Rod Cameras.
Watch as they go through some of the basics you need to understand when comparing and considering upgrading to a studio or professional camera rig and set up.
If you are used to shooting alone (as a one-man-band) you will be surprised to learn how many people are needed to operate the studios cameras referenced in the video. But don't fret, they've got some very good advice on how to get a seriously good studio camera rig for under $10,000.
Video Overview
1. Studio Mode
Shooting in Studio Mode allows the cinematographer to set AB marks for tracking, camera movements, and focusing. AB marking is especially useful when shooting movies or reenactments when more than one take is afforded to ensure the best possible shot.
If you are filming events that are taking place in real time you will not need this feature because live events cannot be replicated.


2. Baseline Studio Gear
It's not cheap to get into studio quality camera production. Hotrod Cameras recommends the Fujifilm X-T3 because the look and feel of its video is very good for a camera that can be bought for around $1,500. 
Here's a listing of the baseline studio gear that is recommended:
Tilta Nucleus M Focusing System
3. Higher Quality Set Up
If you are filming scenes that require multiple takes and if you have a team of people working to support a higher-quality studio camera rig then you may be ready to take the leap and begin shooting like the pros. The main reason you want rig like this is because you need the equipment to work and work properly every time it is deployed. 
Shooting with a lower quality camera means you will have to put up with more inconsistencies and equipment down time due to the cameras being overworked.
Here's a list of the higher end gear referenced in this video:
Arri Alexa EV Classic - SIMULATOR
Fujinon Premista 28-100mm lens
C Motion C Pro Lens Control System
Bright Tangerine Strummer DNA Matte Box
Ruige Action AT 2200 HD Monitor
JL Fisher 10 Dolly (Rental Only)
---
Why Buy Expensive Gear?
Studio rigs and set up like the ones displayed in the above video are expensive.
Often, the gear is rented out only when needed. Additionally, the higher end gear often requires that the operators be specially trained on that gear to ensure proper usage and a knowledgeable team that can fix or remedy any issue quickly. 
It is not uncommon for rental costs to run into the hundreds of thousands of dollars. Having a team that is unfamiliar with the gear could costs thousands of dollars in unnecessary downtime. 
The only real reason anyone would rent or buy higher quality studio gear is because they know it will return their investment. And they know that the camera and accessories will work flawlessly every time.
---
Are You A One Person Documentary Crew?
Recommended For You
Gear Kit For One-Man Documentary Film Crew with Bob Krist
Free Film, Video, Audio and Photos For Your Documentary
One Man Film Crew (Can I Make A Documentary By Myself?)
Get a Free Documentary Starter Kit
---
Smartphone Filmmaking Kits
---
---
---
Ready To Make Your Dream Documentary?
Sign up for our exclusive 7-day crash course and learn step-by-step how to make a documentary from idea to completed movie!