MICROPHONE BATTLE: Takstar SGC 598 vs. Rode VideoMic Pro+ ($25 vs $299)
If you're on a budget and don't want to skimp on quality, the Takstar SGC 598 may be the shotgun mic you've been looking for.
But can it hold up to the proven Rode VideoMic Pro+?
Check out the video below from Max Yuryev to see (or hear) for yourself.
Takstar SGC 598 vs Rode VideoMic Pro+

See more videos from Max Yuryev
Based on the sound tests conducted by Max in the above video, each model produces varying sound results, each with its own unique qualities.
Both mics can boost the signal that is sent to the camera. This allows turning down the internal pre-amp on your camera to get cleaner sound.

The Takstar will do 0 to +10 decibals. And the Rode does -10 to +20. The -10 is nice because it allows you to work in loud environments like concerts and sporting events. 
The Rode VideoMic Pro+ has some additional features including better battery power.

The Rode offers high frequency boost. This helps to remove some of the muffled sound created when using a windsock or other wind-cancelling device. The Rode mic also has an Auto On/Auto Off feature to help ensure that sound is recorded even if you forget to turn on the mic. 
Are the extra features of the Rode worth the extra cost? Please share your thoughts in the comments below.
---
---
What Is A Shotgun Mic?
Shotgun mics are great for the run and gun shooter. They offer versatility in that they are light, small and portable.
They allow a videographer the ability to capture better nat sound and better interview quality than built-in camera mics.
A shotgun mic is "uni-directional".
This audio pattern is great for focusing in on a specific sound and blocking out ambient noise.
For example, this is a great mic if you want to pick up the voice of just one person in a group discussion or one actor in a scene. (This mic is not for long distant sound as some people think)
Unidirectional mics are highly directional and must be pointed directly at the subject to capture the best sound quality. 

If you have a crew, you may want to consider using a boom pole to hold the shotgun mic close to your subject. 
Audio is a critical component in video production. Many argue, that it is more important than video. Recording excellent audio in the field is the first step in ensuring that you have good and consistent audio throughout your documentary. 
Shotgun mics like the Rode VideoMic Pro+ and the Takstar SGC 598 give you better audio than what your camera is capable of on its own. Either would be a welcome addition to a gear bag that is just beginning to get full.
---
Popular Microphones for Documentary Filmmaking
---
More Gear
---
Your Experience With Shotgun Mics
Do you have experience with high-end field audio microphones? Do you think that $25 can give someone professional sounding audio? Share your comments and thought below.
---
Recommended For You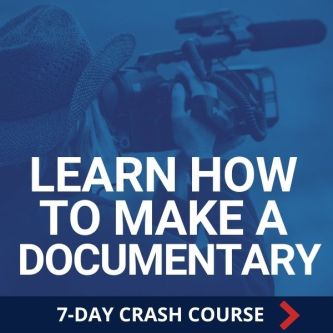 Ready To Make Your Dream Documentary?
Sign up for our exclusive 7-day crash course and learn step-by-step how to make a documentary from idea to completed movie!