COVID-19 Care Package for Filmmakers

How To Survive (and Thrive) During a Crisis
Last Updated: March 29, 2020
With the COVID-19 crisis, massive shifts are underway for filmmakers and creatives.
Film festivals cancelled, premieres postponed, productions halted and gigs lost. There's a great sense of vulnerability, fear and insecurity. And thankfully some humor too.
Below is a (virtual) care package of ideas to help get you through the coming days, weeks and months.


---
The Gift of Curiosity
In times of chaos and uncertainty, when everything is falling apart around us... it's our job -- no it's our NATURE -- as filmmakers, photographers, creatives and journalists to look around us with awe -- to observe, document and translate.
Embrace your curiosity, embrace the unknown, embrace the fear.... that is YOUR GIFT as a creative.
This is the gift the world is calling on you to share right now.
People need your perspective. They need your ideas. They need your ability to gather, document, translate and share in YOUR unique voice.
Close your eyes, take a deep breath.. and remember, this too shall pass. So grab a camera, pencil, audio recorder, paintbrush, webcam or whatever tool you choose and start documenting, journaling and recording.
---
Emergency Loans, Grants and Resources
Obviously, if you're in survival mode you may not have the luxury to create right now.
So if you've suddenly found yourself unemployed or your freelance work has dried up, these emergency resources may help.
Creative Capital - A list of funding resources for artists.

Kiva.org is issuing 0% interest emergency loans for small businesses.
Benefits.gov Benefit Finder: Fill out the questionnaire to see what kind of benefits you may be entitled to. 
SBA.gov Disaster Unemployment Assistance - The U.S. Small Business Administration (SBA) is offering low-interest loans to small businesses suffering substantial economic injury as a result of the Coronavirus (COVID-19).
Paypal Working Capital may be an option for those with a decent Paypal history.
Resources For Artists With Lost Or Reduced Wages
Massive list of COVID-19 resources for freelance artists
---
Freebies
FilmLocal – Key Membership Free for All Filmmakers For (At Least) 2 Months
Free Temporary QLab Licenses - Free temporary licenses for teachers and students
AVID Free 90-Day Licenses - Avid offering free 90-day licenses to help (qualified) customers impacted by COVID-19.
Adobe - Providing "at home" access to Creative Cloud for students in higher education and K-12 programs.
Zoom - video conferencing platform is lifting the 40-minute time limit on free Basic accounts for K-12 schools.
COMCAST offering 'Internet Essentials' Package free for low-income customers for 60 days

AmazonPrimeVideo Streaming Kids Movies and TV for Free
---
Online Events & Webinars
New Strategies for Distribution (Free Webinar) - Recorded March 27, 2020.
Replay now available.
With film festivals canceled, movie theaters closed, and citizens sheltering-in-place for the foreseeable future, this webinar explores the new strategies you should consider now.

https://www.crowdcast.io/e/newstrategies/register
---
Jobs & Cash-Flow
Documentary | Video | Film Jobs (Latest Listings from Indeed)
25+ Sites For Finding Remote Work
Tongal's Global Creative Platform - Search current/open projects and get paid to produce video content.
Fiverr - Quickly and easily post your skills for hire.
Upwork - For freelancers. Post your bio & skills and find work.
Employing Artists (Public Facebook Group)
Mandy.com - Jobs platform for cast, crew and creatives
Crowdfunding - While you're stuck at home, a great time to organize a crowdfunding campaign for your documentary. Try Kickstarter.com, IndieGoGo.com or Seed&Spark.
Hidden Freelance Opportunities - In a crisis, people don't have time to post job descriptions. Keep an eye out for companies or individuals who could use some video help (video message from CEO, comic-relief videos, company CV-19 response videos, streaming video set-up, family history videos, etc). Offer your services, you never know!
How To Support Freelancers - Share on social media and with clients

---
Coupons & Offers 
For a limited time, use coupon code FILM4U to get 50% off ALL Courses/Templates & Bundles here on Desktop Documentaries. Simply type in the code at check-out for an instant 50% off. Offer is good through (at least) March 30th, 2020.


---
Inspiration & Creative Ideas
During this time of upheaval and un-knows, it's a great time to explore, discover and create.
Download Free Video, Film, Audio and Media Sources - Create a film or trailer using free archival footage and media. There are millions of free media clips available across the internet.
Write Your Documentary Script - With the extra time at home, now's a great time to work on your script.
Create Your Documentary Proposal - Use these tips to work on your pitch and craft your proposal.
Explore Documentary Film Grants - Explore grants and apply for funding.
Document the COVID-19 Story - Pick up a camera, conduct webcam interviews, start a video journal. None of us know where this story is going or what's going to happen. Document now, figure out the story later. 
Set Up Your LLC - Great time to check off some business essentials such as registering for an LLC, building a website or setting up an email marketing account.
Brainstorm at the D-Word - Join a filmmaker discussion and share your ideas about COVID-19 and other topics with fellow doc filmmakers.
Vuze VR Gallery - Watch 3D, 360 videos & Virtual Reality experiences as inspiration for your next project.
---
Your Thoughts, Ideas & Recommended Resources
Please share below in the comments any thoughts, ideas or helpful resources:
FREE Documentary Tips! Yes!

Get free weekly documentary tips sent straight to your inbox. This is our special gift to you to help you stay motivated and inspired. Just enter your info below and let's get started!



FREE Documentary Tips! Yes!
Get free weekly documentary tips sent straight to your inbox. This is our special gift to help you stay motivated and inspired. Just enter your info below and let's get started!


---
Related Articles & Resources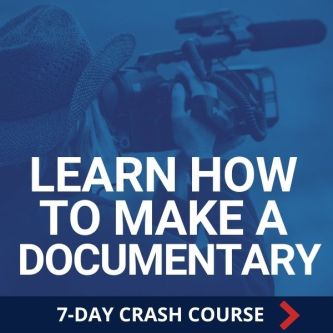 Ready To Make Your Dream Documentary?
Sign up for our exclusive 7-day crash course and learn step-by-step how to make a documentary from idea to completed movie!